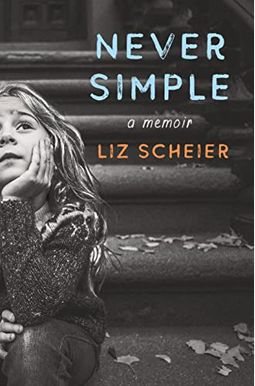  
Book Overview
Liz Scheier's darkly funny and touching memoir--with shades of Jeannette Walls's The Glass Castle and Mira Bart k's The Memory Palace--of growing up in '90s Manhattan with a brilliant, mendacious single mother
Scheier's mother Judith was a news junkie, a hilarious storyteller, a fast-talking charmer you couldn't look away from, a single mother whose devotion crossed the line into obsession, and--when in the grips of the mental illness that plagued every day of her life--a violent and abusive liar whose hold on reality was shaky at best. On an uneventful afternoon when Scheier was eighteen, her mother sauntered into the room to tell her two important things: one, she had been married for most of Scheier's life to a man she'd never heard of, and two, the man she'd told Scheier was her father was entirely fictional. She'd made him up. Those two big lies were the start, but not the end; it took dozens of smaller lies to support them, and by the time she was done she had built a farcical, half-true life for the two of them, from fake social security number to fabricated husband. One hot July day twenty years later, Scheier receives a voicemail from Adult Protective Services, reporting that Judith has stopped paying rent and is refusing all offers of assistance. That call is the start of a shocking journey that takes the Scheiers, mother and daughter, deep into the cascading effects of decades of lies and deception.
Never Simple
is the story of learning to survive--and, finally, trying to save--a complicated parent, as feared as she is loved, and as self-destructive as she is adoring.
Frequently Asked Questions About Never Simple: A Memoir
Book Reviews
(9)
Did you read Never Simple: A Memoir? Please provide your feedback and rating to help other readers.
Validating for anyone who has a troubled relationship with their mother

Derived From Web

, Mar 14, 2022

Very well wrapped up, a page turner, humorous and sad written all together. As another daughter, grew up with a single mother with BPD, the stories were eerily familiar. The topic of not knowing what is normal or acceptable is also reminiscent of my own childhood. The author also describes the push and pull of borders crossed and lines drawn. In addition to the mother-to-mother relationship, the investigation into finding her father was very interesting. What won me the most was the wit, which often made me laugh out loud. They say that those who come from dysfunctional families are the ones with the best sense of humor, right?
Moving memoir about a complicated relationship

Derived From Web

, Mar 13, 2022

In a culture that rarely acknowledges that mothers are ever less than self-sacrificing heroes, it is a relief to discover a book that presents a portrait of a complicated mother. There are no Mother's Day cards that universally ooze love and support and the setting of wonderful examples suitable to be sent to parents like Scheier's mother. The children of parents like that feel the lack of truth. This book will be a relief to anyone who has ever hated and feared their parent as much as they love them.
Funny, tragic, and ultimately hopeful

Derived From Web

, Mar 9, 2022

I loved this book ''. The author is funny, honest, relatable and never self-indulgent. After a traumatic childhood, built on an intricate web of lies, the author successfully separates from her toxic mother and begins a new life, only to find herself dragged back into the madness when her mentally ill mother becomes old and feeble. Of all the lies her mother told her, perhaps the most damaging is that she is a bad daughter and a bad person. The author struggles to understand throughout the book if her mother's assessment of her is true. Even when we know that they can 't be trusted, our parents'words carry so much weight. Despite all this dysfunction, the author has managed to secure many lifelong friendships with truly wonderful people who ground her and reflect her inherent kindness and strength. Ultimately, the family she builds and the friends she surrounds help her break free, reclaim her past and tell her own story.
Do you ever know what's going on? AMAZING book

Derived From Web

, Mar 7, 2022

Liz Scheier writes with such charm and humor that it is almost possible to forget the terror she must have lived through and the balancing act she perfected to avoid the rages and dangers of her mother's mental illness. Liz tells her story from early childhood, living with a mother who never seemed to work, but living a simple life in Manhattan in the 80s. We follow her through school and her mother's deteriorating illness, which could only seem normal to a child who had never known anything different. The big reveals come when we see Liz as an adult trying to understand all the lies her mother wove to explain their lives and to uncover the father she never had the chance to know. I wept when death finally takes her mother for the little girl who never got to really understand and the amazing, functional, adult woman and mother who never really got to say goodbye. You will love this book and won 't be able to put it down.
Good (for the most part)

Derived From Web

, Mar 6, 2022

I love to read memoirs, but when a writer describes events or dialog in a way that sounds implausible and makes me miss my enjoyment of the book. A lot of what Ms. Scheier writes sounds improbable or like she is trying to ramp up the drama. She writes about a time when she donated her eggs and then woke up to find a check laying on her chest. What clinic is going to place a check for thousands of dollars on a sleeping patient's chest? It is a small thing, but so obviously not true that it made me wonder about a lot of the other things she wrote.
This is NOT Glass Castles or Running with Scissors

Derived From Web

, Mar 5, 2022

I kept waiting for the part about all the crazy things that her mother did. There are a couple, she's nerdy, she doesn't like being pregnant, she doesn't decorate her children's nursery. These things are way under her and for the silly people. I was extremely disappointed ''. She never liked enough to care about these details she waxes poetic about. Condescending. Condescending. If we hand over personality disorders, she might want to look into narcissism.
The Perfect Title

Derived From Web

, Mar 4, 2022

Never Simple is the perfect title for this memoir, which tells and analyzes a mother-daughter relationship. The writing is excellent and the story is compelling. I couldn 't put the book down because I had to know what next happened. There were times when I stopped because I needed to consider the implications of the sentence I had just read, or a happy moment in the midst of a distressing event. From this book so much can be learned about love. I believe that Liz Scheier took a great deal of courage to write this memoir for herself. The least we can do is read it, and encourage others to do so. I keep this book in my memory and in my heart for a very long time.
An intimate and honest portrait of rage, grief, love and forgiveness

Derived From Web

, Mar 3, 2022

After a lifetime of being smothered and terrorized by her own mentally ill mother, I never imagined I could laugh out loud reading a memoir about a woman finding her way towards love and uneasy motherhood, after a lifetime of being smothered and terrorized by her own mentally ill mother. But I laughed several times out loud, I did. Scheier's wonder at unraveling more layers of her own story comes across in clear, engrossing, tender and acerbic prose. And the zingers! And the zingers! They do a lot of work to zoom the lens on the world her mother built for the two of them and the world Scheier built for herself, and it just works. I wolfed this book in two days and brought it down. Anyone with a difficult parent should see it, but anyone navigating the shift of roles as an adult child, especially one with children of their own, will read something of their own story here, too.
A page-turner memoir

Derived From Web

, Mar 1, 2022

For me, memoirs are never pageturners, however, this book is an exception. It is an extraordinary story told with brutal honesty and witticism in a way that makes me feel like the author shares the story with you at a casual get-together.