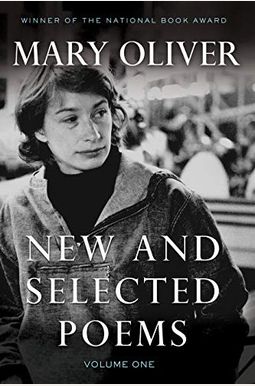  
New And Selected Poems, Volume One
Book Overview
This Description may be from another edition of this product.
When New and Selected Poems, Volume One was originally published in 1992, Mary Oliver was awarded the National Book Award. In the fourteen years since its initial appearance it has become one of the best-selling volumes of poetry in the country. This collection features thirty poems published only in this volume as well as selections from the poet's first eight books.
Mary Oliver's perceptive, brilliantly crafted poems about the natural landscape and the fundamental questions of life and death have won high praise from critics and readers alike. In The Summer Day, she asks,
Tell me, what is it you plan to do / with your one wild and precious life? Do you love this world?
she interrupts a poem about peonies to ask the reader.
Do you cherish your humble and silky life?
She makes us see the extraordinary in our everyday lives, how something as common as light can be
an invitation / to happiness, / and that happiness, / when it's done right, / is a kind of holiness, / palpable and redemptive.
She illuminates how a near miss with an alligator can be the catalyst for seeing the world
as if for the second time/the way it really is.
Oliver's passionate demonstrations of delight are powerful reminders of the bond between every individual, all living things, and the natural world.
Frequently bought together
Frequently Asked Questions About New And Selected Poems, Volume One
Books like New And Selected Poems, Volume One
Book Reviews
(8)
Did you read New And Selected Poems, Volume One? Please provide your feedback and rating to help other readers.
Oliver's Poetry is a Joy to Read

Derived From Web

, May 18, 2022

As a lover of poetry and of nature, I am a huge fan of Mary Oliver's work. Her voice is lyrical and yet hugely accessible -- here is no poetic obscurity. When I was a high school teacher of English literature before my retirement, I often used Oliver's poems in the English classroom. Because her poetry is layered, it provided depth and students had to work for meaning. But because her poetry relates to common human experience, even teens without much life experience could easily relate. I am now older and disabled, unable to go hiking or enjoy nature as often or in the same way I once did, I can pick up an Oliver tome and be instantly transported in spirit to things I love dearly.
My first book, with many to soon follow, by Mary Oliver.

Derived From Web

, May 18, 2022

Clearly, Mary Oliver has been creating celebrated works of art for decades. and why am I now discovering her brilliant and soul - baring works? Having been on this planet for quite some time, over half a century, and like most of us, living in a vacuum of stress and worry and hope, I rarely find time for contemplation. One hurried morning, while running to work, stopped long enough to see a rare interview that Mary had granted to Maria Shriver. Like something new to us usually does, she began appearing everywhere and I felt singularly drawn towards her until I finally decided to purchase this book. With nature as the background and if you want to assume a metaphor, she allows you to join her on an exquisite and personal journey through New and Selected Poems Volume One. I am grateful to have found Mary Oliver and am equally delighted that she has many more delicious works to eat with sweet bliss in the days ahead. Mary, thank you...
Feedback

Derived From Web

, May 18, 2022

I asked this bookstore whether they could charge both books in the same package and place one shipping price for them. They initially said no, but when I stated that they were slim volumes of poetry and most likely to be side by side since they are vols. 1 and 2 authors of the same did! Both volumes arrived in excellent condition, like new. Very happy! ''
New and Selected Poems, Vol. 1, by Mary Oliver

Derived From Web

, May 18, 2022

This book arrived on time and in new condition for a small price. I like the poems very much ''. But Oliver's metaphors are positive, and I think that in all, she is the best poetic interpreter of the imaginative aspects of nature we have here in America.
Writing about life and nature.

Derived From Web

, May 18, 2022

Mary Oliver puts so many emotions and observations into words that most of us can not express in words.
A little in love.

Derived From Web

, Jul 20, 2017

I fell in love with Mary Oliver just now. Poetry is simple in a spiritual, connected, deep and moving way. This book seems to capture an excellent variety of her poetry ; I'll definitely wrap myself in more of hers.
I love Mary Oliver poems

Derived From Web

, May 8, 2017

Nearly every one is star-earred or dog-earred in my book now. I read these poems again and again. It covers many years of her writing and makes you amazed at the quality she produced from beginning to end. You see themes she returns to nature, death, and life over time.
Inspiring

Derived From Web

, Jan 15, 2017

Many of Mary Oliver's poems flow with an anthem-like lyricism that often attests to the grandeur and mystery of the natural world. She plays the role of a quiet witness to observe and learn how life is possible if you resign into the rapture and beauty of the world around you. She wants to believe and understand the glory and energy of nature and to be invested in its holiness, its closeness to God. She loves all the flora and fauna and wants to connect with them. Her compassion for life allows her to view the world with gratitude and appreciation. The Wildness and the sheer power and intensity of nature is more than miraculous. It is her source of joy and strength. Her poetry is an attempt to achieve this union, and few poets can inspire the way she does.