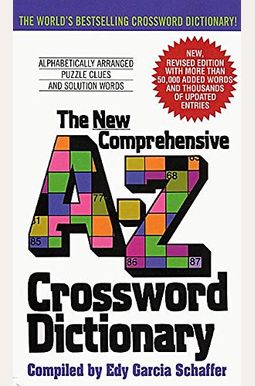 
 
New Comprehensive A-Z Crossword Dictionary
Book Overview
With more than 50,000 new words added and now over 225,000 entries total The New Comprehensive A-Z Crossword Dictionary, the world's most extensive, up-to-the-minute and easy-to-use crossword puzzle dictionary is bigger and better than ever.
Arranged alphabetically from start to finish, this updated and revised edition is a boon for puzzle fans young and old-with thousands of updated references from the worlds of art, literature, sports, politics, and pop culture; geographical and technical terms; famous and not-so-famous figures from the past and present; biblical references; computer terminology; new and old words; variant spellings; idioms, slogans, slang, abbreviations . and much more
Frequently Asked Questions About New Comprehensive A-Z Crossword Dictionary
Books like New Comprehensive A-Z Crossword Dictionary
Book Reviews
(14)
Did you read New Comprehensive A-Z Crossword Dictionary? Please provide your feedback and rating to help other readers.
nice book

Derived From Web

, May 23, 2022

I gave this to my father for Christmas. The feedback I got so far is that he likes it, but the print is a little bit small. He said he is using it and works well, but he won 't throw the one that is in 4 or 5 pieces and has 50 feet of tape on it. He is 90 years old, well. A thank you honey, I needed all that honey!
It's surely comprehensive

Derived From Web

, May 23, 2022

This is the second one of these that I owned. The first I bought years ago and finally wore out. This is very comprehensive of the crossword puzzle dictionaries I have used and have used. If I had a complaint, it would be that it has a limited number of film names and lists of some things ( Kentucky Derby winners for example go back for a few years ). But no crossword puzzle dictionary is perfect and of the three I own, I use this one by far the most and would recommend it to anyone who does puzzles.
A favorite and I have them all!

Derived From Web

, May 23, 2022

Some crossword dictionaries are completely useless. You will never find your missing words in them because the clue is not in the dictionary. I have a number of crossword puzzle dictionaries together with an encyclopedia and humongous regular English dictionaries as well as French-English, Spanish-English, German-English and Latin-English dictionaries. I never check the answer for a puzzle until every space is filled up with every clue checked off. When I say this is the most useful crossword dictionary for American style crossword puzzles, you better believe me.
Great for big and small crosswords

Derived From Web

, May 23, 2022

I bought this for my husband, who does NYT crosswords and mini puzzles and he loves it. He is a real techie, so if he uses a book, it must be good.
This crossword dictionary is the best of the one's that I've tried

Derived From Web

, May 23, 2022

This is the third time I bought this dictionary. I wear them just until they fall to pieces and then break them and buy a new one. This crossword dictionary is the best of the ones I tried.
Out of Date

Derived From Web

, May 23, 2022

This is an excellent reference book, which I have used for many years. Just think about the technology and political developments in the last 17 years. None of them are referenced in this book. I guess I have to revert to another crossword dictionary.
Great Dictionary For Crossword Puzzles

Derived From Web

, May 27, 2021

I received this book many years ago as a gift. I enjoy working crossword puzzles, although I am not an addict ''. I do the daily in our newspaper just like that. One of my daughters started doing the puzzles daily, so I bought this one for her and she loves it.
Helpful to crossword lovers

Derived From Web

, Oct 20, 2020

Plus, the older I get the worst spelling ever. Even if it is only helpful, it is very helpful in thinking.
Don't Bother

Derived From Web

, Aug 5, 2019

Essentially, this is a big dictionary. I thought it would have explanations for all the bizarre things in crosswords, like if an answer begins with an actual number or for what some symbols - abbreviations stand. I wanted to print something because I do crosswords a lot of times where there is no internet. If you can, use a search engine to help. If I had paid attention to the timeframe of when I bought it, I would have returned it.
My word not there!

Derived From Web

, Apr 2, 2019

I was spoiled by my old. It helps some, but it does not meet my expectations. It could be just right for you.