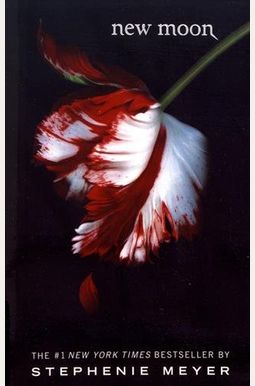 
 
Book Overview
With 160 million copies of the Twilight Saga sold worldwide, this addictive love story between a teenage girl and a vampire redefined romance for a generation. For readers hungry for more, here is book two.
For Bella Swan, there is one thing more important than life itself: Edward Cullen. But being in love with a vampire is even more dangerous than Bella could ever have imagined. Edward has already rescued Bella from the clutches of one evil vampire, but now, as their daring relationship threatens all that is near and dear to them, they realize their troubles may be just beginning. Bella and Edward face a devastating separation, the mysterious appearance of dangerous wolves roaming the forest in Forks, a terrifying threat of revenge from a female vampire and a deliciously sinister encounter with Italy's reigning royal family of vampires, the Volturi. Passionate, riveting, and full of surprising twists and turns, this vampire love saga is well on its way to literary immortality. People do not want to just read Meyer's books; they want to climb inside them and live there.--
Time
A literary phenomenon.--
The New York Times
Frequently Asked Questions About New Moon
Book Reviews
(5)
Did you read New Moon? Please provide your feedback and rating to help other readers.
Better upon reread.

Derived From Web

, Mar 28, 2021

The last was an interesting tale with appealing characters. I didn't sleep over it, but I enjoyed it. I didn't notice a lot of the glaring errors when I got into the book. The author took Edward out of the story for a bit, but he was still present in the plot and other characters. The book would have been 500 pages more of the same without it. I wish the hole would become real or maybe she would succeed in some of her near death stunts because of the constant whining. Maybe Laurant could eat her. Anything to stop the moaning! I didn't like the book at all. I liked Jacob. I enjoyed this one more the second time around. Knowing the further story made the constant whining and gaping hole less of a problem.
Killeecs review of New Moon

Derived From Web

, Aug 21, 2020

While reviewing my books on cloud to decide what I wanted to keep, I decided to read the book again while on vacation and was surprised to find that I enjoyed it more than I originally thought. There were more details that were stuck out. There were strong themes of honor, loyalty, and fallibility. The small details that initially irritated me were not really that bad.
Book is better than the movie

Derived From Web

, Aug 13, 2020

It's not unusual for a book to be better than a movie. The book is good. Meyer is a good writer. This type of story can stick you in even if you don't like it. I disagreed with a couple things. Not really big things. I don't think a teenage boy would rather drive a VW Rabbit than a vintage Chevy truck. In the first book, the Cullens didn't have cell phones, but in this one, they did. Why didn't they give her a digital camera when they gave her the camera? It would have made more sense if it was the year the book was published. Things that I' ve wondered about.
New Moon

Derived From Web

, May 24, 2019

I promised my bestie that I would read the series. I bought the book from Amazon. My opinions are mine. The second book in the vampire series, New Moon, was written by the author. I can walk this line and like them both, but I have to pick a side in Book 1 because it's not a choice. You have to pick one after Book 2. I'm still not sure. Tell me if you' re Team Edward or Team Jacobs. This series has been read by everyone but me.
Such as addicting as the first book!

Derived From Web

, Jun 22, 2017

There are broken hearts and love triangles. It was difficult to read since the love that you were so happy to have was no longer the same. Edward thought he was doing the right thing, but you still cried with him. Jacob admitted to a secret he didn't know and his heart to a secret he didn't know about. Even though your favorites were in depression, this read was still addicting. Depending on which team you were on. I'm Team Jacob, obviously. We get to meet a new group of people to love and hate, but you still root for Edward and Bella to overcome and find their way back to each other.