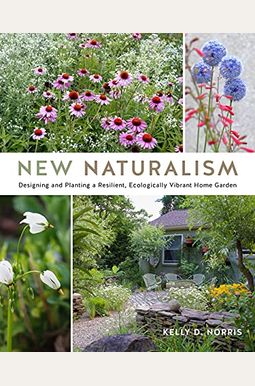 
 
New Naturalism: Designing And Planting A Resilient, Ecologically Vibrant Home Garden
Book Overview
In New Naturalism, horticulturist and modern plantsman Kelly D. Norris shares his inspiring, ecologically sound vision for home gardens created with stylish yet naturalistic plantings that mimic the wild spaces we covet, such as meadows, prairies, woodlands, and streamsides--far from the contrived, formal, high-maintenance plantings of the past.
Through a
basic introduction to plant biology and ecology
, you'll learn how to design and
grow a lush, thriving home garden by harnessing the power of plant layers and palettes defined by nature, not humans
. The next generation of home landscapes don't consist of plants in a row, pruned to perfection and reliant on pesticides, fertilizers, and herbicides to survive. Instead, today's stunning landscapes convey nature's inherent beauty. These gardens are imbued with romance and emotion, yet they have so much more to offer than their gorgeous aesthetics.
Naturalistic garden designs
, such as those featured in this groundbreaking new book, contribute to positive environmental change by
increasing biodiversity
,
providing a refuge for wildlife
, and
reconnecting humans to nature
. In the pages of
New Naturalism
you'll find:
Planting recipes for building meadows, prairies, and other grassland-inspired open plantings even in compact, urban Read More chevron_right
Frequently Asked Questions About New Naturalism: Designing And Planting A Resilient, Ecologically Vibrant Home Garden
Book Reviews
(7)
Did you read New Naturalism: Designing And Planting A Resilient, Ecologically Vibrant Home Garden? Please provide your feedback and rating to help other readers.
Great book with some innovative ideas

Derived From Web

, Oct 19, 2021

I've read all the books except for this one. He has come up with the recipe for growing a lot of natives without it looking like a patch weed. Some books make you feel bad about having any non-native plants in your yard. The book explains the percentages of non-natives and natives while still making a positive change for the environment with your gardens.
China printed shows

Derived From Web

, Oct 12, 2021

The book is being sold in China, where it is not done well. The pictures are of a high quality, but the book is small. It is small for a hardbound book. Quality is the key to success in the book business. If you want to go big, you can't go wrong with a good quality book. I will also be looking for older books by good authors.
Embrace nature where you find it

Derived From Web

, Aug 7, 2021

I edited a bunch of magazines for State-by-State Gardening, and Kelly Norris was one of the contributors. When I was a kid, I looked forward to reading his book. Such a joy to be back home, Reeves said. Kelly has put his literary writing skill to work on this book, which captures his philosophy of landscaping Keep it natural. He serves up plant for various applications, including hell stripes, rocky areas, courtyards and more. He advocates that students learn about the soil, the area and what grows there. He added: "I hope anyone who reads this book will glean an idea that might inspire them to think differently about the nature of gardening and their relationships with land."
Magnificent Craftsmanship

Derived From Web

, Jul 30, 2021

He argues that creating gardens that are ecologically based on site and climatic uncertainty should be possible with Le mot juste, an absolute gem of the genre. He has no intention of patronizing his readership. The book does require effort of the reader that is amply rewarded with new found knowledge, and the intellectual armament to defend your natural garden creation, he said. It's a keeper, Simon says.
A wonderful way to think about your garden

Derived From Web

, Jul 3, 2021

My cottage is surrounded by fields, woodlands, lawns, and a courtyard. I plan to use the garden suggestions in each of these areas to create a beautiful, natural, and sustainable landscape.
Inspirational Reading

Derived From Web

, Apr 29, 2021

Recommended for people who enjoy beautiful, natural plantings that increase biodiversity and inspire others. 0 1462228 1729212 This book is for people interested in beautiful, natural plantings that increase biodiversity and inspire others. Yes, I will refer to this book often.
Naturalistic, yes; native, no.

Derived From Web

, Apr 16, 2021

Michael Gross, the book's co-author, said his husband had wanted the book to read about native plants. The author did not mention any native plants. It was good, but a bit disappointing, Mr. Dhaliwal said.