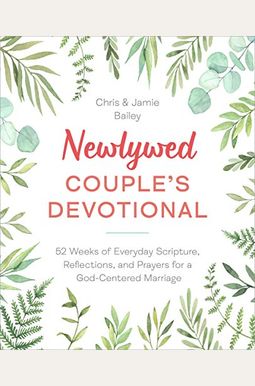  
Newlywed Couple's Devotional: 52 Weeks Of Everyday Scripture, Reflections, And Prayers For A God-Centered Marriage
Product is currently Out of Stock.
You can add it to your wishlist and you will be notified once we receive a copy.
Frequently Asked Questions About Newlywed Couple's Devotional: 52 Weeks Of Everyday Scripture, Reflections, And Prayers For A God-Centered Marriage
Book Reviews
(11)
Did you read Newlywed Couple's Devotional: 52 Weeks Of Everyday Scripture, Reflections, And Prayers For A God-Centered Marriage? Please provide your feedback and rating to help other readers.
Get This Book - Newly Married or Old Timers!

Derived From Web

, Jul 24, 2021

This is a WONDERFUL couple whether you have been married or married for twenty-five years like my husband and me, she wrote. It makes you think through or talk about things you never have. It doesn't have to be uncomfortable, and it doesn't take a lot of time, Mr. Dhaliwal said. The devotional will usually be about a half-page long. We have just been doing one week, Mr. Dhaliwal said. The couple who wrote this, Chris and Jamie Bailey, have a heart for marriage to stay together. I ended up getting to meet them a few months ago, and they are the real deal—have heart for the Lord, know they are not perfect, make you laugh with their fun antics, and just truly want us to enjoy the journey of marriage.
Pages fall out

Derived From Web

, Feb 11, 2021

It's great book, me and my husband love it, but the pages started falling out when we were only in the second page.
Not just for newly-weds!!

Derived From Web

, Dec 1, 2020

This book is a must-have for any Christian. It's also not just for newlyweds, Morgenthau said. My husband and I have been married for almost 33 years, so we can definitely say we're not newly weds, but that doesn't mean that we haven't learned and are continuing to learn a lot of things to help our marriage, she said. Chris and Jamie have done a great job with the discussion questions to help invoke good communication between us, Mr. Dhaliwal said. I can't wait to finish this book!!!!!!!!!!!!!!!!!!!!!!!!!!!!! I highly recommend this book to all married couples. It's great to be back home, said Blair.
Practical tools you will actually enjoy working on together!

Derived From Web

, Nov 30, 2020

Whether you are newlyweds or have been married for decades, this book will help you find the perfect husband. So many marriage books just have advice without application, but this book gives concrete tools to improve any marriage, make it more God-centered, and orient each spouse to a Christ-honoring posture in their marriage. This devotional is something you will look forward to doing together every day.
Love it!

Derived From Web

, Nov 24, 2020

This devotional is perfect for the busy couple. Each devotional has so much to say, I love that they are short but contain such depth. As a working mom with three growing boys, I don't have time to read for hours but I also don't want to read fluff. This couples devotional is the perfect fit for the working couple that is centered on the Word of God. The six-part series will help you and your spouse dive deeper and invest in your relationship. I love the real-life examples that powerfully teach each topic. Chris and Jamie do an amazing job of sharing what they have learned in working with married couples, Raymond said. I bought one for my husband and one for myself as a present. It's just that I now have the perfect gift to give at every bridal shower and wedding!
For the busy, action oriented couple who are so fed up with not knowing what to do...

Derived From Web

, Nov 23, 2020

I still can't get over the first book. And I got it as a Christmas present for my husband, so that we can start going through it together in the new year. It's just that I love it more when it's once a week. Even if you're not a morning person, you can find 20-30 minutes, one time a week, if it's really important to you. The devotionals are scattered across the Web, leaving no room for error. The longest was probably 2 pages, but I can't say for sure. The two books are easy to read and are frequently cited by university professors. There is no work left, no wonder Unibail has had so many problems. Feeling good after you finish the entry? Homework is not left up in the air, which is good for me! Seconds later, I am very grateful for all of the heart work and hard work that they put into this, Beckham said. They also recorded a podcast, so it must be pretty good. A new book by the same author was also released this week.
52 devotionals, one per week is my favorite part about this book!!!

Derived From Web

, Nov 19, 2020

I am a huge fan of Nancy's book. Thanks for the book, book club member Janet. It was a total blast of energy, and we started reading it together last night. It's going to be a weekly check in for us to go to the word of God for direction, read the devotional thought from Chris and Jamie and then put their practical tips into practice! One devotional for once a week, totally doable! We'll give it a try every Sunday before the work week starts! Simply put, this book will change the way you think about marriage.
Excellent for ensuring a God-centered marriage

Derived From Web

, Nov 19, 2020

Chris and Jamie's NEWLYWED COUPLE'S DEVOTIONAL WEDDING is great for ALL married couples. The weekly entries cover common topics for couples at all stages of marriage life. Each book has a Scriptural focus, is conversational in nature, and includes five actionable discussion questions and a closing prayer. This devotional is an excellent tool for ensuring that your marriage stays God-focused so that you can endure the challenges that are sure to come.
Love your spouse? Love Jesus? BUY THIS BOOK!

Derived From Web

, Nov 18, 2020

Is it legal to marry? The book is available for purchase on Amazon. com. What do you think about old married pros? And if that wasn't enough, Amazon also rents the entire book. If you love your spouse and want to grow closer to Jesus, this book is for you! Practical tips combined with Biblical wisdom make for the perfect combination in this 52 week devotional book.
Marriage Lifesaver!!!!

Derived From Web

, Nov 17, 2020

My husband and I have been married 11 years and never did pre-martial counseling, she said. We jumped into marriage and have fought every day for our marriage, blind as to the things we might have missed asking each other, digging into each other, etc. Finding this marriage has given us everything we needed to start fresh, Rosa said. It has opened up amazing conversation, given us a deeper love and respect for each other, and has helped us to begin praying again, he said. This book may say newlyweds, but I can attest to the need for this book in any season of marriage.