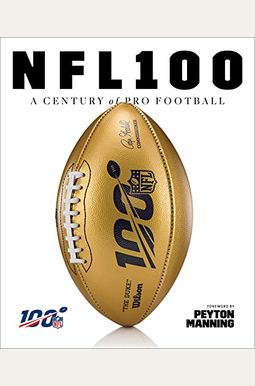  
Book Overview
An authorized visual history of America's most popular sport

Timed to coincide with the National Football League's 100th anniversary, NFL 100 celebrates the history of America's most popular and highly watched sport. From its humble beginnings in Canton, Ohio, to its emergence as a sport cherished by millions, all the key moments and famous athletes are honored within the pages of this handsomely produced book. In addition to the lively text, and action and portrait photography, the story of the game and the context in which it grew are animated by original lists, charts, creative statistics, and infographics, along with beautiful photos of the evolving equipment and artifacts essential to the story of the sport. A perfect gift, NFL 100 will be cherished by every football fan, new or old.

Frequently Asked Questions About Nfl 100
Book Reviews
(10)
Did you read Nfl 100? Please provide your feedback and rating to help other readers.
Well done, with some significant omissions.

Derived From Web

, Dec 30, 2021

In general, I found the book interesting, informative, and colorful. However, I did find some significant omissions. There were several single-sided biographies of significant players in nfl history. As a Saints fan, I found the lack of a specific article on Drew Brees to be a significant deficiency. After suffering a serious shoulder injury, he led the league in passing for 510 years in the 2010 decade. He beat Teammatemate in the NFC Championship Game and Peyton Manning in the Super Bowl in 2009. I am sure that many other notable players have been overlooked.
THIS IS A BOOK .. NOT a Football

Derived From Web

, Jun 16, 2021

i thought i was buying that aweseome gold football. This is the book. But its very cool, so I gave it anyway to my godson.
Hubby Loved the Book

Derived From Web

, Mar 1, 2021

This was a Valentine's gift to my husband. He found it very interesting, couldn t put the book down. A disappointment though. He is a fan of the Eagles and there was not too much mentioned about it this time. Oh well, now you know. The book was recommend.
Too many omissions

Derived From Web

, Jan 26, 2021

If you are a fan of the Raiders, skip this book. Plenty of great pictures, but barely a mention of one of the iconic teams of the 1970s. How do you not even mention the Oakland Raiders in the section called 1970? What a joke! Sea of Hands - Game? Raiders : Raiders : Raiders : Raiders : The only Raider with mention was the very worthy Gene Upshaw. The Raider mystique was part of what made the NFL what it was in the 70s, but apparently the NFL bias continues against Al Davis. Even the 70's Vikings had two player profiles, the team dominated by the Raiders in Super Bowl XI.
Any football fan would love this book!

Derived From Web

, Jan 21, 2021

Bought this as a holiday gift for my adult son, who is an avid football fan! Very nice hardcover book, high quality and comes in sealed plastic.
kid loves it

Derived From Web

, Jun 4, 2020

This has the right balance of pictures and text, and is pretty informative about the history of the game. I was surprised that it includes OJ Simpson-really? And some of the pictures are graphic, but I can manage these conversations.
Great gift for any nfl fan

Derived From Web

, Mar 3, 2020

For Christmas I bought it for my children and have made this my go-to gift for several football fans in my life. Awesome decade by decade reviews with excellent stories. Book of the coffee table is great.
Good book but.....

Derived From Web

, Feb 27, 2020

Good book, with lots of great history, and makes a great gift for any football fan. Drew Brees is not enough for Pete Brees. I admit that I am biased, but I would think that he would have made the cut since they feature so many players. Overall, a great read and nice for football fans. Thanks a lot for this article.
100 years in one book

Derived From Web

, Jan 1, 2020

The NFL100 Year History in a Coffee Table Book. A complaint was made. Sam Baugh did the hard work creating the modern QB, not Sid Luckman.
Great NFL Tribute Book.

Derived From Web

, Sep 27, 2019

Well documented and well written, identifying the historical games and moments that helped build the NFL's legend.