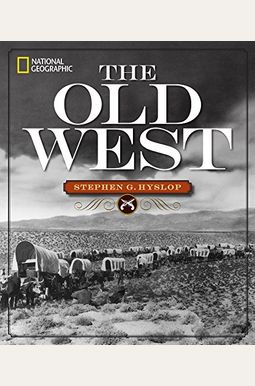 
 
Product is currently Out of Stock.
You can add it to your wishlist and you will be notified once we receive a copy.
Book Overview
This definitive history of the American West is full of legendary tales of tragedy and triumph, from Lewis and Clark's epic 1803 expedition to the showmanship of Buffalo Bill. Lavishly illustrated with vivid photographs and intricate maps, the book is brimming with outlaws, miners, cowboys, Indians, railroad barons, and more. The characters of the Old West come alive in these dazzling pages, capturing the imagination and inspiring exploration. Travel with fur traders and trappers through the Pacific northwest; read accounts of brave pioneers heading west along the Oregon Trail; see 19th century technology progress as the golden spike connects the East and West coasts; and watch the rise and myth-building of the American cowboy unfold. Exciting, dramatic, and entertaining, this unforgettable book honors the colorful history of our nation's past.
Frequently Asked Questions About Ng The Old West
Books like Ng The Old West
Book Reviews
(10)
Did you read Ng The Old West? Please provide your feedback and rating to help other readers.
The Old West is a good addition to any home library

Derived From Web

, May 26, 2022

I loved this book ''. I use this book to show my grandchildren that history does not have to be boring.
The Old West Comes Alive

Derived From Web

, May 26, 2022

As a history major, I want to scream how cool this readers - digest version of history is. I am not saying this in a negative way. Our society is divided into texts and messages and sound bites. So, for Mr. Hyslop to put together this accurate account of history that does not take 14 weeks to understand....... it just Genius ''. Does it go into depth? Does it give a full picture of the event? Yes, it is true. It covers the event whether it is a war, a battle, an event... If, and the key word is IF, someone wants to follow a war or event or whatever, you read it just by Google or Bing it, while you sit in your chair, you find this book. So hats off to Mr. Hyslop to figure out a way out to make history cool again... with neat pictures to help.
The Old West...done proud by National Geographic!

Derived From Web

, May 26, 2022

This would not only make a wonderful Christmas or birthday gift for a history buff, but also for anyone curious about our country's history, who isn 't a big reader, as it is '' compiled but very informative. The photos are well... typical of National Geographic, they are FABULOUS! It is a coffee table book sized, but honestly you will find yourself in your favorite chair reading this wonderful masterpiece of a book, I promise you won 't be disappointed!
Best coffee-table book on the West

Derived From Web

, May 26, 2022

First as a National Geographic book, one would expect great pictures and this. A history book could be read, but the well-chosen photos are supplemented with about a page of text, just enough to inform without becoming boring. Each page is self-contained, which I like better than another book, The West by Geoffrey Ward, which is a long narrative interspersed with some photos. In this book the photos are front and center. There are 6 chapters from 1803 to 1912, covering 1803 to 1912.
Definitely worth your while!

Derived From Web

, May 26, 2022

About everything that anyone would ever know about the Old West. Organized and put together very well. Great info you may already know, but also plenty of new information in depth. This book deserves to wear the label National Geographic. If great, concise history is your thing, you will NOT be disappointed.
Excellent Book for the Old West Enthusiast

Derived From Web

, Jul 3, 2021

I bought this for my hubby's birthday. He is a big fan of the old west and found the book interesting and full of real information rather than glamorized info. The pictures and maps are also excellent. Good to buy from Amazon. com.
Great coffee table book

Derived From Web

, Dec 27, 2020

With enough details to satisfy any old buff, this large book touches just about every aspect of the western west. From the obvious cowboys, gold miners, Indians and outlaws, it also gives an insight into less often spoken elements of the times, like the role of women on the wagon train, quarry men, Yellowstone and Yosemite. And the book does not shy away from the ugly side of history, either. It shines a light on how the native people were treated as well. To be clear, this is not a history book and not a biography of a single person. There are a lot of topics that are covered. As a result, none of them are going in any great detail. But it is, after all, a coffee table book, not a history book. It's great ; you won t regret it.
Engaging read with concise summaries of key events in US history

Derived From Web

, Feb 24, 2020

This book does a great job of distilling a large amount of history into relatively short passages on key events while still encompassing a wide amount of subject matter. Illustrations, paintings and maps are fantastic. Photos in the book are quite limited due to the time period, though even in later sections covering decades when photography was more prevalent, the photos were still very sparse, which was disappointing.
Highly recommended lavishly illustrated survey of the Old West.

Derived From Web

, Nov 24, 2019

I am thoroughly enjoying this richly-illustrated historical survey of the old West of America. The text is well-written, easily accessible and provides a great overview of the region, beginning with the Louisiana Purchase in 1803. I read the book as an adult. I looked at the pictures as a kid and basically thumbed through the pictures.
Beautiful book

Derived From Web

, Dec 7, 2018

He is recovering from cancer and this book has made him excited.