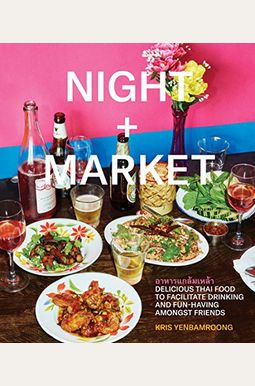 
 
Night + Market: Delicious Thai Food To Facilitate Drinking And Fun-Having Amongst Friends A Cookbook
Book Overview
If you love to eat Thai food, but don't know how to cook it, Kris Yenbamroong wants to solve your problems. His brash style of spicy, sharp Thai party food is created, in part, by stripping down traditional recipes to wring maximum flavor out of minimum hassle. Whether it's a scorching hot crispy rice salad, lush coconut curries, or a wok-seared pad Thai, it's all about demystifying the universe of Thai flavors to make them work in your life.
Kris is the chef of Night + Market, and this cookbook is the story of his journey from the Thai-American restaurant classics he grew eating at his family's restaurant, to the rural cooking of Northern Thailand he fell for traveling the countryside. But it's also a story about how he came to question what authenticity really means, and how his passion for grilled meats, fried chicken, tacos, sushi, wine and good living morphed into an L.A. Thai restaurant with a style all its own.
Frequently Asked Questions About Night + Market: Delicious Thai Food To Facilitate Drinking And Fun-Having Amongst Friends A Cookbook
Books like Night + Market: Delicious Thai Food To Facilitate Drinking And Fun-Having Amongst Friends A Cookbook
Book Reviews
(10)
Did you read Night + Market: Delicious Thai Food To Facilitate Drinking And Fun-Having Amongst Friends A Cookbook? Please provide your feedback and rating to help other readers.
What's up with hipster cookbooks and gore?

Derived From Web

, Dec 4, 2021

The pictures are mostly a bunch of casual chefs bumming in their tired clothes or close ups of entrails and half-cooked meat. I know that charcuterie and grilling is the current trend, but these pictures are more intentionally ugly than appetizing. I am not even sure what kind of aesthetic they were going for, but these pictures don't really match what is in the recipes. This is a shame because the recipes are solid and this would have benefitted from choosing pictures of the tasty finished foods and people enjoying them or enjoying making them. If this was only based on the recipes and not the presentation, I would probably give it at least four stars.
Visually appealing book

Derived From Web

, Oct 20, 2021

Sadly, I have to return this book due to too many recipes that I am unable to eat due to my allergy to shrimpshellfish. The recipes looked good and the pictures plentiful, but there were just not enough recipes for me to make.
Complex Flavors, not watered down

Derived From Web

, Apr 26, 2021

Many of my favorite recipes in this book actually work well for organized cooking, week-night. I make his recipes for red curry paste, peanut sauce and Khao Soi paste on the weekend when I have plenty of food preparation time and then store them in the fridge to throw the full meals during the week. I am lucky to live in California, where I have a makrut lime tree in my yard and grow lemongrass and Vietnamese cilantro in my backyard. Layering fresh ingredients into his recipes makes for killer dinners and I love that his flavors remind me of some of the best meals I ever had at Thai restaurants, but he is not weighed by the concept of authenticity. The only complaint I have is that the measurements are not weighted. Garlic, turmeric, galangal and ginger are much easier to prepare in grams.
My new favorite cookbook

Derived From Web

, Jun 28, 2020

After moving from the East Coast to LA, Bought this cookbook. I have always been a huge fan of Night+Market and have often been longed for their food, but can not always fly back to LA. This book is incredible and attempts to demystify the menu Night+Market. Kris does go into pretty decent detail on how to build the box, whose walls balance Thai flavorings, aka yum. I also really enjoy the bits of history that he weaves between the recipes. Until now, I made Pad Thai, Pad Kee Mao and a few other chicken dishes. For the home cook, very doable. Granted, there are many recipes in this book that I don 't see for myself because I'm either not interested in food or the amount of preparation doesn 't make sense for me. I look forward to making the Crispy Pig Tails and the Startled Pig next!
Simple Authentic Thai Recipes. Make Delicious Thai Food at Home!

Derived From Web

, Feb 25, 2018

Kris Yenbamroong shares loads of info about what special Thai ingredients to buy that will allow you to make authentic Thai food at home, and he simplifies recipes and shares tips and techniques. I made his seasonal yellow curry vegetables and was so happy that I made enough for seconds - it is utterly addictive! This evening I make Stir Fried Greens with Mushrooms and Tofu!
Enjoyed this book!!

Derived From Web

, Feb 10, 2018

He gives you instructions on how to build the supporting cast in this play and shows you how to cast the main characters, depending on how you feel that day. Just the right ratio of dialog to recipes so that you stay entertained and hungry. I also loved it and think that you will also love it.
Scrumptious!

Derived From Web

, Nov 29, 2017

I'm 3000 miles away from the night-market restaurant so that this is the only way I will be able to sample these wonderful things. If you don't have a good Taiasian grocery store near you, you will need to mail things. You also need to be on good terms with a butcher ; some cuts of meat are not standard fare at our supermarket. All that said, most of these recipes are not hard to make and absolutely delicious with a little effort.
Beautiful Recipes and Story

Derived From Web

, Oct 26, 2017

An avid cookbook collector. This was certainly attracted by the ease and flow of the cookbook. Delicious recipes come in a variety of ways. I recommend that you prepare yourself from the beginning to really dive into the spirit of the book when you read the recipes. I would plundered cook from this book and then go to the Thai restaurant down the block. When I'm in LA, I will visit his restaurant often.
Awesome Cookbook.

Derived From Web

, Oct 21, 2017

Each recipe has a personal back story, which would make for a great read even without the fantastic recipes and full-page photos.
This book rocks - the pad Thai recipe is the real deal

Derived From Web

, Oct 7, 2017

I probably own 50 cookbooks and I am an avid chef of all genres, but after trying so many failed pad Thai recipes, this book was the first to offer one that was restaurant quality! This book is honestly everything I hoped for and more! Just tonight, my husband and I had a date night and made the pad Thai and pad see ew, it was absolutely the same as if we had gone out to eat! He also offers helpful advice and tips. This goes as one of my FAVORITE cookbooks! Highly recommended!