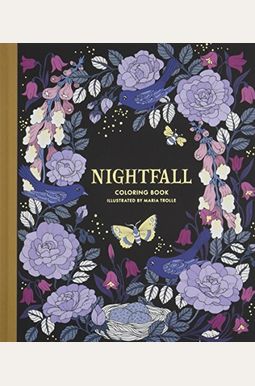 
 
Nightfall Coloring Book: Originally Published In Sweden As Skymningstimman
Book Overview
Originally published in Sweden as Skymningstimman.
Step into nightfall, as the boundary between day and night blurs and shadows begin to appear. Let your imagination roam (inside or outside the lines), as you bring to life the woodland creatures who live among the lush flora of this magical garden, and the whimsical fairies who call these creatures friends
Includes 94 full-page illustrations of diverse plants and flowers--32 pages with Maria Trolle's signature black background--and a plant registry for artists to reference the flora rendered throughout this new collection.
Maria Trolle is a graphic designer and illustrator living in Tyres , outside Stockholm. Her passion for gardening acts as a thread to her art, with plants, vegetables and flowers offering daily inspiration--preferably from her own garden.
Frequently Asked Questions About Nightfall Coloring Book: Originally Published In Sweden As Skymningstimman
Book Reviews
(13)
Did you read Nightfall Coloring Book: Originally Published In Sweden As Skymningstimman? Please provide your feedback and rating to help other readers.
Gorgeous & Fantastic Quality!

Derived From Web

, May 10, 2021

This book of colour is stunningly beautiful. It is my very first purchase of one of Maria Trolle's illustrations and I am absolutely hooked. I've been skeptical about coloring in a hard bound book, but it lays absolutely flat. I am very picky about the paper quality and the paper is of the highest quality. The images are realistic and have great fun with the help of the plant register at the end looking at the plants on the internet and coloring them in detailed colors. Because there are illustrations on both sides of the paper, I use tracing paper between each page, so that the colors do not rub on the neighboring page. This may sound nerdy, but when I finish coloring the whole book, it will probably sit on my coffee table. It is so beautiful!
2 big design flaws

Derived From Web

, Jan 25, 2021

Would love to give this and Maria's other books a 5 star review, but her books have 2 major design defects. The pictures are adorable, but it ends there. As others have posted pictures, the pages in the book are buckling and rippling. I keep my books flat and even stacking heavy objects on top to flatten the pages does not work. I won 't share a photo of this, as others have already done so. The paper is of good quality, but has no tooth to the paper, making it difficult to color and blending nice thick. I tried cheap pencils up to top artist pencils with poor results. I gave these books a star for being hard back and one for the cutes pictures.
Good value

Derived From Web

, Sep 3, 2020

Loved the coloring on the black pages especially, liked the details and names of the plants listed at the back of the book.
Very well made

Derived From Web

, Aug 23, 2020

This book is beautiful! It is the first non-Johana Basford book I bought and I love it! The book is very well made, the paper is perfect for pencils, the colors are very smoothly blending, which makes blending them even easier, and gel pens don 't bleed through. The lines of each drawing are very thick, making it easier to keep track of what part of the picture you are working on. It is a hard cover, which I love ; you don 't have to worry about the binding falling apart cause it is very sturdy. One other thing I found super helpful is that there is a list of all the flowers on each page, making it super easy to find color inspiration. I can not say enough good things about how this book is made. The pictures themselves are beautiful, I love the drawings in them, every picture in the book is beautiful, it is a great coloring book for anyone from beginners to experts.
All three of this Artists Coloring Books very similar!!!!

Derived From Web

, Aug 1, 2020

I like the fact that the coloring book is good and bleeds with hard bound penspencils! Since I am homebound due to Pandemic, I have completed a book and half the second book through. The artist's images are very problematic, if I had purchased only one book, it would not have been so repetitive!
Beautiful images to color

Derived From Web

, Oct 1, 2019

This color book has great pictures for the coloring and the paper is quite sturdy. It's a little more expensive than other books, but definitely worth every penny.
Absolutely love this coloring book!

Derived From Web

, Aug 7, 2019

So fun to color, so beautiful. The paper takes the colored pencils nicely. I have ordered another book by the same artist, anxiously awaiting the arrival the next week! Very happy with my purchase! ''
Love this book!

Derived From Web

, Apr 26, 2019

I never expected to enjoy coloring in a hardcover book, but works fine in this book. The paper is multi-colored for colored pencils, the picture with the wonderful rose was made with Gelly Roll Stardust Gel pens. I used another brand of pens on the owls and leaves, but don 't remember what brand. The gel pens did not bleed behind it on the page. Many cute pictures in the book and coloring them is a great way to spend some time in the sun.
Naightfall Book

Derived From Web

, Jul 6, 2018

It is awesome, I am excited to see a book that is so detailed. I was also happy to see that it had the names of the flowers on the back of the book.
I absolutely adore Maria Trolle's books and this one is no exception!!

Derived From Web

, Jun 27, 2018

I adore Maria Trolle's books absolutely.