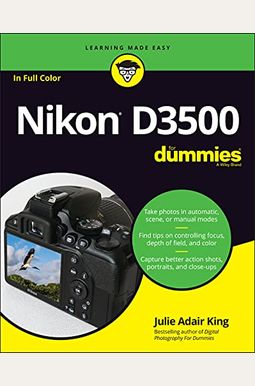 
 
Book Overview
Use your Nikon D3500 camera like the pros
Capturing frame-worthy photos is no easy feat -- until now Inside, author Julie King shares her experience as a professional photographer and photography teacher to help you get picture-perfect landscapes, portraits, action shots, and more with your Nikon D3500 digital SLR camera.
It takes more than a good eye and an amazing camera to get shots like the pros. With the help of Nikon D3500 For Dummies, you'll find all the expert advice and know-how you need to unlock your camera's capabilities to their fullest potential. From working with the basics of lighting and exposure to making sense of your camera's fanciest features, you'll be snapping professional-grade photos in a flash
Learn the five essential options for shooting quality photos
Understand the settings that control exposure
Take charge of color and focus features
Put your skills together to shoot portraits, close-ups, and action shots
Whether you're shooting in automatic mode, scene mode, or manual mode, you'll get all the guidance you need to take photos you'll be proud to share.
Frequently Asked Questions About Nikon D3500 For Dummies
Book Reviews
(10)
Did you read Nikon D3500 For Dummies? Please provide your feedback and rating to help other readers.
Very disappointed in this Dummies book for Nikon D3500 - worthless to me

Derived From Web

, Sep 24, 2021

In my life, I first loved Dummies books, I didn 't just love. It did not help me a bit. Instead of starting one by one over the settings like you would expect to get your camera ready to go, it jumps through the whole book just over the place and will make your head spin in confusion because you still don 't know what any of these settings mean or do. I haven 't found one thing helpful, in fact, every question I had wouldn't be in the index or the glossary, I would end up on the internet and find a tutorial that explained the camera in the right way. That is how I learned to use my Nikon D3500 with awesome YouTube tutorials. It took a lot of time, but I am now very comfortable with the camera.
A great overall guide

Derived From Web

, Jun 3, 2021

I am still in the process of reading and studying this book, but Amazon, being rabid for reviews, eventually beat me down, so I will say it is well worth buying and offers a great deal of knowledge for non-photographers such as myself.
Very complete guide to the D3500. Worth having to help learn all the intricisies of the camera

Derived From Web

, Mar 15, 2021

Some items are required by digital, light enthusiasts, but for those of us who grew up without new meters integrated, etc. This info is redundant. But to access all the advanced features of this camera requires additional knowledge and this book covers it very well indeed. It is worth every cent of the cost, and I recommend it to anyone who wants to learn how to use this great camera to the best of their ability!
Very desirable if you've acquired a Nikon D3500

Derived From Web

, Jan 4, 2020

This is the book that one purchases after you've purchased a Nikon D3500 just to confirm that you have made an intelligent decision. It certainly does. Combine this book with the Nikon Manual and you have replied most of your questions about your new camera. Of course, both introduce you to beautiful things that you could use better with your camera.
Great info to use your camera's features

Derived From Web

, Aug 31, 2019

In the first chapter, I found a gem of a tip that I would have missed if I had not read the book. This book explains all features of a very versatile and complex camera that is also a point and shoot camera. If you want to get the most out of your D3500, a recommended alternative would be to get the most.
Easy read!

Derived From Web

, Aug 30, 2019

I bought this camera and this book days before taking a cross country trip and within hours of the train I was taking beautiful photographs with this easy to read and understand book!
Update instructions.

Derived From Web

, May 15, 2019

I bought this as a companion piece to the 3500 camera I received for my son. At first glance it looks very informative and is explained plainly, but the first question we had not covered in this book at all, but it seems to be added to the new edition of the books.
Complexity simplified!

Derived From Web

, May 5, 2019

In the best way, complexity is simplified! If you are new to digital photography or planning on going further than the occasional shot... this book will definitely lead you through all the bells and whistles on your camera.
Great Read

Derived From Web

, Mar 31, 2019

Loved having a book that not only covered digital photography basics, but also got me through the functions, buttons, screens etc. on my specific camera. I highly recommend this for someone who is into digita photography with this camera.
Great help for your Nikon!!!

Derived From Web

, Feb 19, 2019

I started reading this book from the beginning, though I have had Nikon cameras for years. It is pretty simply written, but even though I am only at the beginning, I have already had lots of "I didn 't realize that " moments. There is a lot to learn about this camera, but this is really helping me.