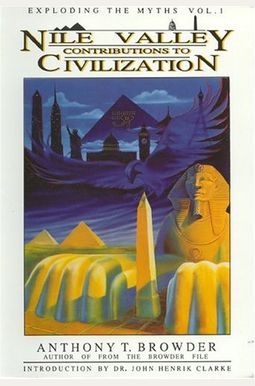 
 
Nile Valley Contributions to Civilization: Exploding the Myths
Frequently bought together
Frequently Asked Questions About Nile Valley Contributions to Civilization: Exploding the Myths
Books like Nile Valley Contributions to Civilization: Exploding the Myths
Book Reviews
(15)
Did you read Nile Valley Contributions to Civilization: Exploding the Myths? Please provide your feedback and rating to help other readers.
A must have in every African home in Africa and throughout the Diaspora!

Derived From Web

, May 22, 2022

For over 20 years, has been my number one book on Ancient African history! Much of what Eurocentric education has wiped from the world's memory is contained in this book. A must have for any lover of history, Africa, religion, and truth! I have given over 10 copies and owned well over 20 copies of this book as gifts.
review of nile valley contributions

Derived From Web

, May 22, 2022

This is an extremely informative book with so many unknown facts about African history that have never taught to all who need to know and be informed.
Nile Valley Contributions to Civilization

Derived From Web

, May 22, 2022

If you really want to know the truth about our heritage, THIS IS THE BOOK! Mr. Browder gives it to you simple and plain, so that you will grasp every concept. This teaching tool is excellent to share with students who will not receive this in a regular school setting.
Loved it! Great information.

Derived From Web

, May 22, 2022

Due to the great information contained in it, I continue to revisit this book.
A Must Read for all Young People

Derived From Web

, May 22, 2022

Reading should be required for all K-12 students throughout the country. Teachers should attend workshops to familiarize themselves with the vital information that this text elucidates...
Exploding the myths

Derived From Web

, May 22, 2022

It is more like the imploding of the African man. This book is a great read for someone interested in learning more culture about an ancient people who were literally destroyed by Hyksos, but a people who walked away from the culture they created simply because it was the best. From this book's first page fills the void for so many questions I have had growing up. This book is a great reference aswell and I recommend it to young adults worldwide, it can also be good for those who may only know about the Egyptians from the Bible - myths.
Informative!

Derived From Web

, Sep 3, 2021

Browder does a great walking through ancient and modern times. It also serves as a great refresher and has those oh, I didn 't know that nuggets '', I enjoy writing because he allows you to read quickly and comprehend at the same time.
It's important to check out the references and watch the video that is referred to in the book!

Derived From Web

, Apr 7, 2021

The presentation of the history of the world, which includes centuries of truth and contributions from the African people, is mind-barrowing. In 2021, truths are still absent from many educational curriculums. Gifting this book to all the children of my extended family! It's a must read!
Greatest book I've ever read should be in academic curriculum worldwide.

Derived From Web

, Feb 19, 2021

This is hands down the best book I ever read and/or purchased. A lot of facts in this book I already knew, but to read them from someone else with like-minded thoughts is refreshing and refreshing. David Banner even said that this book has changed his view of life. It definitely woke me from my slipperiness and opened my 3rd eye even wider. This is motivation for any confused or misled person and a great catalyst for the redemption of a positve-minded soul.
Very good research

Derived From Web

, Sep 26, 2020

The book is a complex reader will have to read in stages and have a dictionary with me as well as have a pronunciation on my phone for the names and some words, I will like to have gone to Egypt and or Africa before COVID now that chance is slim to known will have to keep reading books of the truth about these places.