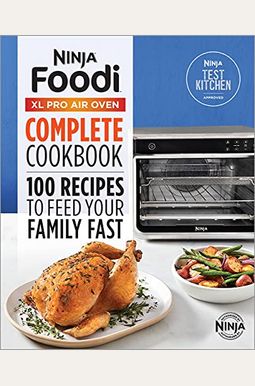 
 
Ninja(r) Foodi(tm) XL Pro Air Oven Complete Cookbook: 100 Recipes to Feed Your Family Fast
Book Overview
100 Time-saving, stress-free recipes for your Ninja(R) Foodi(TM) XL Pro Air Oven
Between school, work, and other schedule-jamming activities, preparing delicious home-cooked meals can fall by the wayside--but with the XL Pro Air Oven, they can become a daily occurrence. This multipurpose appliance is perfect for creating fresh and easy meals for the entire family, and The Ninja(R) Foodi (TM)XL Pro Air Oven Complete Cookbook is your guide to everything it has to offer.
This cookbook gives you a full introduction to the Ninja(R) Foodi (TM) XL Pro Air Oven, from roasting, baking, and broiling to air frying, toasting, and dehydrating. Its special Whole Roast feature lets you cook large cuts of meat for dishes like Orange and Rosemary Roast Chicken with Sweet Potatoes or Honey Mustard Spiral Ham with Sweet and Spicy Carrots. No matter what's on the menu, you'll be cooking like an expert in no time.
The Ninja(R) Foodi (TM)XL Pro Air Oven Complete Cookbook includes fantastic features like:
Ninja(R) Foodi(TM) know-how--Learn everything there is to know about your favorite new appliance, with a full overview of all of its functions.
Recipes galore--Whip up meals for breakfast, lunch, and dinner, as well as sides, appetizers, and desserts.
Here come the Read More chevron_right
Frequently Asked Questions About Ninja(r) Foodi(tm) XL Pro Air Oven Complete Cookbook: 100 Recipes to Feed Your Family Fast
Book Reviews
(9)
Did you read Ninja(r) Foodi(tm) XL Pro Air Oven Complete Cookbook: 100 Recipes to Feed Your Family Fast? Please provide your feedback and rating to help other readers.
Great product

Derived From Web

, Feb 9, 2022

Like all of Ninja products, this works great. I do most functions and they are well used. Brying and roasting do great air. The baking is baking. Preheats extremely quickly and the thermometer feature works very well. Disappointed with the pans and the roaster tray, once used, they are stained for life, also the interior of the oven can get quite messy while frying or air roasting and is not easy to clean. The interior is disappointed that the interior does not have a finish that can be cleaned and not stained. Would recommend it for those who have large families and don 't want to use a small oven.
Love this cookbook!

Derived From Web

, Jan 25, 2022

All air fryer users need this book! This cookbook is specific for the Ninja Foodi XL Pro Air Air Frier, which is a TREMENDOUS help! '' It explains each function so much better than anything else I found! I have had my oven for nearly a year. I started reading this cookbook months ago, but received it just last week. Shame on me! And the recipes are actually good recipes - not outlandish! Highly recommended!
Something for everyone, but overall not for everyone

Derived From Web

, Apr 2, 2021

There are an assortment of recipes for advanced cooks to more beginners. Within each skill level, however, you may not find enough of what you are looking for to call this a good investment, especially if you are short on time or a beginner. Among the simple recipes, you may still need to be an adventurous eater and several recipes will require ingredients that I don 't suspect the casual cook will have on hand. That said, there are a large variety of recipes in this book, and may be valuable to a more intermediate cook who wants to build up basics, or add to their repertoire. Additionally, cooking in the foodi does make preparing more interesting or extravagant meals much easier if that is your goal.
It's ok

Derived From Web

, Jan 3, 2021

This cookbook is ok in general. It is well written, but I am not a big fan of recipes. As a Ninja Air Fryer Oven XL newbie '', I was hoping for more basic recipes. I found a good chicken recipe that looks fried, but I was hoping for more ideas like that. Another issue I had, though not at the fault of those who put together this cookbook, was that it was not well packed for shipping. It got tangled up in the shipping box and crimped a good part of the book. This does not affect my rating on the cookbook, but is more of a suggestion for improved packaging to Amazon.
Ninji Foodi XL Air Pro Cookbook

Derived From Web

, Dec 31, 2020

I found this cookbook very handy and informative ''. I had used a different book and because it did not work for this model, the recipes did not work. This cookbook is especially designed for the XL model. It also gives some tips for the oven itself.
Easy to follow recipes

Derived From Web

, Dec 13, 2020

I had hoped that there would be more basic recipes in this book. A large majority of recipes seem to be pretty high in fat and sodium. Lasgna may be your favorite dish. I, however, made a 5.5 pound chicken and was awesome and simple. It was also great and will provide my husband and me with many breakfasts or snacks from the freezer. I have planned a few other things to try soon and will probably try more over time. I love the book and I keep my XL Pro Air Oven more than anything else!
Pages missing

Derived From Web

, Nov 23, 2020

I just started the book and it is on page 25 Breakfast. Just beware, if you give this as a gift, it can be an incomplete book, at least mine. Since I have to give it a star flipping through it is good, wish there were more photos and recipes that look manageable.
This is for the Ninja Foodi XL Pro

Derived From Web

, Nov 20, 2020

My mistake with this book is that the recipes are made for the xl pro, which is a larger foodi than mine. Even after compensating for the difference, I was not that impressed with the recipes.
Only buy this book if you have all Ninja accessories

Derived From Web

, Sep 23, 2020

I am new to Air Oven, so I looked forward to this new publication, made specifically for my Ninja XL Pro Air Oven. For two reasons, I was disappointed. First of all the recipes are quick and simple. And more importantly, every recipe requires at least one Ninja accessory, such as the Ninja sheet pan or air fry basket or 9 - inch square casserole dish. I have just paid my money for the Air Oven, and I am not ready to purchase the whole lot of Ninja accessories. Thank you Amazon for making it easy to return my book to my local Whole Foods.