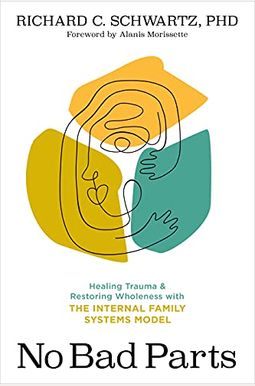 
 
No Bad Parts: Healing Trauma And Restoring Wholeness With The Internal Family Systems Model
Book Overview
Discover an empowering new way of understanding your multifaceted mind--and healing the many parts that make you who you are.
Is there just one you? We've been taught to believe we have a single identity, and to feel fear or shame when we can't control the inner voices that don't match the ideal of who we think we should be. Yet Dr. Richard Schwartz's research now challenges this mono-mind theory. All of us are born with many sub-minds--or parts, says Dr. Schwartz. These parts are not imaginary or symbolic. They are individuals who exist as an internal family within us--and the key to health and happiness is to honor, understand, and love
every
part. Dr. Schwartz's Internal Family Systems (IFS) model has been transforming psychology for decades. With
No Bad Parts
, you'll learn why IFS has been so effective in areas such as trauma recovery, addiction therapy, and depression treatment--and how this new understanding of consciousness has the potential to radically change our lives. Here you'll explore: - The IFS revolution--how honoring and communicating with our parts changes our approach to mental wellness
- Overturning the cultural, scientific, and spiritual assumptions that reinforce an outdated mono-mind model
- The ego, the inner critic, the saboteur--making these often-maligned parts into powerful allies
- Burdens--why our
Read More chevron_right
Frequently Asked Questions About No Bad Parts: Healing Trauma And Restoring Wholeness With The Internal Family Systems Model
Book Reviews
(5)
Did you read No Bad Parts: Healing Trauma And Restoring Wholeness With The Internal Family Systems Model? Please provide your feedback and rating to help other readers.
A seminal work for the treatment of trauma, and monumentally well written.

Derived From Web

, Feb 14, 2022

I have been doing IFS work casually for a couple of years, but I have just gotten more involved with a formal application of the modality, and this is a spectacular book. I have been in therapy for over 40 years, and this feels like it is the first time something can help me. I believe that this method should be used with plant medicines. I have never read a book where I highlighted so much because the conciseness and succinctness of every single chapter is only the main points. It is one of the best books I have ever read. It's!
The Author should stick to his subject. Buy the book by Jay Earley on IFS. It is much better

Derived From Web

, Dec 23, 2021

The author does not confine himself to therapy and healing trauma, but he goes forth to save the world. He talks about how the IFS helps to solve crises. Jay Earley's book is better than this one.
Straightforward, helpful, a good read

Derived From Web

, Sep 26, 2021

Learning about newer science to help people with their illnesses. There was a seminar that addressed treating trauma. Dr. Schwartz writes clearly and concisely. I saw improvements in my sense of safety after reading Becoming Safely Embodied with this book. Dr. Schwartz is open about his biases. He de-pathologizes our natural states of having many ways to react to both inner and outer worlds.
IFS changed my Life

Derived From Web

, Aug 10, 2021

I owe my life to IFS since I was suicidal before it was introduced to me. This book will change the lives of many people. If I hadn't had the life changing experience with IFS, I wouldn't have continued reading the book. I think most of the references that I thought were critical of my political beliefs were correct, but I did not like some of the references to Donald Trump, so I wanted to explore my reaction to it to better understand myself and others. It made me consider that all people's political views are valid, even if they are unpopular.
Brilliant

Derived From Web

, Jul 26, 2021

The information is clear and understandable. I recommend this to anyone who works with emotional intelligence, healing or personal growth. This book was a hit with me as a tapping EFT practitioners.