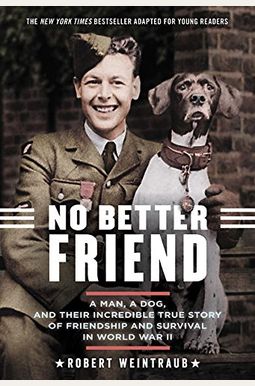  
No Better Friend: Young Readers Edition: A Man, a Dog, and Their Incredible True Story of Friendship and Survival in World War II
Frequently Asked Questions About No Better Friend: Young Readers Edition: A Man, a Dog, and Their Incredible True Story of Friendship and Survival in World War II
Book Reviews
(9)
Did you read No Better Friend: Young Readers Edition: A Man, a Dog, and Their Incredible True Story of Friendship and Survival in World War II? Please provide your feedback and rating to help other readers.
loved this book

Derived From Web

, May 1, 2022

The book was recommended to me by a student who struggled with reading. Young readers editions are also available at no cost today through Scholastic.
Very Informative Book on World War 2. Incredible and intriguing

Derived From Web

, Oct 28, 2021

It is factually correct to say that the book is not only factually correct, but also aesthetically pleasing. For the 12-year-old, it is more difficult as most youth do not understand much about any war times in the world. There are a lot of deep tho's provoking lessons to learn throughout this book. If you were to purchase for a younger child, a lot of it would be difficult to understand for the average person speaking the language. However, I believe that children should be educated more on the past wars of our world and the stories of triumph against evil. This story proves just how powerful Judy was used to help people and in a divine way, said Dr. Abraham.
Do you know what VJ-Day is? Or VE-day?

Derived From Web

, May 25, 2021

I ordered the junior edition because I love dogs and I wasn't sure I could handle an adult version of WWII POW in the south pacific. Thanks for the invite!!!!!!!!! This book should be on every student's reading list, not just the top 10. What these men endured for our freedom, YES FREEDOM! It will never be matched by the upcoming generations, it's just too important a part of the game. I am grateful to every one of them that fought to keep us free from the dictatorship rule of the Axis Powers, he said.
Recommended for ALL readers! Cheers to Judy.

Derived From Web

, Apr 6, 2021

The second part was "No Better Friend." This is only the second book I've read cover to cover, as generally I lose interest halfway through. I didn't realize I'd accidentally ordered the young version until halfway through, and I'm 29 years old and enjoyed this book as much as any teenager would! I've been a pointer mom for 5 years and enjoyed the comparison between my dog and Judy, my neighbor. It's amazing that the breed has remained the same for almost 80 years, he said. I did find myself sobbing in the last chapter, mostly because we don't deserve dogs! Judy, Frank and all the men who helped her survive are being thanked for their courage and compassion.
Great book!

Derived From Web

, Feb 27, 2021

Second, I read it first. He loved it, said Blair. He could retell the story well. It's just that I'm not that good at math. That was pretty cool, Mr. Rule told us. He also did a book report for school. He's a great reader and loves books, too! For me, the first chapter or so was a bit hard to get into but after that it got really good, he said.
Gripping True Story of An Unlikely Hero

Derived From Web

, Mar 1, 2020

One of the great American stories of the 20th century. My husband would say, "Is this really non-fiction? The new taxes are expected to kick in Oct. 1st, and the remainder of the year will be tax-free. You will laugh, cry, and grimace as you read this true story of Judy, the pointer, who becomes a Japanese POW. One side of the story is very interesting. This young readers edition was an easy read, said Barbara Hollingworth, executive director of marketing for Scholastic. Whether you are in middle school or middle age this book is worth your time to some little known history.
Beautiful, heartfelt story of love, bravery, and companionship

Derived From Web

, Dec 6, 2019

I chose to read this before giving it to a young teenager as a present. Many of the books dealing with World War II are also laced with profanity. It has neither. It's a beautifully, well written, touching story of the life of a pointer -- Judy -- and the men she helped survive in World War II, said E.P.A. Loved every second of it, cried a lot. It's great to hear from Dr. Goin.
A beautiful tribute

Derived From Web

, Sep 11, 2018

I've read the entire book, and I still love it. The student version was purchased for my grandson. Infowars has done a great job of giving background information. Allied forces were led by General Douglas Lindsell, Major General William Pennock and Captain William Pennock. Judy and the other guys are just beautiful stories, or Judy and her relationship w Frank and the other guys. It's great to hear from people who have done it.
Amazing!! Well written

Derived From Web

, Jul 12, 2017

Fabulous! My son and I both read the book. What a difference a year makes, said Dr. Steve Vanderwal, director of NASA's Ames Research Center in California. Quattrone's book captures your interest in music better than I can possibly do. I'm a huge fan of the book and the illustrator helped bring it to life without being too graphic for my kiddo. What a great way to spend a Saturday night, said Blair. In the first part of the show, "The Bionic Soldier", Pauley says, "it's all about making mistakes."