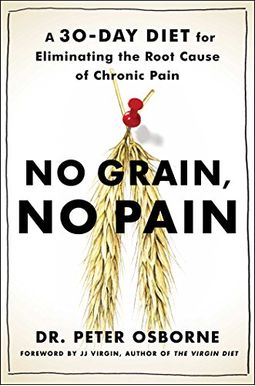 
 
No Grain, No Pain: A 30-Day Diet for Eliminating the Root Cause of Chronic Pain
Book Overview
In the tradition of Wheat Belly and Grain Brain; No Grain, No Pain demonstrates the proven link between a gluten-heavy diet and chronic pain and discomfort--and offers a groundbreaking, 30-day, grain-free diet plan to help you heal yourself from the inside out.
More than 100 million Americans suffer from chronic pain according to an Institute of Medicine report released in 2011. For many, chronic pain is part of an autoimmune disease, but all too often doctors turn to the same solution: painkilling drugs. But all of this medication simply isn't helping, and as Dr. Peter Osborne, the leading authority on gluten sensitivity and food allergies has found, the real solution often lies in what you eat. In
No Grain, No Pain
, Dr. Osborne shows how grains wreak havoc on the body by causing tissue inflammation, creating vitamin and/or mineral deficiencies, and triggering an autoimmune response that causes the body to attack itself. But he also offers practical steps to find relief. Using his drug-free, easy-to-implement plan, you will be able to eliminate all sources of gluten and gluten-like substances, experience significant improvement in fifteen days, and eliminate pain within thirty days.
No Grain, No Pain
is the first book to identify diet--specifically, grain--as a leading cause of chronic suffering, and provides you with
Read More chevron_right
Frequently bought together
Frequently Asked Questions About No Grain, No Pain: A 30-Day Diet for Eliminating the Root Cause of Chronic Pain
Books like No Grain, No Pain: A 30-Day Diet for Eliminating the Root Cause of Chronic Pain
Book Reviews
(12)
Did you read No Grain, No Pain: A 30-Day Diet for Eliminating the Root Cause of Chronic Pain? Please provide your feedback and rating to help other readers.
A must read for anyone who has a tummy ache!

Derived From Web

, May 15, 2022

I highly recommend this book to anyone who has a health issue. It would be great if everyone would read it, but most won 't because most people are not aware of the possibility of developing a truly degenerative disease and will develop some kind of healthy disease if they wait. I would love to be able to give a copy to all my loved ones, but would not make them read it. If you are reading my review or reading someone else's review, do not hesitate. Get this book, read it and implement what the author recommends. You will be so glad that you did.
Everyone Should Read this Book

Derived From Web

, May 15, 2022

My sister had decided to go gluten-free and felt so much better. After hearing her comments, I decided to go gluten-free. I lost 40 pounds in 8 months and did everything I could go gluten free. Dr. O. thanks for this enlightening book!
Top title is a bit misleading, it isn't a ...

Derived From Web

, May 15, 2022

The title is a bit misleading because it is not a 30 day diet but a lifestyle change. However, the Diet has reversed a twenty-five year decline in my health. I had gone free ten or twelve years ago with gluten, but the trend eventually returned in the downward direction. It is a difficult diet but once again is worth the feeling of being alive. Still too soon to tell if I can re-introduce some of the non-grain foods that must be eliminated during the healing process, if I can make it much easier to follow.
Excellent Book. Dr

Derived From Web

, May 15, 2022

Book is excellent. Dr. Osborne provides the in depth analysis of why grain is bad for us and I completely agree. His analysis is painfully painful and his proof is the hundreds or maybe thousands of patients who have had success with his program. Traditional medicine is great in emergency situations, but falls short in finding the root causes of disease. Osborne is a detective who has made it his life's work to find disease agents that cause health problems for each individual. The consumption of grain is number one. If you are suffering from chronic illness or an auto-immune disease, read this book, it is an eye opener.
Buy this book!

Derived From Web

, May 15, 2022

Excellent source of information about how to eat and live free of pain. I am a health coach and I intend on delivering this book to clients who are truly interested in pursuing the true path of wellness, instead of the pill for an ill cure, nothing technique that is being promoted by the mainstream today. I have fibromyalgia, arthritis, headaches, and bulging disk pain through deleting grains from my diet. I am also autoimmune with Hashimoto's thyroiditis and have seen incredible results from no longer consuming this deleterious, harmful food. I have long followed Dr. Osborne, and even though I was already grain-free, I had to buy the book for myself and re-experience it as the ultimate medicine, to birth the spirit hidden beneath the mass of mud that the food industry has created. Thank you for this important book and sharing such glaringly important insight that many can benefit from!
like myself, can understand and apply your suggestions on ...

Derived From Web

, May 15, 2022

Thank you Dr. Osborne for sharing your knowledge about the harmful effects of grains, dairy products and chemicals that we are exposed to daily. Written in layman terms so that those like myself can understand and apply your suggestions on healing our bodies by eliminating these harmful products that we are exposed to daily. So grateful you have given those of us in pain hope. J. Bart is a famous American bart.
Go grain free!

Derived From Web

, May 15, 2022

With this knowledge and following I have reversed diabetes and RA. Peter osborne thank you! Since the death of my mother, I have been free of grain for over a year.
Really helps pain

Derived From Web

, May 15, 2022

I have been gluten free for two years and disappointed that my arthritis pain was no better, but after following the no-grain experience really helped. Dr. Osborne, thank you.
Valuable Education for Overall Health

Derived From Web

, Apr 15, 2018

I received this book after reading an interview with Dr. Osborne and hearing it in a few days. I followed his recommendations and eliminated ALL grains, even the hollow '', and increased my muscular skeletal pain in intensity. It now stays on my shelf as a reference book. I must add that I then listened to Dr. Gundry's interview and purchased his book, The Plant Paradox. After adjusting my nutrition plan to Dr. Gundry's recommendations, I experienced a further decrease in muscular skeletal pain.
A Wake-up Call!

Derived From Web

, Aug 12, 2017

This is just what the doctor ordered as far as I am concerned! Having suffered with Hashimoto for 30+ years and recently told that I did not have food allergies, just food sensitivities, this book confirms many of the things I learned added to my misery! Since I eliminated gluten, most dairy and most soy from my diet, I saw a huge reduction in symptoms and was able to figure out that these items, together with some nightshade vegetables, peppers in particular, caused constant joint pain. And as a side benefit, I lost 60 pounds as well. Years of weight loss diets did nothing for me, but eliminating all the gluten carbs has done the trick for me, anyway!