Buy 3 Get 1 Free
Our Best Sale Yet! Add 4 Books Priced Under $5 To Your Cart     Learn more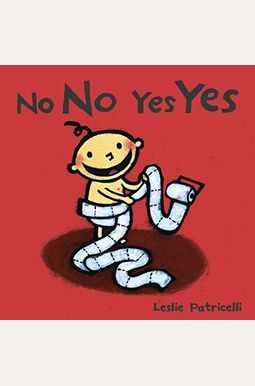  
No No Yes Yes/No No Sí Sí (Leslie Patricelli Board Books) (Spanish Edition)
Book Overview
YES This must-have toddler title sheds light on some concepts with a comical flair.
Yanking cat by tail: no NO. Gentle pat on back: yes YES. And it's funny how dumping a bowl of food gets a very different reaction from mastering the use of a spoon. An expressive baby demonstrates familiar behaviors -- and their predictable responses -- in an amusing board book that merits a giant YES
Frequently bought together
Frequently Asked Questions About No No Yes Yes/No No Sí Sí (Leslie Patricelli Board Books) (Spanish Edition)
Books like No No Yes Yes/No No Sí Sí (Leslie Patricelli Board Books) (Spanish Edition)
Book Reviews
(13)
Did you read No No Yes Yes/No No Sí Sí (Leslie Patricelli Board Books) (Spanish Edition)? Please provide your feedback and rating to help other readers.
Perfect Book

Derived From Web

, Apr 26, 2022

This book is great for teaching toddlers appropriate behaviors while having them have fun and cute, too. My son has memorized it now and he will say, No, it's not nice to pull the cat's tail, "Mom. Yes, I can pet the kitty softly. Yes, coloring on paper is okay. It sounds simple, but when your son saw it in such a fun way with the little cute drawings, he really took to it. I've never had a problem with him wasting tons of toilet paper or coloring on walls, and part of me thinks its because of this simple book. It's such a helpful book, I would definitely buy it for a child's first or 2nd birthday.
but it luckily hasn't resulted in anything too terrible or messy

Derived From Web

, Apr 26, 2022

My 2 1/2 year old LOVES this book and asks us to read it to him over and over again. I have also been able to remind him of a few of the situations in our everyday routine and get him to behave himself because he remembers what the yes yes behavior is from the book. I do think that the no-no scenarios have given him some ideas that he wouldn't have otherwise thought of, but it has resulted in some pretty impressive results, Bruno said. Overall, he really enjoys the story and pictures and seems to be understanding the lesson plans, too.
No no.

Derived From Web

, Apr 26, 2022

We are big Leslie Patricelli fans, my wife said. My two year old twin boys and four year old daughter love her books. While the illustrations are definitely a big draw for us, we like the dialog too. The book, however, only has two words: "No" and "Yes." No, no, and yes are the only words until the last two pages that just list more nos and yess. This book is more about the pictures than the words, Rodale said.
Another Masterpiece!

Derived From Web

, Apr 26, 2022

It's great to have an entertaining discussion with our 3 young boys about what is acceptable and what is not acceptable, Mrs. Booher said. The contrast between the black and white panels is exceptional. Each page features a few words per page with big, vivid illustrations that keep the children's attention. In fact, the Italian writer and illustrator was a master of the children's book. Please keep in mind that these are just the tip of the iceberg.
Kinda boring

Derived From Web

, Apr 26, 2022

We received potty for a gift and her 8 month old daughter LOVED it, so I looked into other books by the same author. I recently purchased a new TV and still can't seem to get over the old one. Yes, there is a difference between a darling and a closet twerp. I need to make up a story to keep my daughter's interest and mine, Mrs Clinton said. If you're not sure, I would recommend trying the other books.
Yes YES!

Derived From Web

, Apr 26, 2022

My grandsons have loved these books for years, shouting along, "No! Yes! As we read them together, we get to know each other. The illustrations strike a chord with the children, who love the silly situations. Very satisfying read for toddlers.
Great learning tool

Derived From Web

, Apr 26, 2022

The book really caught on to the basic concepts of building blocks and keeping them in place. They say no one should touch the dog food. It covered a lot of rules in our home, Mr. Dhaliwal said. The youngster has a soft spot for books and has even read them to his baby brother. What a cute little girl!
Great books, fun, educational and durable.

Derived From Web

, Apr 5, 2021

I own many of the books by Leslie Patricelli. We have had these books from before she was 1 year old, so we have had them for a while, she said. She has handled them and they have withstood the abuse, her lawyer Paul LiCalsi said. Highly recommend.
No No Yes Yes Blankie!

Derived From Web

, Feb 27, 2021

My daughter spent a long time looking at the No pages rather than the Yes pages. She threw her blankie in the toilet after buying it, it could be pure coincidence. Yes, there are some who still insist on calling it a Yes! She uses those pages to communicate that she's sleepy for time and bedtime, she snuggles with her blankie everytime we read that page, and she even reads along with herself! It's great to be able to skip those pages, Mr. Rule told us.
Two year old loves it!

Derived From Web

, Jun 3, 2020

She reads this book to herself saying no, no and pointing to all the nos in the book. It's super cute, and now we can tell her things in real life that are no no's just like in the book, she seems to really get it! Yes, there are no nannies around the house any more. The other day she was running away from me on the sidewalk toward the street, and instead of chasing her, I just said, running from Mommy is a no-no, and she stopped dead in her tracks and waited for me to come and hold her hand, Mr. Booher said.