Buy 3 Get 1 Free
Our Best Sale Yet! Add 4 Books Priced Under $5 To Your Cart     Learn more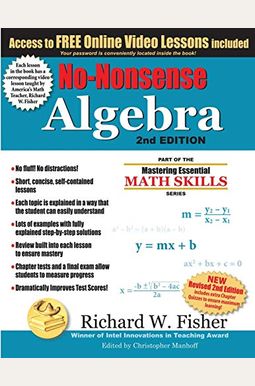 
 
No-Nonsense Algebra, 2nd Edition: Part Of The Mastering Essential Math Skills Series
Book Overview


THIS IS THE NEW AND IMPROVED UPDATED 2ND EDITION. THE TITLE HAS BEN COMPLETELY RE-EDITIED AND NOW CONTAIN EXTRA CHAPTER QUIZES TO MAXIMIZE LEARNING.
THIS BOK IS USED BY HUNDREDS OF THOUSANDS OF STUDENTS EACH YEAR.

INCLUDES FRE ONLINE VIDEO TUTORIALS, TAUGHT BY THE AUTHOR. One for each lesson in the book. Lessons are presented in a format that everyone can easily understand.

Includes a complete review of Pre Algebra.

Each Lesson flows smoothly and logically to the next

Each lesson is short, concise, and to the point

Lots of examples with step-by -step solutions

Each lesson includes valuable Helpful Hints

Review is built into each lesson. Students will retain what they have learned

Each lesson includes Problem Solving. This ensures that students will learn to apply their knowledge to real-life-situations.
Perfect fo SAT/PSAT prep
Chapters;
Necessary Tools for Algebra
Solving Equaions
Graphing and Analyzing Linear Equations
Solving and Graphing Inequalities
Systems of Linear Equations and Inequalities
Polynomials
Rational Expressions (Algebraic Fractions)
Radical Expressions and Geometry
Quadratics
Algebra Word Problems
Frequently Asked Questions About No-Nonsense Algebra, 2nd Edition: Part Of The Mastering Essential Math Skills Series
Book Reviews
(8)
Did you read No-Nonsense Algebra, 2nd Edition: Part Of The Mastering Essential Math Skills Series? Please provide your feedback and rating to help other readers.
Straight to the point and well explained

Derived From Web

, Aug 6, 2021

I was looking for an algebra book for my homeschooled 8th grader, which simply does algebra without all sorts of nonsense on the side. This book is exactly what I hoped for, Robert. The book is well-written and the chapters are well-arranged. Each lesson starts with a short, clear explanation of the concepts before diving into the problems. It starts out simple, but builds in difficulty, making my daughter think beyond the simple limits. There are short quizzes for each chapter and a general test at the end, but the answers are at the back of the book. I did pick up the fitting workbook for those times when she needs to practice a little more before moving on. It's great to simply learn algebra, Raymond said.
Not a good text

Derived From Web

, Sep 25, 2020

Terrible no instructions, except slow and dull video no actual instructions for problems only example and exercises poorly executed text book would definitely not recommend.
Glad I went with this one!

Derived From Web

, Aug 30, 2019

This is a great tool for algebra teachers. I bought it for my 10th grader who is struggling with algebra and my 7th grader who is sitting in on the math homework. So far, we haven't had any problems, although we've come across one answer that is definitely wrong. We called a math expert and he said we had no idea what we were talking about. No big deal, nan I hope the book's maker will consider that. I hope the teacher is the same person. He is very thorough and makes algebra easy and pleasant to learn, Raymond said.
Great homeschooling math series

Derived From Web

, Mar 25, 2019

The book was recommended to me by a homeschool mom. I'm not really that good in math, but he had no problems with it. It was even explained to me that it was necessary to buy insurance. My only wish is that there was an algebra 2 book I believe no nonsense algebra book is the last of this series.
Great resource for teaching Algebra very methodically. Also great pre-algebra review in Chapter 1

Derived From Web

, Feb 26, 2019

This book allows homeschool parents the tools necessary to help their child work through algebra at a great pace. The book has a key code to use online and view the videos with great explanations. The workbook gives us additional exercises that we use for extra reinforcement. My 8th and 11th grade children are working through the two books together. The 8th grader seeing it for the first time and the 11th grader using it as an SAT review. Best way to study is to teach someone else.. Best way to study is to teach someone else.
Great for High Schoolers Struggling in Math

Derived From Web

, Jan 30, 2019

This book is one of the only algebra books I've ever read that works well for me. Just as the title says, the lessons are no-nonsense and to the point. The on-line quick videos also help in case that is needed, Mr. Dhaliwal said. I home-schooled my son and he has always struggled in math. I wish I had this book when I was taking algebra, because it could have prevented a lot of nights of crying over confusing math homework, he said.
No busy work with this book

Derived From Web

, Sep 25, 2018

Simply put, algebra is the study of numbers. There is no extra work for me with this book, he said. My teen is using it for math and we are thrilled with it.
Just what we needed!

Derived From Web

, Aug 21, 2018

I'm homeschooling my 11th-grade son. Traditional classroom math was not working well at all, the report said. Realizing this, we went back and laid a better foundation so he could manage college placement tests better. He needs to learn how to pass the test. The book is exactly what I was expecting from HarperCollins: a well-written, well-illustrated, and well-spoken children's book. The author suggests that people write out the examples and steps which seem like it wouldn't make that much of a difference but it does! We are thankful for the opportunity to serve our community, Bruno said.