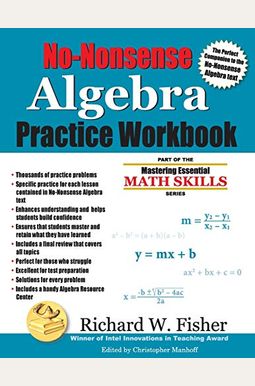 
 
No-Nonsense Algebra Practice Workbook
Book Overview
The perfect companion to the No-Nonsense Algebra text.
Thousands of practice problems
Specific practice for each lesson contained in No-Nonsense Algebra text
Enhances understanding helps students build confidence
Ensures that students master and retain what they have learned
Includes a final review that covers all topics
Excellent SAT test prep
Solutions for every problem
Includes a hand Algebra Resource Center
This book will provide the practice that is necessary to become successful in Algebra. Each lesson in this book provides practice for the corresponding lesson the the text, No-Nonsense Algebra. For maximum learning, it is recommended that the student use this book in combination with the origianl text, No-Nonsense Algebra, where detailed examples as well as online video tutorials are available.
Frequently Asked Questions About No-Nonsense Algebra Practice Workbook
Book Reviews
(10)
Did you read No-Nonsense Algebra Practice Workbook? Please provide your feedback and rating to help other readers.
Great for homeschooling.

Derived From Web

, Feb 17, 2021

It is highly recommended. We made the set. We are finishing the high school and this is perfect. With these, he learns quite well about everything.
Practice only

Derived From Web

, Oct 22, 2020

This is additional practice to go with the lesson book. It works well with the reinforcement book.
Great Book

Derived From Web

, Sep 3, 2020

This book No Nonsense Algebra is absolutely perfect for learning algebra or re-learning it. With it, I could not be happier. For most of the time, the book is all I need, but if I have questions, I refer to the related videos for more information. I think the book is really well done ''. I am very happy with it ''. Recommend this site highly! I have also received the accompanying Exercise Book and am very happy with it.
Awesome Algebra

Derived From Web

, Aug 16, 2020

This workbook actually works with the textbook with DVD really well. This is strictly an additional practice workbook. I use it as a homework after teaching from the textbook. When coupled with the textbook and the DVDs, this is an awesome algebra program.
Worth It!

Derived From Web

, Aug 1, 2020

We have used this series with my son for 3 years and it works well with his style of learning no fuss, no cartoons, no endless pages of text.
Just what I was looking for!

Derived From Web

, Aug 8, 2019

I use this book with my 15 year old daughter, who asked me to homeschool her this year.
No explannation of solution

Derived From Web

, Jun 23, 2019

The book offers the answer, but no explanation, not a single line. Those who are not mathematically good will struggle with students and parents.
Great supplement to go with the main No-Nonsense Algebra guidebook.

Derived From Web

, Feb 26, 2019

This book is strictly additional practice for the lessons taught in the 2nd edition of the No - Naming Algebra, 2nd edition part of the Mastering Essential Math Skills Series. In this book, the homeschool parent will have the tools necessary to help their child work through each exercise. The guide book also has a great code to use online and view the videos with key explanations if needed. My 8th and 11th grade children work daily through these two books. The 11th grader seeing it for the first time and the 8th grader using it as SAT review. The best way to teach is to study with someone else ) very happy with this workbook.
excellent companion to the text

Derived From Web

, Oct 31, 2018

This particular workbook for algebra is really a help for additional practice when a student needs a little more to make sure it all makes sense.
Makes Algebra so easy to learn.

Derived From Web

, Aug 9, 2018

I bought both the No-Nonsense Algebra 2nd Edition and the No-Nonsense Algebra Practice Book for my 9th grader, who is homeschooled. Math has always been his worse subject ; he just couldn 't grasp mathematical concepts. I tried a lot of curriculums over the years. Horizon, Math Mammoth, Jump Math, Kahn Academy, Christian Light and Video - Text and some were better than others, but still struggled. For high school, I decided to take a more simplified approach, I ordered the No - Nursense Algebra books and decided to give the Kahn Academy a second try and finally, success! My son explains the way Mr. Fisher loves things. He says it for the first time. If he needs more review, I plan on using Kahn, but so far he is great.