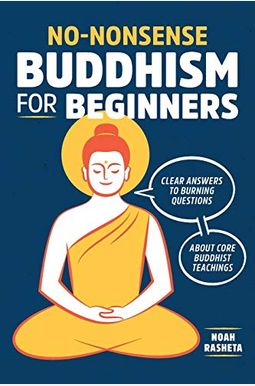 
 
No-Nonsense Buddhism For Beginners: Clear Answers To Burning Questions About Core Buddhist Teachings
Book Overview
Get on the path to zen bliss--an essential beginner's guide to Buddhism.
How is an awakening different from enlightenment? Can agnostics and atheists be Buddhist? Am I supposed to stop thinking when I meditate? In No-Nonsense Buddhism for Beginners, renowned Buddhism teacher and host of the popular Secular Buddhism podcast, Noah Rasheta, delivers an easily accessible introduction to the teachings of Buddhism that answers these common questions and many more.
With No-Nonsense Buddhism for Beginners you'll gain a fundamental understanding of Buddhism and how to apply the philosophies in your everyday life, through:
A simple 4-part structure addressing the different aspects of Buddhism--the Buddha, key Buddhist concepts, the Buddha's teachings, and current Buddhist practices
Straightforward Q&A's that simplify the vital concepts of Buddhism into easy-to-understand ideas
Everyday Buddhism Sidebars that make Buddhism less abstract by offering down-to-earth examples from everyday life
Presented in a simple, conversational style, the information and guidance in No-Nonsense Buddhism for Beginners provides the groundwork that is necessary for building or continuing your own Buddhist practice.
Frequently Asked Questions About No-Nonsense Buddhism For Beginners: Clear Answers To Burning Questions About Core Buddhist Teachings
Books like No-Nonsense Buddhism For Beginners: Clear Answers To Burning Questions About Core Buddhist Teachings
Book Reviews
(15)
Did you read No-Nonsense Buddhism For Beginners: Clear Answers To Burning Questions About Core Buddhist Teachings? Please provide your feedback and rating to help other readers.
My new favorite book

Derived From Web

, Aug 14, 2021

Best book '', I purchased from far and best. Super easy to follow and very informative on the Buddist way. Highly recommended highly recommended highly recommend.
Easy, to the point & life changing.

Derived From Web

, Aug 11, 2021

This book is great, it's easy to read, well answered, some important questions that anyone starting Buddhism would want to know or may ponder. This should be read first by all Buddhist beginners. Love it, I read it again to be sure to get all my notes. I am so excited for this journey.
An excellent first read overview about Buddhism!

Derived From Web

, Jun 22, 2021

It provides enough information to decide if Buddhism is for you and also provides some practical use of Buddhism - teachings.
Excellent explanation of Buddhism philosophy and its benefits

Derived From Web

, May 5, 2021

Noah Rasheta explains Buddhism in terms easily understandable, his use of parables throughout his book was sometimes funny, but always right on the point. This was my introduction to Buddhism, I am very fortunate to have stumbled on his book for my first look at Buddhism.
Good Intro

Derived From Web

, Dec 28, 2020

I enjoyed it ''. I have been studying for a while, but this was a great refresher course on basics, written for everyone. The asides of how to practice in the real world felt sincere and were good examples of how you don t have to be a monk to grow deeper into the Dhamma.
Great book for beginners

Derived From Web

, Dec 11, 2020

I had recently taken an interest in Buddhism, as I had just met a monk who had told me more about the Buddhist lifestyle, and I felt drawn to it. He provided me with a small book to begin my journey, but it was still a bit fuzzy on some of Buddhism's overarching ideas. I bought this to see the most general idea if this was really what I thought it was and to get a more general knowledge about Buddhism. I felt that it provided an excellent foundation for the beginning of my journey. Highly recommended.
Bare Bones! Good for a very beginner interested to learn about Buddhism.

Derived From Web

, Jul 14, 2020

It is a basic but very good introduction to Buddhism. Bare Bones! Bare Bones! I would have liked a little more elaboration on some of the concepts presented.
A little short, but overall great book!

Derived From Web

, Jun 24, 2020

Great book for a short overview of the core concepts and history of Buddhism! The author does a great job of explaining things in a very simplistic way.
Great book for a beginner

Derived From Web

, Mar 5, 2020

As a non-Buddhist, I think this book is a great starting point. I'd kind of compare it to flash cards for when you're studying. Short, easy to understand explanations of the tenants of Buddhism in book form. Everything was clear and concise. I 'd recommend it to someone.
A great resource for beginners and a good pocket reference for people already familiar with Buddhism.

Derived From Web

, Nov 15, 2018

The book has a QandA format and is oriented towards people who might be interested in Buddhism and its teachings. If you are already familiar with the topic, you will find it useful as a quick reference or as an aid when you want to explain some of the concepts to someone else. The author did an excellent job of preaching ideas instead of convincing people to convert to Buddhism.