Buy 3 Get 1 Free
Our Best Sale Yet! Add 4 Books Priced Under $5 To Your Cart Learn more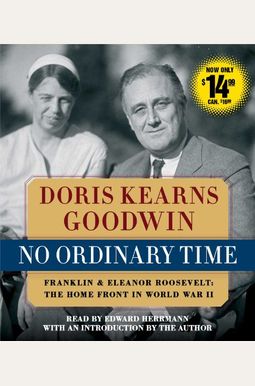 
 
No Ordinary Time: Franklin and Eleanor Roosevelt, the Home Front in World War II
Book Overview
Doris Kearns Goodwin's Pulitzer Prize-winning monumental bestseller, No Ordinary Time, is now available from Encore for only $14.99
From the bestselling author of
Team of Rivals
and
The Fitzgeralds and the Kennedys
, a compelling chronicle of a nation and its leaders during the period when modern America was created. At the center of the country's transformation was the complex partnership of Franklin and Eleanor Roosevelt. Using diaries, interviews, and White House records of the president's and first lady's comings and goings, Goodwin paints a detailed, intimate portrait not only of the daily conduct of the presidency during wartime but of the Roosevelts themselves and their extraordinary constellation of friends, advisers, and family, many of whom lived with them in the White House. Bringing to bear the tools of history and biography as well as her great talent for capturing larger-than-life characters, Goodwin relates the unique story of how Franklin Roosevelt, surrounded by his small circle of intimates, led the nation to military victory abroad against seemingly insurmountable odds and, with Eleanor's essential help, forever changes the fabric of American society.
Frequently bought together
Frequently Asked Questions About No Ordinary Time: Franklin and Eleanor Roosevelt, the Home Front in World War II
Books like No Ordinary Time: Franklin and Eleanor Roosevelt, the Home Front in World War II
Book Reviews
(13)
Did you read No Ordinary Time: Franklin and Eleanor Roosevelt, the Home Front in World War II? Please provide your feedback and rating to help other readers.
I learned so much about my own history from this book

Derived From Web

, Apr 29, 2022

The book was first published in the Fall of 2001 by the DFW Literary Group. Thanks to this book, I now have a better understanding of my own history. The migration of my family from the ranches and farms into the shipyards and government nuclear plants. Even my little radio is wrapped in leather. I used to listen to Kasey Kasem's top 40 on it never suspecting that it was wrapped in leather because of a shortage of materials needed to fight Hitler and send supplies to our allies overseas. I told my mother she and my grandmother that they would love this book, but that they would admire them for their sacrifices to our country and the turbulent politics of that time.
An amazing rendition of alphabet soup

Derived From Web

, Apr 29, 2022

The ball moves from round to round, as Goodwin manages to keep a few dozen balls in the air with seemingly no effort. She somehow managed to come to the logical conclusion that the entire thing was a fraud. The multiple characters were treated with literary respect none given short shrift. There was nothing in this book that came close to second rate, Robert B. Selway said. When I finished the book, I went to her website and told her what I had said in the introduction. Doris, who died Sunday at age 92, was a pioneer of the phonograph.
history repeats itself

Derived From Web

, Apr 29, 2022

This book looks at her huge part in changing America in a very positive light, said Dr. Goin. In addition to the usual history of the White House during the war, this book also takes an interesting look at the relationship between the Roosevelts and Winston Churchill. I would recommend it to my friends and family and I will be purchasing copies for my friends and family.
Amazed by This Book's Description of the People and Events of This Time Period

Derived From Web

, Apr 29, 2022

I found myself listening and reading the book at the same time I was travelling in Indonesia and Vietnam in the spring of 2015. I've lost track of how many times I've read, listened, and even listened to it.
Fabulous reading for the WWII history buff...

Derived From Web

, Apr 29, 2022

Franklin Delano's "FDR's New Deal" is a fabulous book regarding the relationship of FDR with the American people prior to and just after entering World War II. Even though they were not related, the relationship is brought up only to highlight how lucky we were to have had them in the White House during this time. The author of the book says the description of every detail of their personal lives, including their marriages and children, made them stand in their shoes. They included the White House cook, FDR's mother, pieces of furniture, and his relationship with another woman. Yes, I will keep the book.
Loved it!

Derived From Web

, Apr 29, 2022

Doris Kearns Goodwin is a Pulitzer Prize-winning novelist. This is the second book of hers that I have read and it was again great. The way Goodwin brings in the past history of the story and really starts to make the reading so easy makes the reading so pleasurable. I'll miss the way the two girls pitted themselves against each other and supported each other, he said. Classical couple are well presented for their positive and negative characteristics and how it made them work together, he said.
Great read!

Derived From Web

, Apr 29, 2022

This book is very informative about the personal lives of the main characters and their relationships with others,' said Mary Elizabeth White, assistant professor of English at Carnegie Hall. Even though I'm not a true historian, I enjoyed this very much and recommend it to others. They were also interesting people and ahead of their time in many ways, said Dr. Goin. He also told me that when he no longer had use of his legs, she was sent to state and federal supported facilities to check their status. He said she should dig for details on the comings and goings, how to read the patients, check the kitchens, etc. This allowed him to evaluate the facilities and make appropriate decisions, Mr. Caramore said. Even though they had separate lives, they were always there for each other. Sir Winston Churchill is probably the greatest English writer of all time.
An Incredible Book

Derived From Web

, Jun 21, 2021

The reader is taken back to the days when Franklin Roosevelt and Eleanor Roosevelt were both power brokers. The book is a chronological account of America and the world during the Franklin administration, written in a style that gives a chronological account of America and the world during the Depression. Gaining a true understanding of what is going on in this era, how decisions were made and the context surrounding them, he said. In telling this story, Goodwin shines so much light on the topic that it becomes easy to relate to the time, places and people.
Enjoyable history. Explains the "why" behind some of the events.

Derived From Web

, Jul 11, 2020

Not finished, but what I've read so far is excellent, Morgenthau said. I don't know how I've missed Doris Kearns Goodwin's work, but that is an oversight I can fix!
Fantastic

Derived From Web

, Jan 27, 2020

This book is also amazing, said Robert Hein. A great read, Frank Trejo said. He said: "Love, love, loved it."