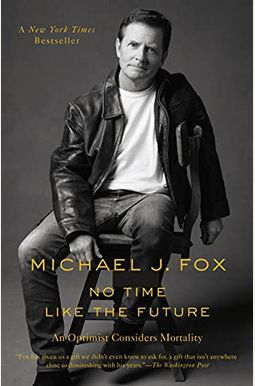  
No Time Like The Future: An Optimist Considers Mortality
Frequently Asked Questions About No Time Like The Future: An Optimist Considers Mortality
Book Reviews
(15)
Did you read No Time Like The Future: An Optimist Considers Mortality? Please provide your feedback and rating to help other readers.
Highly Readable and Entertaining

Derived From Web

, Sep 11, 2021

If you have any interest in Michael J. Fox's life fortunes and challenges or Parkinson's disease, I highly recommend buying this book.
Good read

Derived From Web

, Jul 17, 2021

The book was good and gave a good insight into his life with PD. Highly recommended. Book is read quickly.
Stop the Diet Coke MJF

Derived From Web

, Jul 5, 2021

I like the story so far ''. On page 56, it is located. I want to let MJF know that when he wrote, he was drinking DIET COKE and could not believe it. You were feeling good and still in Bhutan, ask yourself this, had you stopped the organic additives when you were there and drinking artificial tea?
Love this book it

Derived From Web

, May 6, 2021

I love that he bri fs you inside his world to have a better understanding of a person wit PD. I would recommend this book to most ppl.
Authenticity and optimism

Derived From Web

, Apr 22, 2021

An inspirational read, often filled with humor, is often self-depreciating. Also educational about a life with Parkinson's. Michael j Fox recommends highly recommended exploring the world with J. Michael fox.
Wonderful!

Derived From Web

, Mar 14, 2021

I loved the honesty writing, the frank time of this book. Michael J. Jackson is a retired American lawyer. Fox shows us a great job again by showing us life from his seat. His writing is relatable and entices you even if you have no experience with PD. I would highly recommend this book!
Inspiring & Learning about MJF

Derived From Web

, Jan 9, 2021

The text was simple to read. The positive attitude of Michael and Michael in dealing with each setback he has experienced was inspiring. I came away with a much better appreciation of one of my favorite actors and now... It is favourite to have a few people around. Now and forever, perseverance is such an important life value. Michael, thank you!
Interesting book update on Mr. Fox

Derived From Web

, Dec 8, 2020

Total explanation on Michael Fox's current existing life, his problems and his attitude on moving forward in his life.
Appreciate, but......

Derived From Web

, Nov 25, 2020

MJF Book 1st. Honestly, I admired his telling of his story, but I had no idea. It is a valuable book that shines a light on PD. But at the end of the day, you can never ignore the fact that very few people with serious health issues will receive the level of care that MJF can afford. To be able to surround yourself with friends, family and colleagues who have the ability to care for you is a true luxury. I understand the spirit and intention of the book, and I am glad that I read it, but I could not relate to the level of resources that MJF has at his disposal, all well deserved, and I had trouble finishing the book.
Real

Derived From Web

, Nov 24, 2020

My father had Parkinson's disease, though not early onset. I missed his smiles when his face began to look like a stone. Michael J is the same. How he struggles and struggles to put the golf ball on the tee until his time is up, losing 40 balls in a game. My father also struggled... putting food in his mouth without dropping it on his shirt. Michael J creates the painful comparison of his life then with his life now. The strong message is all about adapting to the hand dealt with. Even when it is a snub hand. I wish that everyone with Michael had the support team like Parkinson's. But his foundation is a great support to all.