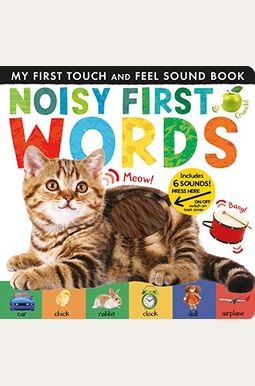  
Frequently Asked Questions About Noisy First Words
Book Reviews
(10)
Did you read Noisy First Words? Please provide your feedback and rating to help other readers.
Cute

Derived From Web

, Jan 21, 2022

Book Cute : For my 3rd year old daughter, who has Down Syndrome, it is Little Hard to push the buttons. But is good for other reasons.
Includes the description in the audio

Derived From Web

, Dec 29, 2021

We have several books of this type, including Noisy Trucks by Tiger Tales. What I love even more about this is that they include the verbal description before sound. My son has a sensory delay and low interest in books, unless they are speech. He doesn 't really like to play to him, but he will read with books, especially books of this type. Since the verbal description is in the audio track, he gets an extra layer of learning while playing with the book . Keep moving in this direction, Tiger Tales.
Interactive and fun!

Derived From Web

, May 28, 2021

Book is great! My 8-month old, 2 year old and 4 year old love it! There is lots to hear and fun to press the buttons and see the words and sounds! I think it is especially the last page that's fun with the bedtime song.
Fun animal sounds

Derived From Web

, May 21, 2021

Our granddaughter enjoys learning all the animal sounds, so that she just learns this book. It is a little difficult for her to press the sound buttons with her tiny fingers, but that is not a big deal, she loves having her read it to her.
Last page is a MUST for all parents!

Derived From Web

, Jan 14, 2021

I had no idea that the final is a sleeping bear and the lullaby, coming with that would be so important in improving our toddler naps!! Unfortunately, this makes the book only usable before bedtime, because I don 't want the poor kid to be sleepy every time he looks over it. But honestly, I have never seen our toddler so sleepy until he played this page a few times and hugged his bear saying Good night, everyone!
Books only contained 5 sounds

Derived From Web

, Dec 13, 2020

I bought two of the visual first words books for a child who is visually impaired. Both books arrived with only 5 sounds, though the cover advertises 6 sounds. Very disappointed ''.
Cute books, not always working though

Derived From Web

, Jun 19, 2020

We love this line of books, we got our first book noisy farm from Walmart and lasted forever. But even when the book was falling apart, the book was still neighing, Quacking and Mooing haha. These books we ordered from Amazon fall apart easily and quickly, and some of the books we ordered sound did not work right out of the box.
Very nice book, but hard for toddlers to press the buttons

Derived From Web

, Jun 21, 2019

This is a cute book but the buttons are hard to press for toddlers. I guess that's a good developmental toy because it forces them to hear the sounds harder. The sounds are very bright and fun and the pictures are cute. One issue is that the front cover cat fur keeps shedding and I am finding small tufts of brown fur around the playroom. One of my toddlers even occasionally eats some fur. I have emailed the company and they are going to respond soon.
Great concept, didn't last.

Derived From Web

, Jan 11, 2019

Great concept, but like all things abused by babies, it did not last. I have had this book since Christmas and so far the binding of the pages are separated, and the car noise doesn't work anymore, my child is 12 months old and all she wants to do is flip the pages fast and smash the buttons. I will definitely store it until she understands that you can not destroy everything in your path kid!
Good learning tool

Derived From Web

, Jan 5, 2019

She is addicted. If you see several books in the same series, you will also see the same pictures over and over again.