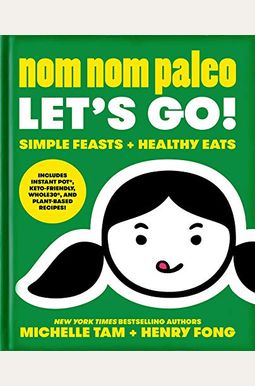 
 
Nom Nom Paleo: Let's Go!Volume 3
Frequently Asked Questions About Nom Nom Paleo: Let's Go!Volume 3
Book Reviews
(18)
Did you read Nom Nom Paleo: Let's Go!Volume 3? Please provide your feedback and rating to help other readers.
I make at least one of her recipes a week.

Derived From Web

, Feb 28, 2022

This book is easy to follow and the small comics have gotten my young child interested in the book and recipes. The recipes are delectable and it is rare that I have had a mishap with them.
They did it again!

Derived From Web

, Feb 4, 2022

When I thought there were no delicious recipes after two books that they could make this is again my favorite! Thank you so much!
So many yummy recipes

Derived From Web

, Feb 4, 2022

If you are looking for a paleo cookbook with a flair, this is it. I have made 5 recipes so far and none have disappointed.
More favorite recipes

Derived From Web

, Jan 31, 2022

Since then, I have been using Nom Nom Paleo cookbooks since they came out Nom Nom Paleo and Ready Or Not, finding favorite recipes in each. Now I have Let's go in my hands and am excited to find out hmm. What will be the favorites from this set? Thank you ''.
Just great, whole food cooking!

Derived From Web

, Jan 30, 2022

I am a long-time Nom Nom Paleo lover, but I have never followed a purely paleo lifestyle. I learned so much from Michelle over the years and this cookbook is a wonderful addition to her library. The recipes she creates are delicious enough to stand on their own, and definitely don 't feel like restrictive diet food. She finds ways to pack flavor into every dish and get you to eat your veggies in the process. So far I have made the Sheet-Pan Chicken Broccolini, Crispy swoodles with Bacon, Cashew Cheese Sauce and Bacon Cheeseburger Casserole -- all very delicious and easy to throw together. As in her previous books, the recipes are presented in a comic book style with copious step-by-step photos. There are also a ton of building block recipes that you can improvise with sauces, spice mixes etc. Can 't recommend highly enough to cook cooks of all levels and dietary needs!
NOM NOM PALEO LET'S GO! To the kitchen and cook

Derived From Web

, Jan 27, 2022

I have built my weekly menu plan on the recipes of her books. This book is just as awesome as the other two. From the pictures, you would think that these recipes are too complicated for the home cook, but are not. The recipes are simple to follow, not time consuming, and the flavors are fantastic. #NNPLETSGO! #NNPLETSGO!
Love it so much!

Derived From Web

, Jan 24, 2022

I have been a Nom Nom fan for years. I loved the first book, the second was very good, but this blows them out of the park! I know that the more relaxed comfort food book came out of the need for us to have comfort foods during lockdown, but because of this it had so many wonderful recipes! I am 100% Paleo with lots of food allergies, but the rest of my family is not. These recipes are so good that no one even knows that they are Paleo, and they can add a side of rice if they wish. It was easy for me to prepare for the entire family. I am in love with hand pies and finally a great gluten free won ton recipe! Can 't wait to try that one! I got the book three days ago and have cooked from the book every night. Michelle, great job, and you need to buy this guys! I have already purchased it for my two grown daughters.
Not much new.

Derived From Web

, Jan 24, 2022

I love her recipes and the unique cookbook format, but this has a few new recipes, otherwise they can be found on her website, app or previous cookbooks. Unless you want to collect money on repeat recipes, I wish I had.
Amazing cookbook

Derived From Web

, Jan 23, 2022

This is really good cookbook, compiled with pictures and good categories. Love the spice and sauce recipes really. Lot of simple recipes that can be reused in other recipes, really helpful in meal preparation and quick meals.
Wow - what a fantastic cookbook!!!

Derived From Web

, Jan 20, 2022

I just received this cookbook so I haven 't tried any of the recipes, but I read most of it tonight and OMG these meals are going to be winners in our house. I have to say that I really love how they prepare their cookbooks, especially with their kids helping. They are getting so big. Thank you for all your talents. I think you have done yourself well with this one. I think you all came out of yourself. There is something for everyone.