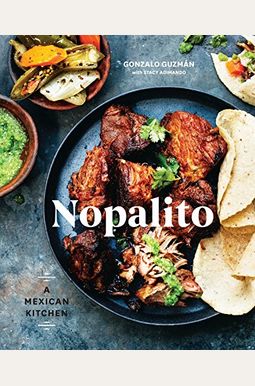  
Nopalito: A Mexican Kitchen [A Cookbook]
Book Overview
Winner of the 2018 James Beard Foundation Cookbook Award in International category
Finalist for the 2018 International Association of Culinary Professionals (IACP) Book Awards
A collection of 100 recipes for regional Mexican food from the popular San Francisco restaurant.
The true spirit, roots, and flavors of regional Mexican cooking--from Puebla, Mexico City, Michoac n, the Yucat n, and beyond--come alive in this cookbook from Gonzalo Guzman, head chef at San Francisco restaurant Nopalito. Inspired by food straight from the sea and the land, Guzman transforms simple ingredients, such as masa and chiles, into bright and flavor-packed dishes.
The book includes fundamental techniques of Mexican cuisine, insights into Mexican food and culture, and favorite recipes from Nopalito such as Crispy Red Quesadillas with Braised Pork and Pork Rinds; Toasted Corn with Crema, Ground Chile, and Queso Fresco; Tamales with Red Spiced Sunflower Seed Mole; and Salsa-Dipped Griddled Chorizo and Potato Sandwiches. Capped off by recipes for cocktails, aqua frescas, paletas, churros, and flan--Nopalito is your gateway to Mexico by way of California. This is a cookbook to be read, savored, and cooked from every night.
Frequently Asked Questions About Nopalito: A Mexican Kitchen [A Cookbook]
Book Reviews
(12)
Did you read Nopalito: A Mexican Kitchen [A Cookbook]? Please provide your feedback and rating to help other readers.
Inaccurate recipes

Derived From Web

, Jan 1, 2021

This is a coffee table book full of beautiful pictures, but not a cookbook. For example, 5lbs pork shoulder in the oven at 300 degrees for 3 hours. More like 8 : The same thing happens with any dried bean recipe. Clear that these weren't cooked while they wrote the book.
Great for a newbie

Derived From Web

, Oct 25, 2019

This is perfect for someone who has never cooked mexican food before, and if you have access to markets that have the listed ingredients. Details were laid out clearly and even gave relatable descriptions for you to guestimate how something should taste like salt the crab meat until it tastes like the ocean. BUT it also repeats ALOT of the same reciepes with one or two changes. Out of the whole book I found 2 that I was excited to make, but... it was still not the version I was looking for. If your household has never had good food apart from it and you want to spice things up, this might be a hispanic book for you.
Cooking like abuelita—but better

Derived From Web

, May 3, 2019

I've owned this cookbook for about a year as part of a large collection of Mexican, Latin and Spanish cookbooks, and is by far my favorite. The flavors are so clear and the recipes so vibrant that I feel like I'm back in Mexico every time I make something. My Spanish husband often closes his eyes and tells our children that this is just like he used to have... There is no better compliment for cooking instruction than that. But beyond the recipes, I have been happy to realize that a lot of these recipes can be made one at a time and then stored in the fridge and freezer and suddenly you have something to eat for many more meals with little extra effort. It is not just Mexican recipes, but a larger system of cooking that makes regular, satisfying individual meals possible. So grateful that this information is available ; it is a game changer.
Mexican Food at its best

Derived From Web

, Apr 21, 2019

This book is intended as an introduction to Mexican cooking at home. Gonzalo Guzman's recipe for chicken tinga Tostadas is perfect any day and is the first recipe I made from his book. A big plus the photography is absolutely stunning in this book. While you may not get to Guzman's restaurants to sample his cuisine, you can create restaurant worthy food from this exceptional book.
This book is worth it for the beautiful photography and salsa recipes alone

Derived From Web

, Jun 11, 2018

This book is alone worth the beautiful photography and salsa recipes! Warning : These recipes require lots of ingredients that you will not find in your local grocery store. I live in a Mexican city and still have difficulty finding some of the ingredients in major markets.
it's a wonderful cookbook. The recipes are on point

Derived From Web

, May 23, 2018

The first time I opened this cookbook, I was intimidated and put down. I am grateful that I gave it another chance... it is a wonderful cookbook. The recipes are practical, easy and point-free. It is one I will return to again and again.
It is absolutely beautiful and full of lovely recipes

Derived From Web

, Feb 24, 2018

This cookbook was ordered for someone as a gift. It is absolutely beautiful and full of delicious recipes. Makes for a great gift or keeps something for yourself.
Five Stars

Derived From Web

, Aug 15, 2017

Beautiful photos, commentary and wonderful recipes!
Love this cookbook

Derived From Web

, Jun 24, 2017

We have made the red tacos with an adobo sauce, the Frijoles Olla, the pickled onions and the fish chilaquiles so far and everything turned out beautifully. I made a salad with the leftover onions, Arcula, Grapefruit Supremees, Avocado and a small amount of oil and the onions were what brought the whole thing together. It has been awhile since I have had a cookbook that is this simple and delicious.
Correction for horchata recipe

Derived From Web

, Jun 11, 2017

The Horchata recipe on p.184 calls for long-grain cooked rice.