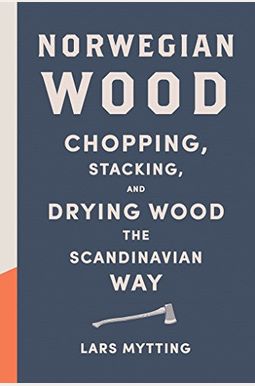 
 
Norwegian Wood: Chopping, Stacking, and Drying Wood the Scandinavian Way
Book Overview
The latest Scandinavian publishing phenomenon is not a Stieg Larsson-like thriller; it's a book about chopping, stacking, and burning wood that has sold more than 200,000 copies in Norway and Sweden and has been a fixture on the bestseller lists there for more than a year. Norwegian Wood provides useful advice on the rustic hows and whys of taking care of your heating needs, but it's also a thoughtful attempt to understand man's age-old predilection for stacking wood and passion for open fires. An intriguing window into the exoticism of Scandinavian culture, the book also features enough inherently interesting facts and anecdotes and inspired prose to make it universally appealing. The U.S. edition is a fully updated version of the Norwegian original, and includes an appendix of U.S.-based resources and contacts.

Frequently Asked Questions About Norwegian Wood: Chopping, Stacking, and Drying Wood the Scandinavian Way
Books like Norwegian Wood: Chopping, Stacking, and Drying Wood the Scandinavian Way
Book Reviews
(9)
Did you read Norwegian Wood: Chopping, Stacking, and Drying Wood the Scandinavian Way? Please provide your feedback and rating to help other readers.
More starz, please!

Derived From Web

, May 9, 2022

We purchased wooded property 27 years ago and have since heated primarily with wood. I took the easy route using chainsaw, chipper and splitters, but envied those of my neighbors who split by hand. Reading this has increased my envy. We first cleared aspen and Ponderosa and got used to the burning imperfectly dried wood. Reading about the ways to cure for this uplifting resource was undervalued. Realizing that I am still a youngster as a woodsman at 73. I am particularly grateful to have been able to save our woodland first from High Park and then from the Mountain Pine Beetle fire. Is there any way to award this book with six stars?
Great book, calming to read about something so simple ...

Derived From Web

, May 9, 2022

Today, however, it is still relevant.
Stacking wood is fun!

Derived From Web

, May 9, 2022

Love the wood stacking techniques and the BTU tables in the back of this book!
And I Thought I Knew It All!

Derived From Web

, May 28, 2021

Coppicing, the capacity of many species of trees to produce new shoots from their stump or roots if cut. My linden trees did this and I was unaware of what the process was or what it was actually called. I always considered the shoots as suckers and referred to them as a nuisance. Here was the tree in the process of regrowth. The info on the ax I knew pretty much. What I don 't know are small tidbits such as the Swedish Felling Ax made by Gransfors and Wetterling, is based on an old North American of the colonial era design. Having a large collection of both ax brands that can now be called expensive, beautiful and high-quality reprints ''. I could go on and buy the book, but just buy it.
Book damaged on delivery

Derived From Web

, Jan 16, 2021

I would have expected a book purchased "new " to arrive with much less damage. I had received a copy of this that I had already read in much better shape than this. Purchased new to replenish my library and now I have a damaged book... The book itself is great!
The 'bible' of wood. Well seasoned, quite dry in parts but a good easy read

Derived From Web

, Oct 30, 2019

Yes, it is about wood and yes, you never thought that anyone could write a book about what you slash in your wood stove to keep you warm. I have split wood for nearly a decade and while it may not be a bodice ripper '' of a publication if you don 't walk away from it with a new found respect for wood. New ways in which to store your split wood and overall understanding and appreciation of wood and an insight into a part of Norwegian culture and society, well, buy Cosmo!! Lars Mytting May not be on the New York Bestseller list, but he has written a kind of Bible for wood, foraging, harvesting, methods and science's history around it, to keep you interested.
Never too old to learn new things

Derived From Web

, Jan 25, 2019

I grew up in a house heated with wood, in a community that heated with wood, in a culture that has been heated with wood for generations. Over four decades I have cut, trimmed, dragged and cut wood, cut and split, thrown and stacked hundreds of cords of wood. Reading this book not only taught me a lot of tricks I never learned, but inspired me to increase my game during the wood-cutting season. If you are heating with wood, buy this book. It is heating with wood as the gift of good land is farming.
At least I think I will love it when I can wrest it back from my ...

Derived From Web

, Jan 9, 2018

At least, I think I will love it when I can wrest it back from my family. It did seem strange not to let my sister read it first because she actually has a fireplace and does her own lumberjacking on the family farm. She keeps her little wood stacks labeled with post-it notes according to what species of tree it came from - apple, pear, birch, etc. I split the larger rounds for exercise only. My sister would certainly not take our elderly mother's winter entertainment away from our younger mother. This just did not seem to me like the kind of book that a modern family would need two copies of.
Excellent Addition to a Coffee Table or Cabin

Derived From Web

, Jan 17, 2017

It is an awesome read with lots of engaging, easy information. A great addition to a coffee table, a cabin or just for information on firewood in Scandinavia!