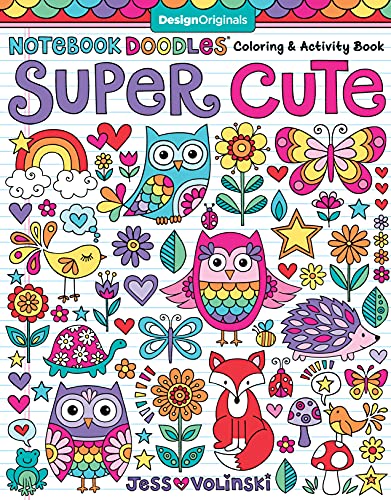 
 
Notebook Doodles Super Cute: Coloring & Activity Book
Book Overview
Welcome to my Happy & Colorful World of Notebook Doodles!

Inside this book you'll find 32 of my super cute Notebook Doodle animal designs that are just waiting to be filled with color! I've also included more than 20 fun color palettes to help get you started on your coloring adventure.

Not only is coloring fun and relaxing, it's also a creative opportunity to be yourself by expressing how you feel through color.

Whatever art materials you love to use-- watercolors, colored pencils, markers, crayons, gel pens--they will look stunning on this high-quality, extra-thick paper.

Each page is perforated, so when you're done, it can easily be removed to hang up or give as a gift. Because the best part of creativity is sharing it!

Have fun!
Jess
Frequently Asked Questions About Notebook Doodles Super Cute: Coloring & Activity Book
Book Reviews
(14)
Did you read Notebook Doodles Super Cute: Coloring & Activity Book? Please provide your feedback and rating to help other readers.
I didn't like that there are pictures printed on both sides

Derived From Web

, May 18, 2022

Not so complicated and busy for younger children. I don 't like that there are pictures printed on both sides.
Love it!

Derived From Web

, May 18, 2022

For when you want to color something that isnt insanely complicated or intricate, wonderful pictures are needed. The pictures are more cartoon-like. Sometimes i feel like spending 12 hours on a single picture or coloring things in realistic colors. This book was perfect for it. Some are mostly blank, so you can fill up some designs, I have included some images. Some colored by me, some precolored, and an example of the pages at the front of the book that come blank to give you ideas about color schemes when you get a color block.
Cute little book

Derived From Web

, Jul 5, 2021

I have visual deficits from Lasik, so it is extremely hard to see those beautiful mandalas with tiny, micro spaces, as I can not color them. Very cute and a really nice book. I use markers and they really go through the back of the sheet, so I tear paper to color and put a sheet of paper behind it. I don 't usually find coloring that relaxing, as I have to decide what dang color to use next, but she has provided enough samples that I can copy just hers. There are plenty of pages to view. And who cares if they may be for a younger crowd, I am not exactly making a Utube video of it, just coloring for my own enjoyment.
Exactly the coloring book I have been looking for!

Derived From Web

, Nov 11, 2020

This book provides enough detail to be large and enough cute spaces that I am not breaking the magnifying glass. I love the designs and the paper handles well with markers. I also love the authorartist, who puts details at the beginning of the book, including some examples and color palettes. Choosing a color palette is stressful for me, so that having her examples is perfect. I don 't have to think too much, I can just color. I will definitely purchase more books from this artist!
I'd buy it again

Derived From Web

, Jul 25, 2019

Age appropriate, not to difficult for a 10 year old, yet still for a kid.
Could have been a nice book....

Derived From Web

, Dec 24, 2018

I bought this book for my niece for Christmas. The book itself looks like it has some really nice illustrations. When it arrived, however, the whole thing was wet as though it had been warped. There is also a ripple in the lower part of the cover, as though something has dragged across it. Unfortunately, it is not in good enough shape to give it as a gift. ( cf.
Where's my crayons?

Derived From Web

, Dec 4, 2018

I received a case of 48 packs and ordered 12 individual packs. Help was needed. I need the other 36 packs by December 10.
Adorable and a hit at a birthday party.

Derived From Web

, Dec 3, 2018

I ordered this as a birthday gift for a 7 year old girl who loves drawing and color. The designs were adorable for this age group and seem to be a perfect fit for those who want something more advanced than regular coloring books, but are not ready for the extreme detail of adult coloring books. This was the favorite item at the party and I have had several parents ask where I bought it. I'm going to order another for my own 7 year old for Christmas with the gel pens.
Good quality and cute!

Derived From Web

, Oct 22, 2018

They have been drawing on my adult coloring pages, so I bought this thinking that it would be better suited for them. They enjoyed it, but I think it is best for younger children a little older. The pages are of good quality and the drawings are cute. I would definitely buy this again if they are older and other books in this series.
Looking for a Fun time? Get this one...

Derived From Web

, Oct 25, 2017

There are positive affirmations on the backside of each page, if some of my markers go through it ok, I do my fun coloring with pencils and then add a sparkle to accent... Jess Volinski thanks a lot to Volinski.