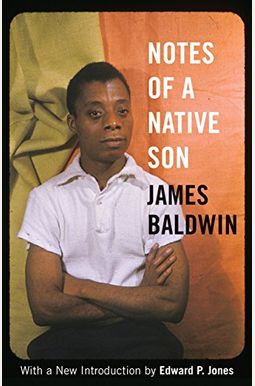  
Book Overview
#26 on The Guardian's list of 100 best nonfiction books of all time, the essays explore what it means to be Black in America
In an age of Black Lives Matter, James Baldwin's essays on life in Harlem, the protest novel, movies, and African Americans abroad are as powerful today as when they were first written. With films like
I Am Not Your Negro
and the forthcoming
If Beale Street Could Talk
bringing renewed interest to Baldwin's life and work,
Notes of a Native Son
serves as a valuable introduction.
Written during the 1940s and early 1950s, when Baldwin was only in his twenties, the essays collected in Notes of a Native Son capture a view of black life and black thought at the dawn of the civil rights movement and as the movement slowly gained strength through the words of one of the most captivating essayists and foremost intellectuals of that era. Writing as an artist, activist, and social critic, Baldwin probes the complex condition of being black in America. With a keen eye, he examines everything from the significance of the protest novel to the motives and circumstances of the many black expatriates of the time, from his home in The Harlem Ghetto to a sobering Journey to Atlanta.
Notes of a Native Son
inaugurated Baldwin as one of the leading interpreters of the dramatic social changes erupting in
Read More chevron_right
Frequently bought together
Frequently Asked Questions About Notes Of A Native Son
Books like Notes Of A Native Son
Book Reviews
(10)
Did you read Notes Of A Native Son? Please provide your feedback and rating to help other readers.
Bad book

Derived From Web

, May 16, 2022

This was the worst condition I received as a book. The pages are all marked with someone else's thoughts. Underlined : I bought a very good book, but it is not a very good book. I saw very good reviews, which is why I bought from him. Defiently not worth the price I paid for it. Have not yet read it. But I would not feel very dissapointed by resaleing it comfortably.
A SKILLED WORDSMITH WHO HAUNTS YOU...IN IMPORTANT WAYS

Derived From Web

, Jan 31, 2022

His essay on his troubled father kept me up a night. I am glad to have read him, but he does entice the reader to wrestle with difficult truths.
Learn the Truth from one of the great truth tellers

Derived From Web

, Aug 26, 2020

Baldwin is one of the great authors, thinkers and orators of this country. Baldwin deserves to be heard and appreciated especially in these days with the ongoing struggle for civil rights, justice and equality. His is a unique voice and a unique perspective on this centuries-long struggle that caused this country to elevate whiteness and denigrate blackness, perpetuating the original sin of slavery by enslaving and continuing to torture and kill black people with impunity.
"The Sons Must Slay Their Fathers"

Derived From Web

, Jun 29, 2019

In the crowded field of black literary giants back in the days when more than one was crowded, Baldwin embarks on a journey through life and the real impacts of what was true white nationalism and supremacy through the eyes of a deep and observant literary man. After Baldwin took his place as the New Negro on the block, Wright took his place as the New Negro. This book is a must for anyone interested in the history of American racing relations from the 40s through 60's.
Amazon Prime expedited our return journey with James Baldwin.

Derived From Web

, Sep 24, 2018

James Baldwin began my journey with Tyler as a college freshman more than 40 years ago. Friends of mine and I decided that much of what happens in today's world was even relevant. We travel with him again and we did not have to wait long for Amazon Prime.
A Book that is Relevant Today

Derived From Web

, Jul 26, 2018

Whoever is thoroughly attempting to understand the questions of African-American identity, race relations particularly in the United States or life in general, should read this book. Baldwin creatively crafts these dilemmas in a way that is truthful to all, relatable to those involved in the American experience and informative to those who are inquisitive about this experience.
Should be required reading

Derived From Web

, May 1, 2018

Apart from the subject matter of such importance, the writing is breath taking. His words come to mind long after reading. I loved it and appreciate the nuances associated with each essay building on the next. I can not recommend this enough.
Should Be Required Reading

Derived From Web

, Apr 1, 2018

This book provides a great place for discussions about race in America, both past and present. However, I admit that I will read many more passages for better understanding and mark them. It was with luck and amusement that I read a chapter on France because I am soon there. I love Baldwin's frankness and perspective.
... then a pleasure to read someone who doesn't have hate for "the other"

Derived From Web

, Aug 2, 2017

When dealing with race in contemporary America, it is nothing less than a pleasure to read someone who does not have hate for the other.
James Baldwin changed my life!!!

Derived From Web

, Jul 6, 2017

This book is a great example of this. Still reading it because I want to take my time to write all his very well written words and I even wrote notes in it. As a black woman living in America, this book and many others are a must! Really hope that EVERYONE can read his words, they will change you!