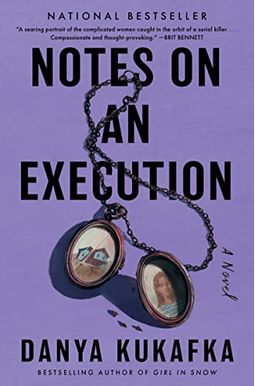 
 
Frequently Asked Questions About Notes On An Execution
Book Reviews
(8)
Did you read Notes On An Execution? Please provide your feedback and rating to help other readers.
Unexpected and Thought Provoking

Derived From Web

, Mar 10, 2022

What makes someone good or evil? Childhood trauma is how damaging is childhood trauma? Why do some exhibit redemptive resilience, while others sink into the murky depths of depravity? Such an interesting premise is a tragic and horrifying story of a serial killer, told from the perspective of mother, detective, sister in law, the niece. I knew the ending from Page One, but found that I couldn t put this compelling story down. A page turner of a different kind, this book will stay with me for a long time.
Mixed emotions

Derived From Web

, Feb 22, 2022

This book has moved me to tears at times. At times, it made me think and stop. The writing was at times exquisitely beautiful and profound. But at other times it went on and on and on, but I managed to wade through it out of respect for the author, but not sure I actually enjoyed this book. A very sad, depressing story. I think I need my next book to be something that makes me laugh or at least smile.
What a brilliant book!

Derived From Web

, Feb 21, 2022

Wow, I picked this book up as part of a reading challenge. The prompt was a book that was published in 2022. I am so glad I chose it, the writing is beautiful, the characters so vivid. The author captures their emotions and the feelings come through the writing. I think this book would appeal to just about anyone. Read it! Read it! '' ! !
A REAL LOSER

Derived From Web

, Feb 19, 2022

Stopped after a chapter. Gruesome telling of how a serial killer is formed by killing small animals etc. disgusting.
Beautiful

Derived From Web

, Feb 14, 2022

Read this in a day... too hard to quit! The writing is exquisite. You follow the path to becoming a killer and it is a heartbreaking story you can see happening to anyone. The impact of his parents, housemate, wife, and others makes him see that the number of victims far exceeds those who are dead.
Superb

Derived From Web

, Feb 9, 2022

Beautifully written and imagined. So different from anything I have read in a long time. There is no Gore, no real villain, and no true forgiveness. In the alternate world, the killer conceives, he could have been completely different, but this is the world where he and his victims lived, and the strong women who survived him will never be the same.
Gripping and complex

Derived From Web

, Feb 7, 2022

There are no easy answers in this human novel, but there is plenty of spectacular frailty and bravery. You could view this as a story about a psychopath who caused great harm and got what he deserved, or you could view it as a story of trauma a baby born into a man who caused massive trauma and then died traumatically. Regardless of the lens, this is a great book.
amazing, exquisite story

Derived From Web

, Feb 3, 2022

This was one of the most amazing and exquisite stories I ever read. It tells the story of a man's life and death from so many different points of view. There is no one villain, no one hero. We are all heroes and villains of our own stories.