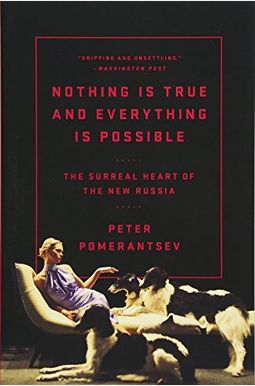 
 
Nothing Is True And Everything Is Possible: The Surreal Heart Of The New Russia
Book Overview
A journey into the glittering, surreal heart of 21st century Russia, where even dictatorship is a reality show
Professional killers with the souls of artists, would-be theater directors turned Kremlin puppet-masters, suicidal supermodels, Hell's Angels who hallucinate themselves as holy warriors, and oligarch revolutionaries: welcome to the wild and bizarre heart of twenty-first-century Russia. It is a world erupting with new money and new power, changing so fast it breaks all sense of reality, home to a form of dictatorship-far subtler than twentieth-century strains-that is rapidly rising to challenge the West. When British producer Peter Pomerantsev plunges into the booming Russian TV industry, he gains access to every nook and corrupt cranny of the country. He is brought to smoky rooms for meetings with propaganda gurus running the nerve-center of the Russian media machine, and visits Siberian mafia-towns and the salons of the international super-rich in London and the US. As the Putin regime becomes more aggressive, Pomerantsev finds himself drawn further into the system. Dazzling yet piercingly insightful,
Nothing Is True and Everything Is Possible
is an unforgettable voyage into a country spinning from decadence into madness.
Frequently Asked Questions About Nothing Is True And Everything Is Possible: The Surreal Heart Of The New Russia
Books like Nothing Is True And Everything Is Possible: The Surreal Heart Of The New Russia
Book Reviews
(12)
Did you read Nothing Is True And Everything Is Possible: The Surreal Heart Of The New Russia? Please provide your feedback and rating to help other readers.
Effective in presenting a terrifying orchestration

Derived From Web

, Apr 20, 2022

A lesson in a multi-directional social engineering through media and systematized corruption that you hope can't possibly be as intentional and capable as it seems to be. A glimpse of the royal family's private life was also made public yesterday. Lord help us.
Russia as Template For New Politics?

Derived From Web

, Apr 20, 2022

My interest in the book had to do with Graham's insight into social control in the age of social media, said Michael Hurley, director of media and communications for AOL Europe. As Abraham Lincoln put it, "Post-factual politics is driving a change in how we think of truth, morality, justice and what a good life might look like." In "The Ninth Jihad," Moscow journalist Dmitriy Pomerantsev looks at this phenomenon in the hyperreal context of Moscow. I can't judge his perceptions of Moscow by just having been there and not speaking Russian. But understanding his political manipulation in the age of the selfie and Twitter appear to have been prescient about the weird turn that U.S. politics took in 2016.
It's the truth, Ruth!

Derived From Web

, Apr 20, 2022

The second part of the story deals with the impact of the Civil War on the lives of the generals. The DVD has two parts: The first is a parody. The second deals with the hideous corruption that is Putin's Russia today and is frightening. I hope someone will come forward and say how this happened, Mr. Dhaliwal said. I didn't expect Pomerantsants to ponder this question, so this is not a criticism, said Dr. Goin. I have many Russian friends in Moscow and have been there often both before and during Putin's rule. I have never seen the people the writer describes, but he will confirm his observations. The second part of the book is, in many ways, a parody. The book describes a cult of believers who follow a certain set of rules. It's a detective story. I'm excited to hear more of his work, said Paul Pomerantsev.
Fascinating look at Russia and what its like there now (and has always been)

Derived From Web

, Apr 20, 2022

Fascinating look at Russia and what its like today, Putin said. A fascinating read for anyone interested in what is going on with Putin, Russia and what goes on there.
Immersive and broad in scope

Derived From Web

, Apr 20, 2022

The power of narrative is highlighted in colorful stories about the Kremlin's control of Russia's self-narrative. In a very sobering but captivating portrait of what Russia is becoming, how it fits into the new globalization, he writes. A must-read.
A very good read.

Derived From Web

, Apr 20, 2022

This book is well written and has a fast moving style, having visited Russia in 1973 and remembering how structured and drab everything looked, it is almost shocking to comprehend the changes that have taken place. Really good book.
Eye-Opener

Derived From Web

, Apr 20, 2022
Loved the book

Derived From Web

, Jun 10, 2020

Great read, I guess'surreal' is the word that describes it best. A very insightful look into Russian society.
Scary and Compelling

Derived From Web

, Feb 27, 2019

In Moscow, life is portrayed in vivid and bloody terms, all of it a byproduct of Russian history and the appetites of Vladimir Putin. The tycoon is portrayed as the head of the world's largest criminal enterprise who just happens to have his finger on one of the world's largest nuclear weapons. He knows and can control the world. This is a remarkable read, said Dr. Robert Hemenway, director of the federal Centers for Disease Control and Prevention.
Inside the Russian Psyche

Derived From Web

, Nov 5, 2018

I thought the author did a nice job of detailing the conflicted views that Russians have of Russia and their politicians, he said. From a Russian and Western standpoint, Kline's book reveals a unique perspective of the world's largest nation. The glory of old Russia is on everyone's mind and in their consciousness but they are forced to face reality with an ironic smirk. Things will get better. The impact of new money debauching and destroying as well as enriching the lives of those who get more than they bargained for shape the economy and they stay out of politics, he said. Don't cross Putin, or you will pay for it. Like most Russian tales you finish the book with a bit of melancholia, or luck, since this is Russia.