Buy 3 Get 1 Free
Our Best Sale Yet! Add 4 Books Priced Under $5 To Your Cart     Learn more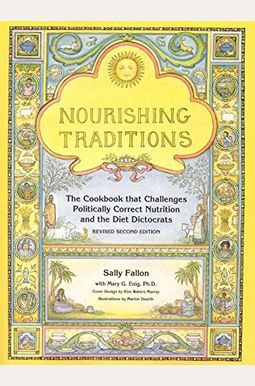 
 
Nourishing Traditions: The Cookbook That Challenges Politically Correct Nutrition And The Diet Dictocrats
Book Overview
This well-researched, thought-provoking guide to traditional foods contains a startling message: Animal fats and cholesterol are not villains but vital factors in the diet, necessary for normal growth, proper function of the brain and nervous system, protection from disease and optimum energy levels. Sally Fallon dispels the myths of the current low-fat fad in this practical, entertaining guide to a can-do diet that is both nutritious and delicious. Nourishing Traditions will tell you: 1.Why your body needs old fashioned animal fats 2.Why butter is a health food 3.How high-cholesterol diets promote good health 4.How saturated fats protect the heart 5.How rich sauces help you digest and assimilate your food 6.Why grains and legumes need special preparation to provide optimum benefits 7.About enzyme-enhanced food and beverages that can provide increased energy and vitality 8.Why high-fiber, lowfat diets can cause vitamin and mineral deficiencies Topics include the health benefits of traditional fats and oils (including butter and coconut oil); dangers of vegetarianism; problems with modern soy foods; health benefits of sauces and gravies; proper preparation of whole grain products; pros and cons of milk consumption; easy-to-prepare enzyme enriched condiments and beverages; and appropriate diets for babies and children.
Frequently Asked Questions About Nourishing Traditions: The Cookbook That Challenges Politically Correct Nutrition And The Diet Dictocrats
Books like Nourishing Traditions: The Cookbook That Challenges Politically Correct Nutrition And The Diet Dictocrats
Book Reviews
(14)
Did you read Nourishing Traditions: The Cookbook That Challenges Politically Correct Nutrition And The Diet Dictocrats? Please provide your feedback and rating to help other readers.
Nourishing Traditions: The Cookbook That Challenges Politically Correct Nutrition and the Diet Dictocrats

If you are concerned about eating healthy, this book will take you beyond the food pyramid thinking. It will teach you why you need certain foods like fermented ones in your daily diet. Each chapter is loaded with information as well as recipes. You can read it as a book, use it as a cookbook, or both. I am planning to use it as a text book in my homeschooling for teaching my daughter Health. This is definitely one of my favorite cookbooks!
The old ways are the best ways. Some of the recipies may be 'weird'

Derived From Web

, Apr 20, 2022

The book is outstanding. This book is for people who want to be healthy and eat healthy. Get rid of the propaganda that comes from the My Plate or Federal Government recommendations. Since the government has been involved in these guidelines, Americans have become more overweight. The old ways are the best. Whole milk, organ meat, and ferment foods are weird because we have been told that they are. They are not! These foods are delicious and will give you a buzz.
Must-Have

Derived From Web

, Apr 20, 2022

This is more than a cookbook, it is an essential resource for anyone who knows that our modern, Western diet and food concepts are incorrect. If we are to expect our future generations to be strong, beautiful, and disease-free, we need to learn what we need to know about food, regaining, and maintaining our health, and having healthy children.
An Awesome Book!

Derived From Web

, Apr 20, 2022

This book was shipped in a padded box that was completely protected, and it arrived earlier than I anticipated. I waited a couple of days before I got this book on my door. The book is great. I am learning a lot about how to make yogurt from scratch, how to preserve vegetables for later use, and so much more. The receipes are wonderful and each page has information about the food. This book was a great purchase and I am very grateful that I was able to get it for the money I spent. I love it!
A MUST-HAVE FOR ANYONE WHO EATS

Derived From Web

, Apr 20, 2022

This book has taught me a lot about preparing food with vitamins. This is much more than a cookbook. It's a must-have for everyone.
Fantastic Resource

Victoria Lawrence

, Oct 11, 2021

Nourishing Traditions is a fantastic resource for learning about the optimal human diet! I've been on a long healing journey and have incorporated many principles from Nourishing Traditions. I feel a million times better today in my thirties than I ever did in my twenties or youth... My body is healing and thriving thanks to many of the teachings from this book!
This book is wonderful!

Derived From Web

, Jun 2, 2021

The book helps one understand the fallacies of preconceived ideas and doesn't leave you frustrated. It gives good alternatives to good health. I love it!
DO NOT Buy Kindle Edition

Derived From Web

, May 30, 2020

The introduction is the only thing in this book. The Cookbook section is not included. I don't know if I will buy the full paperback copy or return it. The information is dated so that you won't be able to see the evolution of research on this important topic. Although I haven't been able to read the whole thing, the parts that I have read include a good review of basic scientific information, but her review of existing research is full of psuedoscience and highly dogmatic bashing of medical and scientific professionals.
Truth will set you free

Derived From Web

, Aug 18, 2019

I like the book. It shows the truth behind what ancient people ate in order to expose the lies of our modern food industry. What modern science would call bad food and how it makes us sick. I haven't finished the book yet but I love it. It should be read by more people.
Missing basic information.

Derived From Web

, Aug 17, 2019

I wanted to learn how to soak nuts. The book wasn't very helpful because it was missing basic information. The amount of water is not specified in the recipes. It is not clear what the salt concentration should be. The recipes are useless. It's not clear what the source of the recommendation is. I didn't expect a cookbook for healthy eating to contain a lot of sugar in some of the recipes.