CYBER MONDAY SALE - SAVE 20% AT CHECKOUT WITH CODE CYBERBOOK. Learn more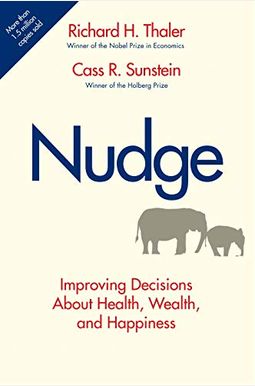 
 
Nudge: Improving Decisions About Health, Wealth, And Happiness
Book Overview
A groundbreaking discussion of how we can apply the new science of choice architecture to nudge people toward decisions that will improve their lives by making them healthier, wealthier, and more free

Every day, we make decisions on topics ranging from personal investments to schools for our children to the meals we eat to the causes we champion. Unfortunately, we often choose poorly. Nobel laureate Richard Thaler and legal scholar and bestselling author Cass Sunstein explain in this important exploration of choice architecture that, being human, we all are susceptible to various biases that can lead us to blunder. Our mistakes make us poorer and less healthy; we often make bad decisions involving education, personal finance, health care, mortgages and credit cards, the family, and even the planet itself.

In Nudge, Thaler and Sunstein invite us to enter an alternative world, one that takes our humanness as a given. They show that by knowing how people think, we can design choice environments that make it easier for people to choose what is best for themselves, their families, and their society. Using colorful examples from the most important aspects of life, Thaler and Sunstein demonstrate how thoughtful choice architecture can be established to nudge us in beneficial directions without restricting freedom of choice. Nudge offers a unique new take--from neither the left nor the right--on many hot-button issues, for individuals and governments alike. This is one of the most engaging and provocative books to come along in many years.
Frequently Asked Questions About Nudge: Improving Decisions About Health, Wealth, And Happiness
Books like Nudge: Improving Decisions About Health, Wealth, And Happiness
Book Reviews
(14)
Did you read Nudge: Improving Decisions About Health, Wealth, And Happiness? Please provide your feedback and rating to help other readers.
Great book

Derived From Web

, May 20, 2022

Thaler is an economist, whom I respect and admire. I have studied behavioral finance and his contributions to the field are very significant. I like how this book uses some of the principles and applies them in real word situations to public policy. I like the concept of libertarian paternalism ''. I believe that 25 or so pages could have been edited out. Quick to understand and easy to read a sense of the bigger picture of the biology of the brain in decision making and behavior. To gain from this, you don 't have to be a scientist or economist.
Not what I was expecting

Derived From Web

, May 20, 2022

Perhaps I should have looked more closely at what I was getting. I was expecting a book that helped the individual make good decisions as well as influence others to make the good decisions they want to make, but sometimes don 't. There were some really good concepts in this book that dealt with these areas, but it was primarily a book for the politically minded. It goes very deep into detail on finances as well as medicare and various government programs, which could be improved. While I love the idea of political paternalism, be aware that this book is very libertarian and contains little advice for the individual who is looking to be better. As another reviewer stated, it is a book that should be read by people interested in any aspect of public policy. It is a book that should be read by people interested in politics.
Good but now certain who the reader is supposed to be.

Derived From Web

, May 20, 2022

I liked the book, but I got the sense that this book was written for economists who have not considered that individuals and groups do not always act in a way that a model would predict. Here there is a lot of good information, but I found myself thinking that's why people do that.
Empowerment!!

Derived From Web

, May 20, 2022

From the first pick up, the book was very intriguing. The effects of blink and tipping point felt like a bit more behavioral science to back up the findings. But then midway through this book, I started being concerned about the self-help direction of this book and how the message would be lost because it caters to individual who couldn t manage their credit or weight. I trudged and was pleasantly surprised. The book does an excellent job of encouraging us all to change without being too overt. I think I am my best managers and they were masters at this art. These managers supported me and all my ideas and never pushed me to implement their ideas. I always believed that my ideas and the application of these ideas were my own. It is tremendously empowering to be able to claim that your results are your own and never to feel that I was overruled. Nudging others lends exact to this objective.
Surprising - but not in a good way

Derived From Web

, May 20, 2022

Both these regarded gentlemen are deservedly the most in their professions. Separately, they stand tall, eloquent, and innovative. Together, they have produced a book that is forced, flat, superficial and boring. I was surprised at how easily my eye skipped whole paragraphs and had to be forced back to read what was missed. Their grate personalization attempts were cutesy. Even their original ideas were known to me well. I think that a few quick searches would have changed the book dramatically. As much as I love reading both their works, this one can be overlooked quite easily. You won 't miss a thing.
Emphasizing the importance of defaults and choices

Derived From Web

, May 20, 2022

The fundamental human sections provide the context of the upfront biases that provide power to those who help form the decision choices that each of us has. For me, the most critical insight of this book is the emphasis on how responsible we are for setting the default options in the choices we make, whether to our children, our spouses, our colleagues, our team members, or our organizations. Several examples provide further fodder, but if you read the first few chapters carefully, it can help remind you how critical your role is in the impact of those people's lives if you lead or shape any decisions.
Second best book I've read on human decisions

Derived From Web

, May 20, 2022

Thaler and Sunstein are among another wave of intellectuals who help keep my home town of Chicago on the academic hilltop. This was not exactly what I expected, since the title seems to indicate something about decision psychology in general, not a particular political ideology. But it is a good book and a quick read. This is the third book I read that cites Kahneman and Tversky on human decision-making quirks. I found Hubbard's How to Measure Anything '' to find the value of immaterialibles in business to be the most enlightening of all books in this genre. Nudge may be a close tie with Fooled by Randomness's hidden role of chance in life and markets.
Too much financial planning ...

Derived From Web

, May 20, 2022

Too much of this book is about financial planning, savings for retirement, stocks and bonds, financial incentives, etc. As a casual reader, I found it very dry and humourless, like reading a keynote speech to a bunch of accountants. The book started very well and had a few chapters on influencing people's choices. I don 't know why they decided to kill it with boring financial advice I don 't know. These books are usually filled with interesting anecdotes and real world Gladwellian stories used to illustrate the points made, but Nudge fell well short on this aspect too. In short, if you're looking for financial planning insights, I have no idea how this book ranks, as I find the whole subject incredibly dull, but you never know... it could be useful to someone.
Thought-Provoking and Actionable Across a Wide Range of Topics

Derived From Web

, May 20, 2022

If you never hear of choice architecture, it isn 't because you haven 't experienced it. From your 401 enrollment form to the location of the food at the company cafeteria, every choice you make results partly from a decision that someone else made for you. Even while I was still reading Nudge, I found new ways of viewing day-to-day activities that have created both interesting opportunities and new challenges personally for me and professionally. Still rarer for a book that is inherently academic. But with its real world examples, Thaler and Sunstein bring libertarian paternalism to life. Wouldn 't it be a hoot of those who could actually take advantage of such a thing? I know that I am going to try. Beyond Paycheck to Paycheck : A conversation about income, wealth and steps in between.
Boring!!!

Derived From Web

, Nov 24, 2021

I was offered this book on behalf of my doctor and I am sorry to say that I could not even halfway through the book, and honestly, I wanted to throw Covid out the book, but luckily for him, I haven t seen him since then.