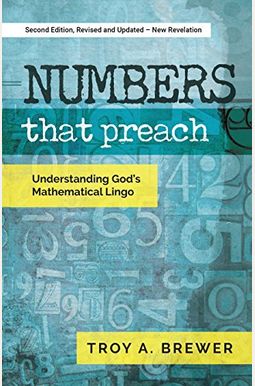 
 
Numbers That Preach: Understanding God's Mathematical Lingo
Book Overview
Your Bible, your history books, and even your newspaper headlines are full of God shouting a powerful message of hope and healing. The same author who designed 24,900 miles around the planet, also calculated 24 hours around your clock, and predetermined 24 elders around the throne. But unless you know what God is consistently speaking through the number 24, you miss the message. In fact, you don't even know there is a message. Numbers That Preach is a fun look at the otherwise hidden sermons God is declaring through His mathematical lingo. For more than twenty years, author Troy Brewer has studied Biblical text and collected interesting facts, figures and statistics that show powerful meaning in the numbers around us.
Frequently Asked Questions About Numbers That Preach: Understanding God's Mathematical Lingo
Books like Numbers That Preach: Understanding God's Mathematical Lingo
Book Reviews
(9)
Did you read Numbers That Preach: Understanding God's Mathematical Lingo? Please provide your feedback and rating to help other readers.
Learn Biblical number meanings

Derived From Web

, Oct 16, 2021

I wanted to learn more about biblical number meanings. Recently I was exposed to someone who was knowledgeable and had this book. A friend was at his place while he was in Kenya. The Lord wants to teach us for numbers. It was recommend to get it.
Good, but incomplete

Derived From Web

, Sep 22, 2020

I value Troy and respect this book. It has some good insights, but I found it very incomplete. I won 't list all the interpretations I feel are missing, along with significant numbers like 100, 1000, etc., but my biggest disappointment was number 13. He gives only a negative interpretation. I have been doing good dream interpretation for nearly 17 years and 13 can also have a very biblical interpretation, meaning LOVE... in the RIGHT CONTEXT, obviously. 1 Corinthians 13 is the love verse and if you do a Hebraic study of 13, you have numerous reasons why 13 represents love. There are other missing interpretations as well, but this was my biggest disappointment because it could make people fearful if they get number 13 and sometimes it may be a very good thing. I bless Troy and would still recommend this book to give you more insight about the numbers you may not have discovered.
Highly recommend

Derived From Web

, Jan 21, 2020

If you are looking for a biblical look at the meaning of numbers from a thorough perspective, this is the book. Troy Brewer spent many many hours searching for numbers.
Great read

Derived From Web

, Sep 17, 2019

I see triple digits all the time. It started with seeing 4 just starting. For years I would see 444 every time I had trouble, but last year it started changing, now I see all the triple digits and like 1010 or 611, 411, 811 all the time. I bought this book so that I would get a better understanding of what the Lord was trying to say to me with the numbers. I love this book and is definitely a book I keep for my library, so that I can refer to it whenever the need arises.
This book is one that people need to study vs. a fast read.

Derived From Web

, Jul 4, 2019

The information is loved. I understood better when I saw the author interview on Joni Table Talk. The book was ordered by the author. I found it a little 'above '' my intellect of astronomy. Hope to sit with the book again, with the Holy Spirit's direction, and absorb more understanding.
Great Biblical tool to understand numbers

Derived From Web

, Jun 28, 2019

I bought several copies of this book for myself and to give it to others. Ever notice that you keep seeing the same numbers and don 't know why? The Lord is always speaking, but are we listening? One of the ways in which he speaks to us is by speaking numbers. This book is NOT Bible backed up by hearsay, but rather read by Scripture. Pastor Troy Brewer, thank you!
Now you can find out what it means when you keep seeing the same number everywhere you go!

Derived From Web

, Mar 5, 2019

This is a book that you will use for a lifetime!
Excellent biblical resource

Derived From Web

, Sep 4, 2017

A great resource. I found it very helpful in dream interpretation as well as confirmation. To see things by seeing a series of numbers through different seasons.
Great Resource for the Meaning of Bible Numbers

Derived From Web

, Aug 22, 2017

I was not sure how this book would be written. I had heard the author present a detailed presentation of numbers in the Bible, and it was excellent. Several years ago, I learned about the meaning of Bible numbers. I am always curious to understand the meaning behind words and numbers in the Bible, I think it is a fascinating study. I often heard what various numbers mean and I can easily remember the meaning of some numbers, like 7. What I wanted '' was a book that would give a brief description of each number's main characteristic with a detailed explanation of this meaning. That is exactly what this book is about. Each chapter is a number and goes up to 20 then goes up to 50 by a number of them, and includes a number of numbers over 50. It is a great resource!