Buy 3 Get 1 Free
Our Best Sale Yet! Add 4 Books Priced Under $5 To Your Cart     Learn more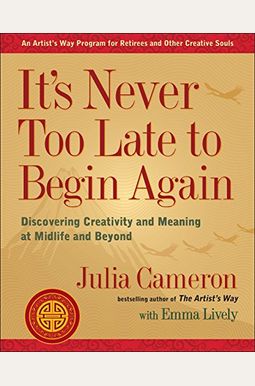 
 
Nunca Es Demasiado Tarde Para Ser Un Artista / It's Never Too Late To Begin Agai N: Descubre La Creatividad Y El Sentido De La Vida Despues De La Jubilacion (Spanish Edition)
Book Overview
The book you hold in your hands is the distillate of a quarter century's teaching. It is my attempt to answer, 'What next?' for students who are embarking on their 'second act.'
--Julia Cameron
Julia Cameron has inspired millions with her bestseller on creativity,
The Artist's Way
. In
It's Never Too Late To Begin Again,
she turns her eye to a segment of the population that, ironically, while they have more time to be creative, are often reluctant or intimidated by the creative process. Cameron shows readers that retirement can, in fact, be the most rich, fulfilling, and creative time of their lives. When someone retires, the newfound freedom can be quite exciting, but also daunting. The life that someone had has changed, and the life to come is yet to be defined. In this book, Cameron shows readers how cultivating their creative selves can help them navigate this new terrain. She tells the inspiring stories of retirees who discovered new artistic pursuits and passions that more than filled their days--they nurtured their souls. This twelve-week course aimed at defining--and creating--the life you want to have as you redefine and re-create yourself, this book includes simple tools that will guide and inspire you to make the most of this time in your life: - Memoir writing offers an opportunity to reflect on and honor past
Read More chevron_right
Frequently Asked Questions About Nunca Es Demasiado Tarde Para Ser Un Artista / It's Never Too Late To Begin Agai N: Descubre La Creatividad Y El Sentido De La Vida Despues De La Jubilacion (Spanish Edition)
Books like Nunca Es Demasiado Tarde Para Ser Un Artista / It's Never Too Late To Begin Agai N: Descubre La Creatividad Y El Sentido De La Vida Despues De La Jubilacion (Spanish Edition)
Book Reviews
(10)
Did you read Nunca Es Demasiado Tarde Para Ser Un Artista / It's Never Too Late To Begin Agai N: Descubre La Creatividad Y El Sentido De La Vida Despues De La Jubilacion (Spanish Edition)? Please provide your feedback and rating to help other readers.
Another winner!

Derived From Web

, May 10, 2022

I bought this book to review when I was on a 2 week holiday retreat during my 67th birthday. Although it is a 12-week process, I want to work for more than a week on each chapter. The exercise of Memoir has been so insightful. It was sometimes painful to go through a particular period of my life, but in the end I am able to understand why I have the beliefs and growth I have today and am able to ask the questions : What was important to me then and what was important to me now? What are my preferences now? This book is a wonderful tool for self-assessment and evaluation. I own all Julia Cameron books and this is another winner.
Midlife in the title only - aimed at retirement and somehow depressing if you're not there yet

Derived From Web

, May 10, 2022

I was debating The Artist's Way when this new book crossed my path. Four weeks in, I am not so sure that I should not return to my original plan. Although midlife is prominent on the cover, this theme is absent so far in the book. So far, the exercises seem predominantly repetitions - morning pages, artist dates and walking, plus memoirs-effective but nothing new. Methinks that the publishers wished to expand the demand beyond the clearly-intended senior audience and tagged for additional sales on a misleading subtitle. After 8 weeks, I put it on the shelf to await my future retirement.
and what I like about it is I solve my own problems

Derived From Web

, May 10, 2022

I do the work on myself through Julia and what I like is that I solve my own problems and open my own doors.
I love Julia Cameron and have most of her books

Derived From Web

, May 10, 2022

I've assumed that it was geared towards mid life people either retired or not. It is actually written as if you are retired and not knowing what to do with yourself anymore. After two chapters, I decided to put this one on the shelf and save it for a few years when I retire.
Absolutely Fabulous

Derived From Web

, Nov 4, 2021

I enjoyed this book as a continuation of The Artists Way '', while I am not of midlifesenior age, the book is interesting as an empty-nester from my view. Mostly I enjoyed Julia Cameron's personal journey as she shares autobiographical stories. Seeing her book transform people of all ages, religions and occupations makes this a book of excellence. Like her book Artists Way, this is arranged into a book format with weekly assignments for personal and professional growth.
Not for Everyone

Derived From Web

, Sep 1, 2020

Assuming that Cameron is able bodied, too often suggests activities that cost money and activities that assume you're kind of thoughtless, given that this book is aimed at older folks approaching retirement, some of whom will have disabilities and will be on a fixed income. I also take exception to the gender and ethnic break down of the inspirational individuals she cites in the side bars of many publications 84 white boys, 24 white women, 6 men of color, 3 women of color. Hardly a creative representation of balanced role models. This book gets out of touch and feels exclusive.
Fantastic

Derived From Web

, Apr 1, 2019

In my early thirties, I read The Artist's Way and saved my life. I picked this book in chapter two of my life when I was trying to rediscover my higher purpose from my first career after retirement. I went through 660 spiral pages and several packages of G2 pens and through this process I have found that I am indeed on the right track and have much food for inspiration in my artistic endeavors. I encourage you to participate in this process, whether you are a painter, poet, musician or other creative.
Old Wine in New Bottles

Derived From Web

, Jan 22, 2019

I have attended seminars by Ms Cameron and have most of her books. My issue is that for a creation guru '' she breaks new ground rarely. Pick up any book between Artist's Way and Begin Again '' and it is all the same.
Will inspire a lot of contemplative sessions with yourself

Derived From Web

, Aug 21, 2018

I read a number of books by Julia Cameron and this is no exception. Technically, I am not finished with the book. Almost to the end, but the exercises inspired me so much that I take my time reading through them. The book helped me prioritize my morning pages, for one thing, which has been very helpful in re-initiating my life. Plus it got me to scroll through some decades long memories '' I discovered gaps in my life that I want to learn about mroe. Book is great! The only stumble I had is that the title reads in part midlife and beyond. It does indeed start that way, but the majority of the book focuses on people who are actually retired. Nevertheless, I found it to have value for me.
Disappointed

Derived From Web

, Mar 16, 2017

I haven 't yet gone far into it, but was disappointed to find it is just an update of The Artist's Way. At 70, I don 't want to do the same practices I had at 40.