Buy 3 Get 1 Free
Our Best Sale Yet! Add 4 Books Priced Under $5 To Your Cart     Learn more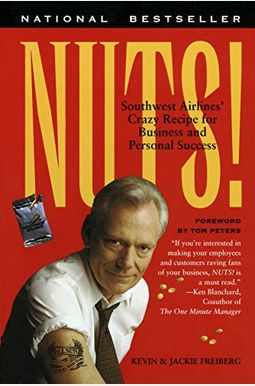 
 
Nuts!: Southwest Airlines' Crazy Recipe For Business And Personal Success
Book Overview
Twenty-five years ago, Herb Kelleher reinvented air travel when he founded Southwest Airlines, where the planes are painted like killer whales, a typical company maxim is Hire people with a sense of humor, and in-flight meals are never served--just sixty million bags of peanuts a year. By sidestepping reengineering, total quality management, and other management philosophies and employing its own brand of business success, Kelleher's airline has turned a profit for twenty-four consecutive years and seen its stock soar 300 percent since 1990.
Today, Southwest is the safest airline in the world and ranks number one in the industry for service, on-time performance, and lowest employee turnover rate; and Fortune magazine has twice ranked Southwest one of the ten best companies to work for in America. How do they do it?
With unlimited access to the people and inside documents of Southwest Airlines, authors Kevin and Jackie Freiberg share the secrets behind the greatest success story in commercial aviation. Read it and discover how to transfer the Southwest inspiration to your own business and personal life.
Frequently bought together
Frequently Asked Questions About Nuts!: Southwest Airlines' Crazy Recipe For Business And Personal Success
Books like Nuts!: Southwest Airlines' Crazy Recipe For Business And Personal Success
Book Reviews
(14)
Did you read Nuts!: Southwest Airlines' Crazy Recipe For Business And Personal Success? Please provide your feedback and rating to help other readers.
You can't run a company and treat the employees like you hired them to mow your lawn

Derived From Web

, May 30, 2022

Now it is dated, almost 20 years on, but still shows how a company can make a difference and beat the odds if everyone pulls together and the employees are VALUED parts of that team. You can't run a company and treat employees like you hired them to mow your lawn. They prove that a valued asset will work harder and draw harder and their family will support that when the payoff equates to the effort. Give your employees some skin in the game and they 'll go the distance. Here is Proven right.
Southwest Airlines

Derived From Web

, May 30, 2022

I have always been impressed by Southwest Airlines story and its success. From my university days, I already knew a little about their unique business philosophy, but was required to read this book for the graduate school and learned so much more. I wish that more companies followed the lead of this one. The customer is sometimes a douchebag. Empower your employees and they 'll bust their asses for you.
It is also a good reference for how you might develop your own business ...

Derived From Web

, May 30, 2022

This book provides a complete insight into the culture and history that makes Southwest Airlines the leader for 40 years. I recommend this book to anyone interested in a successful corporate culture, and a book that is easy to read, as it is fun!
Quick and intriguing read

Derived From Web

, May 30, 2022

Great book on Southwest Airlines history and culture. It does not necessarily capture the company culture that exists today, as this book was written 20 years ago, but captures some of the tools of a top organization that can be used to win as an underdog. Its a political read to understand how the company found success despite great roadblocks in a competitive and ruthless industry.
Inspiring to read, although too little depth

Derived From Web

, May 30, 2022

Working in the airline industry and very involved in optimizing the organizational output, Southwest has been a very admired and inspiring company for me since a long time. Having already read quite a bit about them and spoken to people working there, it was still great fun to read a more in-depth book of this company. The commitment that people feel is something about which an outsider can be jealous. What I was hoping to read more in this book is how Southwest was able to keep this great things while growing from a small start-up to a major airline in the United States. Had they addressed this topic in their book, it would really make it the top of the bill. The book can still be very inspiring for people who want to get some ideas about how they can get more out of their organization.
The official story behind a great airline

Derived From Web

, May 30, 2022

This is the story of how three people from an idea of a cocktail napkin formed an airline. It has the great stories of Herb Keller on the way. If you are interested in studying the airline industry, this is a must read to gain a perspective of one of the most profitable and successful airlines that has truly carved a niche for itself.
Light, yet educational read!

Derived From Web

, May 30, 2022

Not surprisingly, this is a little different than the traditional how '' books you might otherwise read. Here, however, the ideas are new and many were creative for me. Many operational and communication tips, which I found helpful. And the book is easy to read. Since many airlines cannot find a way to make money AND reach such high levels of customer service, Southwest serves as a good guide to prosperity.
Mediocre writing

Derived From Web

, May 30, 2022

After 20 pages, I managed to bore. What bothered me the most was the uncritical Rah Rah cheerleader style of the authors, who used any example at hand to make the point they wanted, no matter how little the example supported. I give the book two points because I enjoyed reading Southwest Airlines customer letters and transcripts. If the book had been the entertaining read that it promised to be judging from the reviews, I wouldn t have minded the absence of content as much.
DING! We have a winner!

Derived From Web

, May 30, 2022

Anyone who has flown in the United States is probably familiar with Southwest Airlines. The No-Frills airline is famous for giving peanuts instead than a meal on its flights. Thus the name Nuts is. But, Nuts in another way is appropriate. You will read how Southwest started from a large intrastate carrier in Texas and ended up as one of the small carriers in the nation. Why is the pilot helping to offload luggage? Why is the checkpoint person on the flight? And why are the flight attendants singing?
A company built on love and truth

Derived From Web

, May 30, 2022

I've found this one of the most enjoyable business books I ever read. It was a love story for me. A story about how business can be challenging and yet give society something back to it, one person at a time. An example of real and authentic leadership. Leader that is genuine and loving. I could only imagine how much more filling would be if society could build examples of Southwests. For me, this book says more in the interpretation than the words. And that interpretation is for others... or in a corporate terms, respect for the individual, without losing sight that we should also have fun and not take ourselves seriously. I recommend highly recommended this book for business owners like myself, who are trying to make a difference.