OUR BIGGEST SALE EVER - SAVE 20% AT CHECKOUT WITH CODE CYBERBOOK. Learn more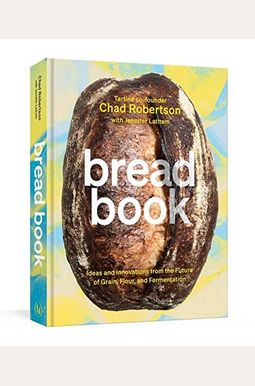  
Book Overview
A visionary baker reveals what's next in bread, drawing on a decade of innovations in grain farming, flour milling, and fermentation techniques to deliver groundbreaking recipes for nutrient-rich, exceptionally flavorful breads and nourishing meals to make with them.
More than a decade ago, Chad Robertson's country levain recipe taught a generation of bread bakers to replicate the creamy crumb, crackly crust, and unparalleled flavor of his world-famous Tartine bread. It was the recipe that launched hundreds of thousands of sourdough starters and attracted a stream of notable understudies, from Danny Bowien of Mission Chinese to Rene Redzepi of Noma. Now Robertson has teamed up with Tartine's director of bread, Jennifer Latham, to explore how superior grain and next-level flours respond to hydration and fermentation to make great bread even better.
Bread Book
showcases Robertson's and Latham's unparalleled knowledge and latest contribution to the craft and science of bread making. Experienced bakers and novices will find their primers on grain, flour, sourdough starter, leaven, and dough formulas refreshingly easy to understand and use. Thirteen singular master formulas for naturally leavened doughs--from the reengineered country bread to rustic baguettes, flatbread, rolls, buns, tortillas, pizza, rye, gluten-free loaves, and more, plus fermented
Read More chevron_right
Frequently Asked Questions About O Ultimo Conhaque
Book Reviews
(6)
Did you read O Ultimo Conhaque? Please provide your feedback and rating to help other readers.
If you like baking bread, this will give you great new ideas

Derived From Web

, Mar 17, 2022

We liked that as soon as we cracked this book we felt like bakers all weekend long. Great pictures, great ideas.
The Evolution of Tartine

Derived From Web

, Feb 19, 2022

I was a bit hesitant about ordering the book because of the low ratings, but I'm glad I did. My baking has evolved over several years initially leaning on Ken Forkish' works, a bit of Peter Reinhardt and eventually the Chad Robertson books. For Bread Country, I like the refined techniques and focus presented in this book, along with some more depth that I've missed in other books. Thanks for the hard copy, and I'm glad I did. If you're just starting out and want to do Tartine, I'd probably start with the recipe for Country Bread in the original Tartine Book. If you've got your feet under you, you should really appreciate this book.
Excellent

Derived From Web

, Feb 18, 2022

Great for home bakers and professionals alike. Chad Robertson has included some new techniques to elevate his process.
buyers beware!!! Woodville books LIES!!! They charge 20% return fee + shipping !!!

Derived From Web

, Feb 8, 2022

This book is more about non-bread recipes than about them. It's very impractical because making bread the traditional way takes forever. Giving an equivalence with commercial yeast for the bread recipes would have been a massive time-saver. It's great to be back home, said Blair. In fact, the magazine quotes extensively from Woodville's book, Lies About the Full Free Return Policy. They charge 20 percent return and shipping fees, and they have no shame in it. Amazon has no plans to stock Dr. Goin's book, but is open to new business ideas.
Great recipes and Hideous photography

Derived From Web

, Feb 1, 2022

I just got this book and feel like it will be an informative guide to add to my bread making library, Melissa. Chad's first book is a master work I recommend to anyone who wants to learn how to make amazing bread at home. I'd rather not leave a rating on this one because to be fair I haven't made anything from the book yet. But I have to take off points based on the design and photography of the space. Note to the publisher: Why did you choose this book? Many of the photos are out of focus, taken at too close range and placed on sterile backgrounds with hard lighting. I wish this trend would end because it doesn't add value to a book of this scope or complement the expertise of the author.
Great bread recipes but not for the beginner

Derived From Web

, Jan 10, 2022

This book is by far the best. The book is divided by type of bread, and the corresponding recipes are grouped by which type of bread they use instead of all being at the end. However, he admits that the book "requires what I think is a fair amount of existing knowledge." The authors have extensive experience and I think that leads to some of the recipes being a little vague at points because you certain things come naturally to them, he said. The recipes also call for specific types of high-extraction flour, and I imagine it would be a headache if you didn't know which flour was what or how it might change things like hydration. But all in all the recipes are fantastic and the book is beautiful, too.