OUR BIGGEST SALE EVER - SAVE 20% AT CHECKOUT WITH CODE CYBERBOOK. Learn more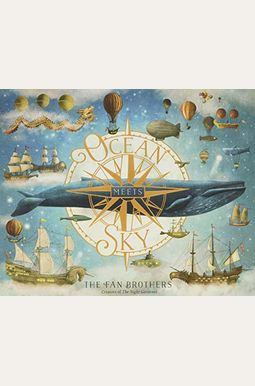 
 
Book Overview
From the creators of the gorgeous bestseller The Night Gardener, comes a stunning new picture book about a young boy who sets sail to find a place his grandfather told him about.the spot where the ocean meets the sky.
It's a good day for sailing.
Finn lives by the sea and the sea lives by him. Every time he looks out his window it's a constant reminder of the stories his grandfather told him about the place where the ocean meets the sky. Where whales and jellyfish soar and birds and castles float. Finn's grandfather is gone now but Finn knows the perfect way to honor him. He'll build his own ship and sail out to find this magical place himself And when he arrives, maybe, just maybe, he'll find something he didn't know he was looking for.
Frequently Asked Questions About Ocean Meets Sky
Books like Ocean Meets Sky
Book Reviews
(17)
Did you read Ocean Meets Sky? Please provide your feedback and rating to help other readers.
The single most gorgeous children's book I've come across

Derived From Web

, Mar 13, 2021

Not only is the quality of them fantastic, but also the creativity and vision behind them is just great. The cover under the jacket is embossed with gold and is a wonderful added treat when you find it. The story is beautiful as well, definitely light reading, but it is the cute illustrations that keep you coming back to this book.
Damaged

Derived From Web

, Feb 15, 2021

The book arrived with a page ripped in half. It was a new rip so that I can repair it, but I prefer clean books arriving in new, undamaged condition.
A Dream in the Ocean

Derived From Web

, Feb 11, 2020

A magical boy builds a ship to honor his late grandfather and sets sail for the small place where the ocean meets from his grandfather's story. Since the moment I saw this book on Amazon and it is all I've been thinking about, I LOVE the sky and the sea ocean and ships... Now that I have it in my hands, I can 't believe how beautiful it is.
Beautiful book for the imagination

Derived From Web

, Dec 23, 2019

I felt that this book was very good for the imagination and may also be good to help a greiving child understand the importance of remembering a deceased great grandfather. The illustrations are beautiful.
Dream come true for an ocean lover

Derived From Web

, Apr 26, 2019

How beautiful is the color of blue in so many different shades! The intricate illustration describes deep mutual love between Pan and Grandpa and the grandson and the gentle grandeur of the ocean creatures. The star of the sea, the moonlight penetrates the jellyfish... There are many memorable moments in this book. Great for children and adults who loved the ocean and the sky when they were a child a lot.
Stunning Illustrations!

Derived From Web

, Mar 9, 2019

Finally, the fan brothers finally got hold of the beautiful new book by the, Ocean Meets Sky and oh my goodness, it exceeds all expectations. This beautiful book tells the story of a little boy named Finn who is missing his grandpa who has passed away. He wants to honor him by building a boat and falls asleep in it after he is done. When he wakes up, he finds himself drifting to the sea to a magical place where the ocean meets the sky. So many symbolism, so many details... Both the Moon and the Great Golden Fish resemble the Face of the Grandfather with the Long Whiskers. This book, filled with unexpected elements and so many stunning colors, won all our hearts, from my youngest child to my husband. Please do yourself a favor and buy a copy of yourself!
A Cute Short Read

Derived From Web

, Jan 24, 2019

I loved watching the story as the boy makes his boat and then sails through the sky and other adventures. It is a story about grief and I think that this topic is really well told for small children. I think that anyone can enjoy sitting down to read this book.
Wildly imaginative and absolutly breathtaking

Derived From Web

, Nov 30, 2018

In this heartfelt journey of love and memory, Ocean Meet Sky takes readers on a beautiful, magical adventure. This adventure is absolutely imaginative and wildly breathtaking, the loving bond between grandfather and great grandfather treasures the romantic bond between grandfather and great grandson. In every respect, Exquisite readers will immediately want to explore the magical world and fall within the pages for themselves. This book, filled with magical emotion and heart, will appeal to all generations of readers, while transporting them to a raw world and beyond. The Fan Brothers know with their enchanting books how to take readers on an adventure they will never forget. Enchanting and magical, I follow the Fan Brothers on whichever adventure they have next! You can find more of my reviews and giveaways in my printed newspaper column For the Love of Books - Dixon's Independent Voice, as well as on my Instagram amy_fortheloveofbooks.
Beautiful and Moving!

Derived From Web

, Nov 25, 2018

With its beautiful illustrations and poignant story about love, loss and moving on, I expect to see this beautiful book on several of the best book lists. This elegantly told story follows Finn, who honors the memory of his grandfather by building a boat on his 90th birthday would have been his grandfather's 90th birthday. Finn dreams that the boat will sail him to the mysterious place his grandfather told stories about where the ocean meets the sky. The readers will not be able to look away from the beautiful dreamlike illustrations of The Fan Brothers.
A Stunning Picture Book

Derived From Web

, Oct 17, 2018

Their newest release, OCEAN MEETS SKY, is a beautiful picture book about a boy's journey to find the place his grandfather always told him. Captivating illustrations will make readers feel as though they are sailing along with Finn on his journey to find where the ocean meets the sky. The whimsical illustrations alone make this book a pick-up that's worth keeping. The story itself is told beautifully. This book is definitely on the top of my list of the 2018 favorite picture books. I am shocked if this book does not win some kind of award.