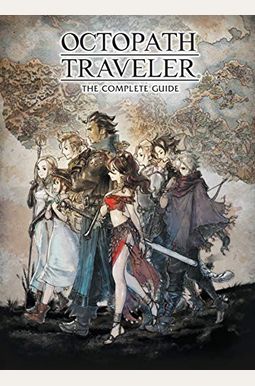 
 
Octopath Traveler: The Complete Guide
Frequently Asked Questions About Octopath Traveler: The Complete Guide
Book Reviews
(7)
Did you read Octopath Traveler: The Complete Guide? Please provide your feedback and rating to help other readers.
PERFECTION

Derived From Web

, Aug 15, 2021

This is really a full GUIDE. It has reference symbols, numbers and letters, so that at least two parts of the book will have to keep track at times of the book. I love the game, and this guide has made it much fun and easier to play ''.
Excellent!

Derived From Web

, May 10, 2021

This is the definitive guide to the Octopath Traveler. If you have already completed the full game, you won 't read anything but hints of the last side quest. OT really loved beating with the official guide.
Great addition to your guide collection !!

Derived From Web

, May 6, 2021

As a great game, Octopath Traveler was a great addition. I'm glad it got a strategy to guide it. It has nice little bios on all characters, of course this is not an opened world game, so don 't expect detailed maps on how to go exploring, but it does give you information and locations on items, side quests, enemies, and quick info on each boss encounter. Everything is labeled in alphabetical numbers so that you know what exact item or quest you are doing or trying to find on the maps of each area you are in. It has amazing beautifully detailed art as a guide collector. I am well pleased with this purchase and if you manage to get it on sale, it is even a better reason to add it to your collection.
Beautiful

Derived From Web

, Feb 8, 2021

Lots of info and really comprehensive for a guide.
Terrible as a reference guide. Shelved it immediately

Derived From Web

, Jan 23, 2021

High quality materials used and unique artwork, but as a strategy guide it is the worst I have ever seen. Each detail for areas is listed elsewhere, like side quests, etc. The markers actually marked on the page are marked with Katakana or with codes like "D-28 ", so it is difficult to join items where they are. I keep the book because I collect strategy guides of great games, but I also stick to the internet.
Beautiful guide

Derived From Web

, Jan 18, 2021

I bought this to help me battle enemies better in the game and learned new things I would have overlooked such as new jobs and second quests and items. The illustrations are charming and I love the lore bits in the beginning that seem to tie our eight heroes together.
Finally a guide! It's about time!

Derived From Web

, Dec 1, 2020

I bought the game last year and still had trouble with the help of the internet. Thankfully, this book will help me out big time.