Buy 3 Get 1 Free
Our Best Sale Yet! Add 4 Books Priced Under $5 To Your Cart     Learn more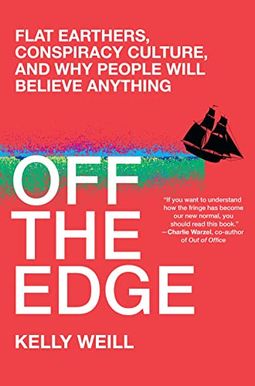  
Off The Edge: Flat Earthers, Conspiracy Culture, And Why People Will Believe Anything
Book Overview
Since 2015, there has been a spectacular boom in a nearly two-hundred-year-old delusion--the idea that we all live on a flat plane, under a glass dome, ringed by an impossible wall of ice. It is the ultimate in conspiracy theories, a wholesale rejection of everything we know to be true about the world in which we live. Where did this idea come from? Weill draws a straight line from today's conspiratorial moment back to the early days of Flat Earth theory in the 1830s, showing the human impulses behind divergences in belief. Faced with a complicated world out of our individual control, we naturally seek patterns to explain the inexplicable. The only difference between then and now? Social media. And, powered by Facebook and YouTube algorithms, the Flat Earth movement is growing.
At once a definitive history of the movement and a readable look at its expansive, absurd, and dangerous present,
Off the Edge
introduces us to a cast of larger-than-life characters, from 19th-century grifters to 20th-century small-town tyrants to the provocateurs of Alex Jones' early-aughts internet, whose rancor sowed the early seeds of our modern division. We accompany Weill to Flat Earther conferences, where we meet moms on vacation, hard-line creationists, scammy YouTube celebrities and their victims, Neo-Nazi rappers, and even a man determined to fly into space in a homemade
Read More chevron_right
Frequently Asked Questions About Off The Edge: Flat Earthers, Conspiracy Culture, And Why People Will Believe Anything
Book Reviews
(8)
Did you read Off The Edge: Flat Earthers, Conspiracy Culture, And Why People Will Believe Anything? Please provide your feedback and rating to help other readers.
Excellent Overview of the Conspiracy Culture

Derived From Web

, Mar 19, 2022

The book is highly readable, and Kelly's style of writing is very well-suited to this task. I have been following the conspiracy culture via youtube videos for some time now, but the author has much that I didn't know, particularly about the early days of the flat earth movement. It is interesting that the arguments for a flat Earth haven't changed much over a century. One star review is amusing as not one of them shows the Verified Purchase label and from what I can gather from the writer, I doubt any of them have actually read the book. She doesn't have footnotes in the book but she has 214 notes at the end giving sources for the information in each chapter. Kelly has said she probably won't return to the moon but will continue to investigate the conspiracy theories. This is a well written, informative, and readable book and I recommend it for both those who follow conspiracy culture as well as those who are curious and want an introduction to it.
Engaging read!

Derived From Web

, Mar 17, 2022

This book is well written, well-researched and I highly recommend it to anyone. All the sources were listed in order of usage in the index at the end. There were no in-line sources in the text, but as that increased readability for me personally, I have no complaints, he said. That video was also very funny, but could not delve in any way as deeply as Weill has done here. She begins with the Flat Earth conspiracy groups hundreds of years ago and continues to the present day, making special note of how Flat Earth has aligned itself into or alongside of many other modern conspiracy theories. I highly recommend this book to anyone interested in the history of the movement. Other reviewers have noted that the author, as well as many Catholics, does not personally believe in a flat Earth.
Easy to see who the flat earthers are in the review section.

Derived From Web

, Mar 7, 2022

Don't pay attention to them, he said.
pertinent and biting

Derived From Web

, Mar 3, 2022

This is a very modern and readable look at an explosive situation in our current society, said Dr. Richard Vazzi, director of the federal Centers for Disease Control and Prevention. Where the author starts with an amusing look at crazy theories, she progresses to a serious view of the shocking harm these people commit. He added that chapter 9 is particularly concerned and concerning. The criticism is not that the book is too long, but that the chapters are too short. However, this information must be absorbed and digested in small bites.
Gas pressure next to a vacuum without a physical barrier violates the 2nd law of thermodynamics

Derived From Web

, Mar 2, 2022

Misinformation, unsupported assertions and just-so stories without proof of stated claims. He urged employees to "avoid complacency" and to "test claims made regarding anything themselves and utilize common sense and critical thinking." If it is not observable, testable, repeatable, and falsifiable, it has not met the scientific standard.
If you are looking for a bunch of strawmen, this is the book for you!

Derived From Web

, Feb 27, 2022

It is a terrible book, one sided and does a terrible job of representing both the flat earth movement and what drives it. He compared it to relying on the KKK for black history.
This book does nothing but gaslight the reality of our world

Derived From Web

, Feb 25, 2022

The idea that we live on a spinning globe flying through an infinite space vacuum is ridiculous and scientifically provable. Flat Earth was taught in public schools all the way up to the mid-1960s. Earth is testable and provably flat and stationary, and this information has been hidden from the general masses, he said. They lie about what flat earth really is and make you believe that it's a disc in space. Flat earthers believe that disc is rising at 9.8 meters per second to create gravity, they say. The flat earthers think Australia doesn't exist. They use of the globe with false proofs that boats go over a curve and toilets spin the opposite direction in Australia. This book is a waste of time and mind control to keep the ignorant messes.
audio stopped close to the end

Derived From Web

, Feb 24, 2022

The volume of the disc stopped working on page 206. Yes, I can still read the book. No audio has been heard from the ferry. There is no refund on the entire audio purchase.