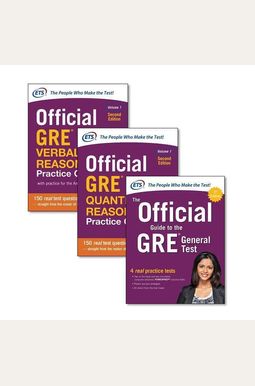  
Official GRE Super Power Pack, Second Edition
Book Overview
Save money and get total official GRE(R) test preparation with this 3-book bundle from the test maker
This Power Pack includes three Official Guides:
- The Official Guide to the GRE, 3rd edition
- Official GRE Quantitative Reasoning Questions, Volume 1, Second Edition
- Official GRE Verbal Reasoning Questions, Volume 1, Second Edition
This Official GRE(R) Super Power Pack 2017 Edition provides key information and the practice you need to do your best on the GRE General Test. For less than what you would pay for each book separately, the bundle packages The Official Guide to the GRE(R) General Test, 3rd Edition; Official GRE Verbal Reasoning Practice Questions, Volume 1; and Official Quantitative Reasoning Practice Questions, Volume 1. This essential resource features four, complete, real GRE tests, hundreds of authentic GRE practice questions with answers and explanations, descriptions of every question type, with valuable question-answering tips and test-taking strategies to use in your GRE test preparation.
Only ETS can show you exactly what to expect on the test. So for in-depth GRE test preparation and intensive practice at a money-saving price, this bundle is your best choice
The Official GRE(R) Super Power Pack offers: Read More chevron_right
Frequently Asked Questions About Official GRE Super Power Pack, Second Edition
Book Reviews
(11)
Did you read Official GRE Super Power Pack, Second Edition? Please provide your feedback and rating to help other readers.
GRE tutor review: worth its weight in gold

Derived From Web

, May 25, 2020

Since 2008, I have been a GRE tutor and I'm always urging people to study with ETS material for the GRE. It is so much more realistic than material written by third-party companies like Kaplan and Magoosh. That is why you should use this book. It has 596 questions that are as close as it gets to the ones you see on the test day. Tip The primary purpose of owning this book is to use its practice questions, but you will learn much more from these questions if you learn some verbal and math strategies before working on them. Although this product is not a complete preparation for the GRE, no product is. In my study plans you'll find all my GRE prep recommendations.
Buy something else.

Derived From Web

, Feb 10, 2019

I liked the access to practice tests, but this guide was not useful overall. The quantitative part of the test is decidedly what causes most people trouble. It is simple math, asked in overly convoluted ways. The topics covered in the quantitative review were helpful, steps of the process to simplify or conduct calculations were skipped in the explanations, and no specific strategies for actually taking the test were covered. I made more progress with the Princeton Review Crash Course Book in two days than I had in four weeks of reviewing everything and working on practice problems in the ETS materials. Buy some other thing to buy.
Really helpful for GRE test takers

Derived From Web

, Jan 5, 2019

I am an international student and I used this pack to study before I took the GRE. I only had two weeks to do it, so I used these books as a guide to the official test. I had no experience with any kind of standardized testing before, but this pack got me from zero to average in two weeks. Besides, I did not have any good vocab that is required to take the English test, but the book helped me a lot to get a formal idea of what is on the test. Though there are some difficult words in these books, I used a Flashcard website to expand my Vocaba. If I had more time, I would probably score better, but for the two weeks I had to work with and without any previous experience with this type of test, I think I got a nice score. Good luck for future tests. )
I found that the quantitative practice book and the GRE ...

Derived From Web

, Mar 16, 2018

I found that the identical practice book and the GRE book are very similar because they have quantitative activities, but one with more explanations. I think that they should not use similar exercises on both books. The price is therefore not worth it for me.
Don't need all three

Derived From Web

, Feb 26, 2018

I like the book, but the two larger books are the same as in the one small general book. Could have bought the same book by itself.
Good material, but it's a carbon copy of the first edition. Same practice questions and review material.

Derived From Web

, Jan 14, 2018

Carbon material is good, but it is a copy of the first issue. Questions of the same practice and review material. I already had the first edition and thought that this would have newer questions to practice. When I received it, I was disappointed to find all the quantitative practice tests were carbon copies of the first edition. There were some very minor changes in the wording in the explanations, the first edition can be found online in PDF format if you Google.
Fifty Bucks Versus Your Entire Future- Your Choice.

Derived From Web

, Dec 10, 2017

Don 't read my review trying to see if the product is good, you know that you don 't have a choice. The same company makes the test and are you really going to buy the practice books for the IR test? Just buy it now.
Not sure why this is in a super power pack bundle if I'm essentially buying duplicates of ...

Derived From Web

, Dec 7, 2017

I thought these were 3 separate pages with their own content. Turns out that the 2 smaller quantitative reasoning and text book quantitative reasoning are included in the larger general GRE - test book. Then I bought duplicates. Not sure why this is included in a super power bundle, if I am essentially buying duplicates of the same content. Be a favor to yourself and buy only the general test booklet GRE 3rd edition. Unfortunately, I can 't return this until many months down the line, and I can 't realize the two smaller books.
Excellent book for reviewing for the GRE

Derived From Web

, Nov 16, 2017

Excellent book for reviewing for the GRE : Used it to study for 9 weeks in addition to the 5 lb. Manhattan Prep before taking the exam at the Manhattan Prep. I took the practice test at the back 1 week before the exam and I scored only 1 point off my actual GRE score a week later. If you are serious about buckling down and studying, highly recommend if you are serious about it. Questions are from old tests and reflected accurately the level of difficulty I saw on the real exam.
Each Book is Great Individually. Do NOT buy package.

Derived From Web

, Aug 2, 2017

This material is useful, each book in the package is OK on its own, but I would not recommend buying the whole package. Between the main book and the practice booklets, there is a significant amount of redundant or overlapping content. In each book, you end up paying quite a substantial sum for a fraction of the original content. If you want practice problems just buy the two practice books. If you're looking for practice tests, you can get them for free when you sign up for the GRE online. The most helpful aspect of this package is practice questions. The two smaller volumes have many practice questions and even answer guides in the back to show you how to reason through the question. Overall, I would say that this is overpriced for what you get, and ETS needs to do a better job of making sure that you are not paying for the same material in multiple volumes.