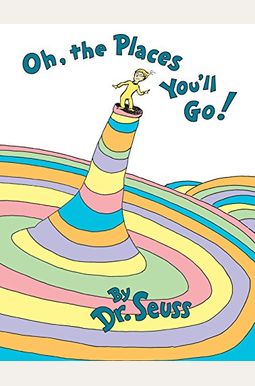  
Oh, the Places You'll Go!
Frequently Asked Questions About Oh, the Places You'll Go!
Book Reviews
(17)
Did you read Oh, the Places You'll Go!? Please provide your feedback and rating to help other readers.
Classic book - great advice.

Derived From Web

, Apr 20, 2022

My mom gave this to me when I was younger and I didn't appreciate it. I wondered why my mom gave me children's books when I was in my 20s and 30s, because it seemed a little trite or too much of a kid's book. I appreciate in a new light now that I am older and my mother has passed on. It is inspiring and deep on many levels. I had a chance to talk to a group of medical students about my mom and the many health issues she faced and I read a bit from this book - you know, there wasn't a dry eye in the place! It is easy to see why people use this text in their speeches, it is an inspiring book with lasting lessons.
Great high-quality hardcopy of this inspiring story. Perfect for gifting to your child at graduation.

Derived From Web

, Apr 20, 2022

I read that people buy a book for their children and give it to their teachers each year, so that when they graduate from high school, they get a gift of messages from every teacher they ever had. I decided to do it for my preschool child. This book is perfect for inspiring young and old alike, and I hadn't read it before. This particular copy of the book is a nice hardcover one, with an outside cover jacket that will probably come in handy throughout the years. I am very happy with my purchase and hope my son likes it.
My Favorite all-time book by Dr Seuss

Derived From Web

, Feb 4, 2022

I buy this book for every new baby in the family as their first Christmas present. I buy them for baby showers. I have bought a lot of these books for my kids, grandkids, nieces, nephews, and not worked on great grandkids and nieces and nephews. This is the best book and all the others are equally good.
Best Book Ever!!!

Derived From Web

, Jul 6, 2021

I like to give this book to new parents because I like it so much. Read to your babies when they are young. Hopefully they will love reading.
Great Product at a great Price

Derived From Web

, Jun 30, 2021

I got a book I could give as a gift to a student who was moving on from kindergarten. The teacher will sign the book and leave a note for the child. They have a souvenir after their graduation.
Graduating Senior Loved it!

Derived From Web

, Jun 16, 2021

My nephew graduated from high school in the year of the Pandemic. The book is great for a lot of occasions. Kids who grew up with Dr. Suess will love me.
True professional life!

Derived From Web

, Sep 2, 2020

I love this book. I got it as a graduation present when I knew about it. It's cool to see the comparison with real life. I bought it for two employees as a graduation present. They loved it!
The Perfect Graduation Gift!

Derived From Web

, May 27, 2019

We have homeroom students from freshman year to senior year in my high school. Every four years, I buy a copy of this book for each student and leave them something in their will. Amazon had the best prices and shipped me 18 in 24 hours.
Quality control.

Derived From Web

, Mar 24, 2019

I bought two books for my daughters. I just wish the quality control was better. There is a flaw shown in the photo. The paper was not cut right. Had my daughter's teacher sign it before I saw it. Not the end of the world, but not 5 stars either.
Okay, illustrations sub-par.

Derived From Web

, Mar 11, 2019

I think I was more into Dr. Suess as a child. I didn't like the illustrations in the book. I think it's over priced. The illustrations aren't helping much to drive them home. I'm not a fan of Dr. Suess books. I liked them when I was a child, but they aren't that good now. The cover illustration is cool, but what is inside the book is not. I like the Berenstein Bear books and the lessons they teach, and the illustrations are better, I think they coincide with the messages perfectly.