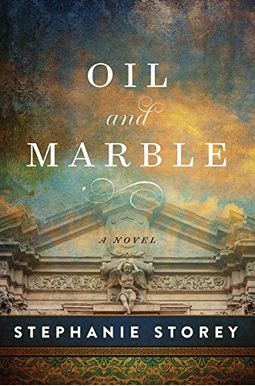  
Oil and Marble: A Novel of Leonardo and Michelangelo
Book Overview
This Description may be from another edition of this product.
In her brilliant debut, Storey brings early 16th-century Florence alive, entering with extraordinary empathy into the minds and souls of two Renaissance masters, creating a stunning art history thriller. From 1501 to 1505, Leonardo da Vinci and Michelangelo Buonarroti both lived and worked in Florence. Leonardo was a charming, handsome fifty year-old at the peak of his career. Michelangelo was a temperamental sculptor in his mid-twenties, desperate to make a name for himself.
Michelangelo is a virtual unknown when he returns to Florence and wins the commission to carve what will become one of the most famous sculptures of all time: David. Even though his impoverished family shuns him for being an artist, he is desperate to support them. Living at the foot of his misshapen block of marble, Michelangelo struggles until the stone finally begins to speak. Working against an impossible deadline, he begins his feverish carving. Meanwhile, Leonardo's life is falling apart: he loses the hoped-for David commission; he can't seem to finish any project; he is obsessed with his ungainly flying machine; he almost dies in war; his engineering designs disastrously fail; and he is haunted by a woman he has seen in the market--a merchant's wife, whom he is finally commissioned to paint. Her name is Lisa, and
Read More chevron_right
Frequently bought together
Frequently Asked Questions About Oil and Marble: A Novel of Leonardo and Michelangelo
Books like Oil and Marble: A Novel of Leonardo and Michelangelo
Book Reviews
(15)
Did you read Oil and Marble: A Novel of Leonardo and Michelangelo? Please provide your feedback and rating to help other readers.
Oil and Marble - A novel of Leonardo and Michaelangelo.

Derived From Web

, May 22, 2022

I am not an art expert, but I do have basic knowledge. When I began to read this book, I was afraid that Ms. Storey would not be able to bring these artists to life for me. I was afraid that it would be a history story with rather wooden characters. How wrong I was, I now have new insights into these two great artists. They are no longer names, but living breathing men. This is a great read and I recommend it thoroughly.
"Oil and Marble" brings art alive.

Derived From Web

, May 22, 2022

"Oil and Marble " delivers what I like best about good historical fiction. By breathing life into very human figures, Ms. Storey reminds us that history did not just happen, but is the product of iconic historical preferences, choices and actions. The story itself was written in a gracefully entertaining way, but also thoroughly written. As a bonus, I learned also about renaissance Italian politics and art. I particularly appreciated the author's knowledge of the mechanics '' of art, which gave this great art observer a better insight into the artistic process and what makes art casual. I highly recommend '' this book.
peers who know the great skill and effort required to create such a tale ...

Derived From Web

, May 22, 2022

It is not possible to believe that this is a first time author's first mistake. If it were me, I could say that I am very impressed. I am, however, no longer convinced that I am qualified to be impressed. Her peers are clearly well regarded authors and storytellers. Consequently, peers who know the great skill and effort required to create such a story can be impressed with the work. I can only say that I really enjoyed the book and the way the author wowed the process of creation of art, art history, Italian history and great 3 dimensional characters together. Reading this book was a well spent time. I look forward to future books by this author. Stephen Turner is a Stephen Turner.
Two great artists meet in competition!

Derived From Web

, May 22, 2022

The results have combined to be two of the most viewed pieces of the 1500 art surviving centuries. I really enjoyed a look at politics and power '', used to manipulate the events, and they do demonstrate a well researched author's understanding of the times. Highly recommended this to anyone enjoying historical fiction.
Bravo

Derived From Web

, Dec 2, 2020

Fascinating storytelling of two great 16th century artists, mainly in Florence, Italy. Highly recommended.
Miles away from the truth

Derived From Web

, Jun 13, 2020

For 20 years of research, I would have expected a little more fact and a lot less artistic license. Most authors of historical fiction, i.e. Margaret George, are able to write compelling novels based on factual accounts. As an art historian, this novel made me cringe with its glaring inaccuracies.
So Many Falsehoods...

Derived From Web

, May 11, 2020

In his teen years, Michelangelo was an established painter and sculptor... There was no competition to win the stone, which had been abandoned... A silly way to dramatize how David came to be, I think the most offensive and aggravating of the falsehoods was the author's portrayal of Leonardo as a flamboyant mix of Elton John, Liberace and Rasputin. Leonardo in pink, purple and green, checked tights and platform shoes? Leonardo is bisexual? He was homosexual on all accounts. Leonardo followed Michelangelo and tried to lock him in the room where Michelangelo dissecting corpses was, including Leonardo. It was all too much and not worth the money I paid for it... my opinion, of course.
The Art of Words

Derived From Web

, Mar 5, 2020

Love the blur of the facts and fiction through the imagination of the author. The book reads like you're among the people, events and emotions. The struggle of egos, self-doubt, imposing the norms, and sacrifices of the heart are felt. The artist must never think of the ugliness that the artist must face alone to reveal beauty to the eyes of the man. The words are a writer's marble and Oil and Marble is a great piece of art.
A Wonderful Read!

Derived From Web

, Jan 31, 2020

I was also excited to read this book as a sculptor and a great admirer of Michelangelo. She has probably similar experiences as a writer. I'm very glad that I found this book. It is a fascinating read.
Very interesting story

Derived From Web

, Jun 24, 2019

This book was read by our book club. It was a great read, even if it was fiction based on facts. I recommend this book to anyone who enjoys learning about great historical figures, but not per se likes history books.