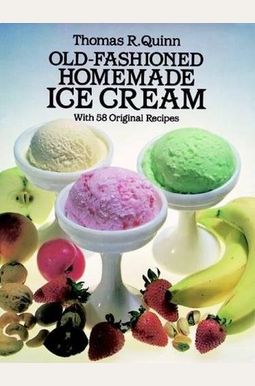 
 
Old-Fashioned Homemade Ice Cream: With 58 Original Recipes
Book Overview
I scream, you scream. we all scream for ice cream.
It may be just a child's singsong verse, but there is an element of truth about it. Who do you know who doesn't like ice cream? Especially rich, creamy, old-fashioned, homemade ice cream.
In this complete and easy-to-follow guide, ice cream aficionado and author Thomas Quinn provides instructions and helpful advice for making your own delectable ice cream in both hand-cranked and electric freezers. He gives a lighthearted history of ice cream, then discusses in detail the ingredients, the freezing process, materials, and equipment and what might be wrong if your ice cream flops. The whole family will enjoy making and eating this delicious old-fashioned treat.
In Old-Fashioned Homemade Ice Cream, Mr. Quinn provides 58 original ice cream recipes. You'll be able to make more flavors than your favorite ice cream parlor. Here's a small sampling of the mouth-watering fare: Mexican Spiced Chocolate; Walnut Praline; Chunky Apple Rum; Orange Blossom; Peanut Butter Chip; Amaretto; Two Berry; Rocky Road; Pistachio Nut Pudding; White Licorice; Sweet German Chocolate; and Eggnog.
There are 14 different chocolate ice cream recipes and five vanillas, plus recipes for toppings and sauces. Each recipe has been thoroughly researched and tested to ensure perfect, rich, creamy ice cream every time. Anyone who wishes to rediscover the good old days of homemade ice cream will want to have this informative, recipe-rich guide to ice cream making.
Frequently Asked Questions About Old-Fashioned Homemade Ice Cream: With 58 Original Recipes
Book Reviews
(13)
Did you read Old-Fashioned Homemade Ice Cream: With 58 Original Recipes? Please provide your feedback and rating to help other readers.
Good ice cream recipes

Derived From Web

, May 30, 2022

This is a good ice cream recipe book. Bought as a gift for our daughter-in-law to use her new Nostalgia Electrics ICMP400BLUE 4-Quart Electric Ice Cream Maker... which is an excellent ice cream maker on the way. The book is not a big book and is nothing fancy, but it has 58 easy to follow recipes that do seem to work.
It's ok

Derived From Web

, May 30, 2022

From years back, I had bettereasier recipes and she didn't have any. It worked out for us so ok.
Good Variety of Recipes

Derived From Web

, May 30, 2022

The history of ice cream and the information about making good ice cream was homemade. The variety of food recipes is great. I have only one complaint. Like most of these books, this book gives only the recipe to make a gallon.
Fun :-)

Derived From Web

, May 30, 2022

I bought this for my children. I remember making ice cream as a kid growing up and the recipes here bring back fond memories and introduce new flavors.
Excellent- recommend for anyone who wants to make their own ice cream

Derived From Web

, May 30, 2022

This Christmas present together with an ice creamer for my husband and he was very happy. The only thing I could even complain about with this item is that it is a really thinnish paperback book and I expected it to be larger. It is certainly packed with recipes and information, so I'm still very satisfied.
58 original recipes

Derived From Web

, Jan 1, 2022

I bought this basic book, containing 58 original ice cream recipes, as a gift for my daughter. I also bought an ice cream maker and thought that this book was a good place to start. The book is a great price and I recommend it highly.
What do you expect for under $5

Derived From Web

, Jun 10, 2021

These are modern ice cream recipes and the claim that they don 't work in real ice churners is nonsense. It doesn't have a lot of recipes, but is easy enough to re-create once you understand the theory behind making ice cream. There are online plenty of bad and good ice cream recipes. Some call for Rennet, which is hard to find, but many don 't. I made the recipes I think are really good. It sounds like most people want to buy a package of garbage ice cream mix, toss it with cream and mix it in a churner. This is not real ice cream and you could buy the generic ice cream at Walmart just for fun. Using a mix is as good as using a bread machine and thinking that you are making something lame. This book has recipes that make real ice cream. What do you want more?
Great pictures and easy-to-follow recipes

Derived From Web

, Dec 1, 2020

I bought this as a companion piece for the ice cream freezer we give our daughter and son-in-law for Christmas. I think that they will be very pleased with the variety of recipes in the book, as well as the explanations about the origin of ice cream and why it freezes.
Making delicious homemade ice creams

Derived From Web

, Jun 30, 2020

This book solves a problem for me, as I really did not remember how my parents made their delicious homemade ice creams. Now I have the information, plus plenty of delicious recipes to choose from. The hot summer days will be much cooler with plenty of my own homemade mixes. Why not make eggnog icecream for Christmas? This book gives plenty of straight to the point information to help you navigate the delicious recipes. With a little trial and error, you can develop your own delicious ice cream recipe.
Ice cream recipes

Derived From Web

, Jan 18, 2020

I can not speak for the recipes themselves. The book was very good and looks like it should be nice. Excellent quality :