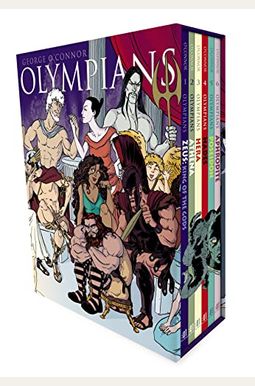  
Olympians Boxed Set Books 1-6: Zeus, Athena, Hera, Hades, Poseidon & Aphrodite
Book Overview
This sturdy boxed set includes paperback editions of the first six Olympians books by multiple New York Times-bestselling author/illustrator George O'Connor.
By Zeus, it's Athena, Hera, Hades, Poseidon, and Aphrodite In OLYMPIANS, O'Connor draws from primary documents to reconstruct and retell classic Greek myths. But these stories aren't sedate, scholarly works. They're action-packed, fast-paced, high-drama fantasy adventures, with monsters, romance, and not a few huge explosions. O'Connor's vibrant, kinetic art brings ancient tales to undeniable life, in a perfect fusion of super-hero aesthetics and ancient Greek mythology. Collectors will adore this packaged set, with lots of new artwork and a free poster featuring the complete Olympians family tree. Holy Hera Aphrodite Almighty, what a value
Frequently bought together
Frequently Asked Questions About Olympians Boxed Set Books 1-6: Zeus, Athena, Hera, Hades, Poseidon & Aphrodite
Books like Olympians Boxed Set Books 1-6: Zeus, Athena, Hera, Hades, Poseidon & Aphrodite
Book Reviews
(9)
Did you read Olympians Boxed Set Books 1-6: Zeus, Athena, Hera, Hades, Poseidon & Aphrodite? Please provide your feedback and rating to help other readers.
George O'Connor --The Oracle Who Enticed My Child to Read

Derived From Web

, Apr 27, 2022

Oracle's George O'Connor was the one who enticed my kid to read. It was a surprise for me to pick up the Olympians box set after seeing George O'Connor at the 2015 Gaithersburg Book Festival, my son said. Earlier this month, we went on vacation to Rome and Greece, and he brought several of the books with him. We were impressed that our son, who normally does not like to read, was fully engrossed in George's books, spouting off figures and relationships between the gods. Whenever we had questions about which god was father, brother, or sister, we turned to the chart that George included with his books. Thank you, George, for writing an engaging and informative series of graphic novels that hold the attention of the most difficult to reach age group-eight-year-old boys. A laurel wreath has fallen on to your head.
Brutal and graphic contents, unsuitable for ages in description

Derived From Web

, Sep 28, 2020

Beautifully illustrated and written by some of the country's best-selling fiction writers, the books are also a great deal of fun. However, the group's age and grade level is described as being appropriate for use only by those who can afford it. This isn't just sanitized violence you'll see in books designed for kids. They include instances in which a child was killed and then cooked and served to the father, and he didn't know it was his child. Great books, but do nothing to give them to the age of the children described in the story.
My kids couldn't put it down

Derived From Web

, Jul 8, 2020

The stories are good, the illustrations are excellent and the writing is good.
10 year old daughter approves

Derived From Web

, May 14, 2020

It was a daunting prospect for a 10-year-old. She was disappointed when they first came because she thought they would be more like facts about Greek mythology. She quickly changed her mind and has read all of them, and asked for more not included in this set. As a parent, graphic novels made my head spin. I personally haven't read them.
Entertaining and educational

Derived From Web

, May 12, 2020

My son is 9 years old. He is a great reader, yet he doesn't really like to read unless it's a graphic novel. He somehow got hooked on DogMan and Capitan Underpants which I never quite approved of due to lack of vocabulary. Finding these books was a miracle because I wanted something that will keep his focus on reading and it wouldn't be boring yet, Mrs. Dhaliwal said. The other five books cover everything from philosophy to zoology. I bought all the books and my son read the first six in a very short period of time.
The whole family read them. Humourous and cool.

Derived From Web

, Feb 12, 2020

My daughter and the neighbor boy who are in the same class and grade and despite reading these books, gobbled them up. The entire series mind you and it isn't dumbed down at all but rather enjoyable, and the characters are relatable despite the fact that they're deities. Her dad and I read them too. I hope the author of this book has more to say about it. I think we're going to have a demigod series, he said. It's just that the kids are not interested in reading again.
Wonderful introduction to Greek mythology

Derived From Web

, Jun 20, 2019

This is a well-thought-out, beautifully illustrated and compelling series of stories. George O'Connor is faithful to the original material and provides intelligent choices on which myths to select and how to represent them, said Dr. Abraham Fox. Half an hour later, he was hooked. We're eagerly awaiting the final book!
they're great, but maybe not for younger kids

Derived From Web

, Apr 9, 2019

My kids can't get enough of Greek Mythology and based on the reviews I thought this would be good for my 6 year olds but after receiving and looking at some of the images and text I felt it was too mature for them. The women are not drawn overtly sexy but just enough I felt a bit uncomfortable. 0 1462228 7622201 1462228 This is just too good of a sex tape to sell, even if it was just for a photo shoot. It was too late as they saw the books and dove right into them, but I read them with them and explained to them what I thought about the characterization of the women and why I got the feeling from the reviews it would be great for kids to read on their own. These are the times I wish there were still book stores.
For the reticent Greek Mythology reader

Derived From Web

, May 30, 2017

I am a graphic novel fan and 8 years old, and I would recommend these books to people who want to know more about ancient myths. These books make learning about Greek myths fun and the illustrations are really fun to follow, making this a really great introduction to the ancient world. My favorite books are "Artemis," "Athena" and "Persuasion."