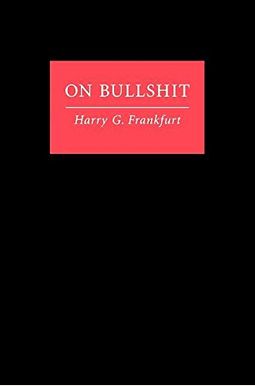 
 
Book Overview
A #1 NEW YORK TIMES BESTSELER
One of the most salient features of our culture is that there is so much bullshit. Everyone knows this. Each of us contributes his share. But we tend to take the situation for granted. Most people are rather confident of their ability to recognize bullshit and to avoid being taken in by it. So the phenomenon has not aroused much deliberate concern. We have no clear understanding of what bullshit is, why there is so much of it, or what functions it serves. And we lack a conscientiously developed appreciation of what it means to us. In other words, as Harry Frankfurt writes, we have no theory. Frankfurt, one of the world's most influential moral philosophers, attempts to build such a theory here. With his characteristic combination of philosophical acuity, psychological insight, and wry humor, Frankfurt proceeds by exploring how bullshit and the related concept of humbug are distinct from lying. He argues that bullshitters misrepresent themselves to their audience not as liars do, that is, by deliberately making false claims about what is true. In fact, bullshit need not be untrue at all. Rather, bullshitters seek to convey a certain impression of themselves without being concerned about whether anything at all is true. They quietly change the rules governing their end of the conversation so that claims about truth and
Read More chevron_right
Frequently bought together
Frequently Asked Questions About On Bullshit
Book Reviews
(14)
Did you read On Bullshit? Please provide your feedback and rating to help other readers.
Good scholarly analysis.

Derived From Web

, Apr 22, 2022

Pauley, in his book, "Cultures of Contemplation," argues that the book is a fine little analysis. Now I realize there are important distinctions between bulls***, horses*** and chickens***. The perfect present for your friends who are bulls***, who think they can bulls*** you.
No bulls***

Derived From Web

, Apr 22, 2022

This is a welcome anecdote for today's political correctness. I hope you think more highly of me now that you are aware of my refined reading habits, he wrote.
For such a small book -- I can carry it ...

Derived From Web

, Apr 22, 2022

For such a small book _ I can carry it in my bag, along with my copy of the Constitution _ it packs a wallop. The philosophical musings on the nature, definition, and use of bulls*** in our daily lives are especially relevant as we face one of the most bitterly contested and important — even pivotal — presidential elections in the history of the United States. Badass Professor Gilberton's book is a must-have for any thinking person, alongside Mortimer Adler's Ten Philosophical Mistakes.
The book overall led to lots of interesting thought and ...

Derived From Web

, Apr 22, 2022

The book itself led to lots of interesting thought and discussion among book club members. It's very time, said Blair. However, several of the cases were not exceptional.
67 pages of non-stop sense

Derived From Web

, Apr 22, 2022

It's the shortest and least BULLS*** book I read this year. In this volume, we cover 67 pages of non-stop thinking. It's hard to find them. The essence of bullshit is not that it is FALSE but that it is PHONY, Graham said. Someone who lies and someone who tells the truth are playing on opposite sides of the game, Sosa said. Each responds to the facts as he understand them, although the response of the other is guided by the authority of truth, he said. He pays no attention to it at all, he said. On Bullshit, the fifth nominee for the Nobel Peace Prize, is Harry G. Frankfurt.
Bulls*** is understudied. It's everywhere in the information environment ...

Derived From Web

, Apr 22, 2022

Only a handful of people have studied the disease extensively. The flaw is prevalent in the entire information environment. We're surrounded by bulls*** and we need to understand what it is by definition so we can quickly recognize and differentiate people who do it from people who don't, he said.
Vague, unconvincing with lots of academic posturing

Derived From Web

, Jul 1, 2021

Even though I'm not a huge fan of the Beatles, I was expecting to like this book. It's mostly vague and unconvincing, with a lot of academic posturing, but also very little clarity or insight. I put it down in frustration and continue to read and study the overall subject of truth and falsehood, Garton said.
Self-Referential?

Derived From Web

, Dec 8, 2020

I was hoping for a taxonomy of verbal manure that could be applied to various types of verbal manure, such as obfuscation, bamboozlement, hand-waving, and changing the subject, he said. Ideally, I would have been impressed by the author's succinctness in squeezing such erudition into this slim volume. Alas, all I got was a rumination on whether BS could be separated from humbug rumination, and whether BS must involve lying, Raymond said. He pays no attention to it at all, he said. By virtue of this, lies are a greater enemy of the truth than any other form of government.
Auto Expert John Cadogan Sent Me

Derived From Web

, Dec 2, 2019

I bought this book on recommendation of John Cadogan. The guy has an angry STRALIAN auto-vlogger from down under. The book is a tad over-the-top, but overall it was a good read. This is a parody of the Broadway hit "A Funny Book." It's just that it's very matter of fact. If you want to hear a potty mouth auto-reviewer that is funny search for AutoExpertTV.
Boring

Derived From Web

, Jul 6, 2019

The first review was rejected, apparently because I included the name of the book, and that is considered offensive. Two kids stand in front of a giant video screen showing clips of other kids smoking dope. I didn't read it, on the recommendation of my husband. Rush Limbaugh said it didn't make its point, was boring, and was basically, basically, a remake of the 1960s.