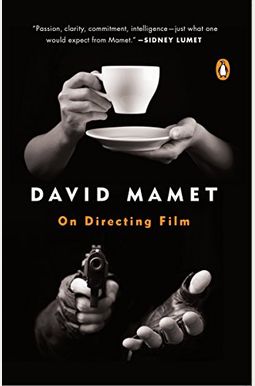  
Book Overview
A masterclass on the art of directing from the Pulitzer Prize-winning (and Oscar and Tony-nominated) writer of Glengarry Glen Ross, Speed the Plow, The Verdict, and Wag the Dog
Calling on his unique perspective as playwright, screenwriter, and director of his own critically acclaimed movies like
House of Games, State and Main,
and
Things Change
, David Mamet illuminates how a film comes to be. He looks at every aspect of directing--from script to cutting room--to show the many tasks directors undertake in reaching their prime objective: presenting a story that will be understood by the audience and has the power to be both surprising and inevitable at the same time. Based on a series of classes Mamet taught at Columbia University's film school,
On Directing Film
will be indispensible not only to students but to anyone interested in an overview of the craft of filmmaking. Passion, clarity, commitment, intelligence--just what one would expect from Mamet. --Sidney Lumet, Academy Award-nominated director of
12 Angry Men
,
Dog Day Afternoon
,
Network
, and
The Verdict
Frequently bought together
Frequently Asked Questions About On Directing Film
Books like On Directing Film
What should you read after On Directing Film Book? Here is a list of books to read if you read and loved On Directing Film
Book Reviews
(12)
Did you read On Directing Film? Please provide your feedback and rating to help other readers.
Great insights!

Derived From Web

, May 22, 2022

While I can 't say that I agree with everything that Mamet has to say about the role of a director or actor, I appreciate his perspective on the subject. Reading this book is like being a fly on the wall in several of his lectures and hearing his process of deconstructing a scene down to its basic fundamental element, the shot, was very insightful. While I wouldn't consider this the Bible of Film Directing, it is a quick read with some great insights that left me with several techniques I can apply in my own craft.
The Most Clear-Sighted Writer in Showbusiness

Derived From Web

, May 22, 2022

Okay, so Mamet directed only two films when he wrote this short book, but his approach is so breathtakingly simple, I think he is way beyond some of the hottest directors of today. This is not so much of a film director book, but an exercise in what makes stories work. It applies to writing just as much as it does to filming. Uninflected shots were taken. Keep it simple : Let's face it, Mamet could make your car manual sound fascinating, but this is one of those books that I can take off the shelf, flip to any page at random, and always remind me of some basic kernel of truth about the whole nature of drama.
Written by a Writer. Not much of a director

Derived From Web

, Nov 1, 2021

I don 't agree with what mamet says about creating uninflected images and performances, but he has no idea where to put the camera. He does not think in this way. I liked what he has to say about the film language, juxtaposing images side by side and telling the story in the cut. I think that the film can be more than that in cinematography. I like to look at films well lit and when the camera is in the right place, it makes a difference. Story and words are focused by Mamet. He forgets that lighting and camera placement are tools for telling a story. He needs to study more on these subjects. He can only write : He is a beautiful writer.
Love this book!

Derived From Web

, Jul 8, 2021

As a film and theatre educator, I find myself so often buying a second copy, when I realized that I had packed my copy in storage during a move. I sometimes find bits that I disagree with, but Mamet is so thorough and intentional in his responses in class discussions that I feel like I could raise my hand and enter the conversation at any moment. Really draws you into his thinking and ways of approaching storytelling.
No pearls of wisdom, just sand

Derived From Web

, Jul 3, 2021

I read and re-read What Just Happened '' by Art Linson over the years and always enjoyed it. David David Mamet is mentioned in this book because he and Art had worked together on several projects so that I thought I would enjoy this book in the same way. But I disagree with a lot of the advice given and I also think it could be damaging to new directors who are trying to find direction here. His ideas about directing seem too simplistic, like there is no way to open a door with a particular intention. I think Cosmo Kramer would disagree! There are a lot of ways to open a door with an intention! I did not find this book very insightful and wouldn't recommend it to others who are curious about directing.
Good Short 100 Page Book to help make shot lists, not much info on directing talent

Derived From Web

, Mar 8, 2021

This is the 1st book I read on filmmaking and is a short read. The first half is a lecture breaking a simple scene shot by beat, then shot by shot. If you're struggling to create or learn the importance of a shot list, this book is worth the money. The second half of the book is about the importance of the beats and how it affects the narration. There isn 't actually much about directing your talent. The author believes that less is more and that the actors should not have to carry a scene of their own. If you're looking for this type of information, I think you should look elsewhere.
Very interesting ideas and useful for thought exercises, but should certainly not be taken as gospel

Derived From Web

, Jan 3, 2020

In my opinion, David Mamet's idea of filmmaking is a little restrictive and artless. Following his train of thought and the way he approaches a scene is certainly interesting and a good way to challenge yourself imaginatively as an aspiring filmmaker, but his method of dispensing of all that is not essential to me, and the film seems a little personal if not personal. David David Mamet is an accomplished writer and has also directed some excellent films, but I don 't think that an aspiring filmmaker should necessarily take this information to heart. Just learn from the ideas and approach and apply it as you see fit to your work. If you want to tell it in interesting shots and make your characters do things in beautiful ways, go right ahead. There is nothing wrong with this at all.
Written by a proven genius, but one whose head is up his own ***

Derived From Web

, Nov 20, 2019

I am nowhere near the film maker David Mamet, but I found this book to be unnecessarily pretentious, to the point of destroying the abilities of its readers to make films. I mainly take issue with Chapter Two, since it does not really answer that question. Rather, it is a transcript of a class he taught in Columbia. Basically, he asks vague questions and 95% of the answers he gets from students that he says are wrong. The problem with this teaches people to think that every instinct they have is wrong. In my opinion, this is really harmful for artists. You can not be afraid of failure. This book should be called Mamet knows it all and you know nothing, you idiot joking aside, I don 't think you should take this seriously, as he is not even an accomplished filmmaker as much as he is a phenomenal playwright. My two cents are just : Of course, there are still gems to be taken.
Quite useful for students of film

Derived From Web

, Aug 7, 2019

Mamet has certainly a lot of interesting insights, which means that the book is quite useful for film students or those like me who are about to study an MA on directing. Nevertheless, a lot of work was lost. I did not like the fact that his ego was clearly smeared throughout the book. He rarely takes on suggestions by students or other people and he clearly has ONE vision of what a movie should be -- at least in terms of structure or objects, meaning that in this book you will not receive any counter-arguments or interesting alternatives. It is practical and it has a lot of wisdom and useful advice, but some of it should be taken with a grain of salt.
Some solid advice- take at your own risk

Derived From Web

, Jul 6, 2018

When it comes to his great dialogue, Mamet is a wonder. This book details the who '' and why '' of filmmaking from a playwright's point of view mainly. If you are expecting technical advice, read anothet highly rated book, as this one deals with shot lists used as schedules and actors making sense of the material-two key elements, but sometimes overlooked.