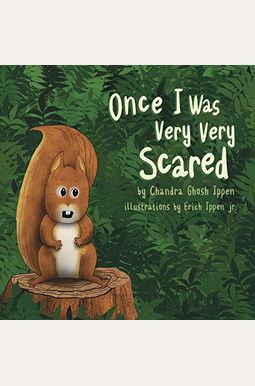 
 
Once I Was Very Very Scared
Book Overview
A little squirrel announces that he was once very, very, scared and finds out that he is not alone. Lots of little animals went through scary experiences, but they react in different ways. Turtle hides and gets a tummy ache, monkey clings, dog barks, and elephant doesn't like to talk about it. They need help, and they get help from grown-ups who help them feel safe and learn ways to cope with difficult feelings. This story was written to help children and grown-ups understand how stress can affect children and ways to help them.
Frequently Asked Questions About Once I Was Very Very Scared
Books like Once I Was Very Very Scared
Book Reviews
(9)
Did you read Once I Was Very Very Scared? Please provide your feedback and rating to help other readers.
Fantastic summary of trauma for young kids

Derived From Web

, May 30, 2021

We often use this book in our clinic for children who have suffered trauma. It does a different job of describing nice ways in which children experience trauma.
Theres a random story in the middle of the story

Derived From Web

, Feb 1, 2020

Our foster children therapist recommended this for our 5 year olds suffering with trauma. I like the illustrations and there are a lot of different characters they can relate to, but the story is far too long and there is a lot of necessary explaining. The most confusing is that there is this random story about dogs being sewn into the middle of the story. I do not like it at all.
Hard but important book

Derived From Web

, Nov 27, 2019

I read it to my daughter, who is five and two years safe from domestic abuse. Her father treated her as acceptable collateral damage, which eventually woke me up enough to leave, but she finished the book and listened and watched the whole story. I think that this may be very cathartic for her and affirming! It is okay to feel bad or mad or good, but how do we help ourselves to feel better? Highly recommended for young children who have experienced trauma.
Great content but a couple confusing pages

Derived From Web

, Jul 26, 2019

This book does a great job of presenting a variety of unhealthy means of coping and then healthiq means of coping. A mentor - counseling type person, however, shows up out of the blue and starts giving advice. I will still use this book in my therapy practice, but I do have to go through these sections. If this book could be edited, it would be much better. It is still worth buying if it is still worth.
Good ideas but too long, confusing

Derived From Web

, Jun 3, 2019

This is a book filled with great ideas and good pictures, but it is too long and confusing for younger children. It has been confusing for me. Some animals won 't talk about what has made them scared, some pretend that they have never been scared, and the poor skunk says he can 't help it when he sprays. A new animal, a porcupine, arrives and suggests ways to deal with fears. The premise of the book is good and animal reactions are humorous, but it is too long and it quickly becomes confusing to remember what problem each animal had. And because there are so many animals, it is not a book that can easily be shared by a group. The ideas are great again and cover a variety of issues.
Not for little ones

Derived From Web

, Aug 27, 2018

The story is too complicated, as are the illustrations. A little too dark and the story does not resolve well enough for dark ones to feel comfortable with.
Not practical for use with little ones, too long

Derived From Web

, Apr 30, 2017

I think the basis behind this book was great, but is so long that it does not make sense for me to use it with my clients. Most of the small ones I would read this book through won t sit for the whole thing. I tried reading it with my own 6 year old and he got bored halfway through. It is great that it normalizes all the different ways in which fear manifests, I wish it was shorter.
Great Story Telling and Magnificent Illustrations!

Derived From Web

, Feb 22, 2017

A splendid book to help children express their fears and learn to overcome them and heal! I wish I had this book years ago when I worked with troubled children.
A new classic

Derived From Web

, Jan 27, 2017

She skillfully integrates the cutting edge work of luminaries such as Alicia Lieberman and Bessel van der Kolk into a story that can be read to children through latency age. This is by far the best book I have found to help children talk about the trauma they have been exposed to. I also like that it is not trauma-specific, so can be used for a variety of events that the child may have been exposed to. I am a therapist and this book will be my new go-to, but it can be used in a school setting and with my own children equally well.