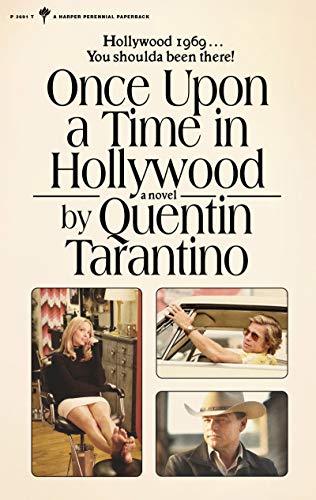 
 
Once Upon a Time in Hollywood
Book Overview
The Instant #1 New York Times bestseller
Quentin Tarantino's long-awaited first work of fiction -- at once hilarious, delicious, and brutal -- is the always surprising, sometimes shocking new novel based on his Academy Award- winning film.
RICK DALTON - Once he had his own TV series, but now Rick's a washed-up villain-of-the week drowning his sorrows in whiskey sours. Will a phone call from Rome save his fate or seal it?
CLIF BOTH - Rick's stunt double, and the most infamous man on any movie set because he's the only one there who might have gotten away with murder. . . .
SHARON TATE - She left Texas to chase a movie-star dream, and found it. Sharon's salad days are now spent on Cielo Drive, high in the Hollywood Hills.
CHARLES MANSON - The ex-con's got a bunch of zonked-out hippies thinking he's their spiritual leader, but he'd trade it all to be a rock 'n' roll star.
HOLYWOD 1969 - YOU SHOULDA BEN THERE
Frequently Asked Questions About Once Upon a Time in Hollywood
Book Reviews
(9)
Did you read Once Upon a Time in Hollywood? Please provide your feedback and rating to help other readers.
Tarantino fills in the gaps with panache

Derived From Web

, Dec 31, 2021

I just saw the movie Once Upon a Time in Hollywood. I thoroughly enjoyed it, said Blair. I've worked with Brad Pitt and Paul Rudd on several movies. He reminds me of my wonderful Grandfather, also a veteran of World War II. It all just got me itching for more, Tunick said. In this book, Tarantino flushes out the characters we admire and we get a more in-depth look at the world of film. He shows us the end of hippy innocence and the end of Hollywood's golden age. Even a stand-alone volume of this book will set records.
QT geeks out for fun and a tiny prfit

Derived From Web

, Aug 27, 2021

We learn that Cliff is, well, old school, and Quentin's hero. Charlie's a great historical corrective, the creepy crawly scene is perfect and his take on Charles Manson as accidental murder-superstar is a great historical corrective. You dig!
C+ story with A+ writing

Derived From Web

, Aug 10, 2021

I am a huge fan of Quentin Tarantino, but I must temper that. I've seen this movie three times and I must have fallen in love. Like the movie, this book had a slow burn. What this book lacks is that the movie did not end with a climactic ending. Without that crescendo of an ending the book becomes a story of wretchiness and no vomit. It's just that it has no teeth." I can't get over how great the French language is. When Cliff kills the Italians I wanted to jump out of my seat. It's a good story that missed being great by trying to emulate its self.
As fun as the movie

Derived From Web

, Aug 5, 2021

Tarantino takes the reader on a lively tour through 60s culture, with lots of details that don't drag the story down. I really enjoyed the book, Morgenthau said.
Fills in some of the gaps

Derived From Web

, Jul 25, 2021

This isn't so much a direct adaptation of the film as a companion piece to it. Some of the scenes are the same, some are just slightly different, and some are brand new. I'm not sure it makes the movie any better knowing more about the characters, but you definitely know more.
Fantastic!

Derived From Web

, Jul 16, 2021

I've read every book except one. The second part of the story expands the universe of possibilities. It's hard to imagine a more irreverent antihero than Cliff Booth (Zach Braff). I completely and wholeheartedly recommend this book to any fan of the show.
Good movie maker...Bad novelist..

Derived From Web

, Jul 5, 2021

Quentin Tarantino writes a name-dropping history of movie making in the 60s and folds his characters Cliff and Rick into the batter. Pauley, who stars in a revival of "The Threepenny Opera," said: "I've enjoyed his films, but want a refund on this uninteresting book."
Pulpy fun

Derived From Web

, Jul 4, 2021

An elegantly written and enjoyable book.
Sorry Quentin...

Derived From Web

, Jun 30, 2021

This is a terrible read, even if I've enjoyed your movies. To call it a crime would be to classify it as fiction. If so, I'll be asking for a refund.