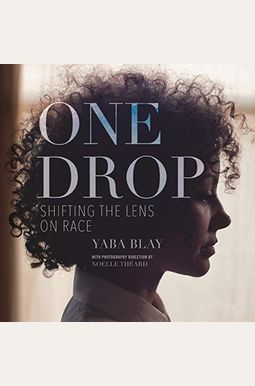  
One Drop: Shifting the Lens on Race
Book Overview
Challenges narrow perceptions of Blackness as both an identity and lived reality to understand the diversity of what it means to be Black in the US and around the world
What exactly is Blackness and what does it mean to be Black?
Is Blackness a matter of biology or consciousness?
Who determines who is Black and who is not?
Who's Black, who's not, and who cares? In the United States, a Black person has come to be defined as any person with any known Black ancestry. Statutorily referred to as the rule of hypodescent, this definition of Blackness is more popularly known as the one-drop rule, meaning that a person with any trace of Black ancestry, however small or (in)visible, cannot be considered White. A method of social order that began almost immediately after the arrival of enslaved Africans in America, by 1910 it was the law in almost all southern states. At a time when the one-drop rule functioned to protect and preserve White racial purity, Blackness was both a matter of biology and the law. One was either Black or White. Period. Has the social and political landscape changed one hundred years later?
One Drop
explores the extent to which historical definitions of race continue to shape contemporary racial identities and lived experiences of racial difference. Featuring the perspectives of 60 contributors representing 25 countries and
Read More chevron_right
Frequently bought together
Frequently Asked Questions About One Drop: Shifting the Lens on Race
Book Reviews
(10)
Did you read One Drop: Shifting the Lens on Race? Please provide your feedback and rating to help other readers.
So many teachable moments on Race

Derived From Web

, Jun 23, 2021

I couldn't put this book down. We're seeing a lot of variation in the way people view race and the experience of being light skinned. In addition, I would make this essential reading available to schools and in DEI workshops. To be able to read this book one has to have an open mind and be ready to be challenged on your own myths and prejudices, he said. Every person interviewed had great lessons to share and this was thanks to the format that the author chose to use, Graham Cluley said. Thanks to Dr. Yaba Blay and the entire Black Panther movement for centering these stories and for casting a wider net to the black community across the world. My only critique would be that it doesn't center narratives on French colonies and former colonies, but I understand the language barrier, and its impact is still left to be documented at this human level. 0 262171 3127 0 262163 This article deals with the French language barrier, but I understand how complicated and damaging it is to so many people of African descent and Africans alike, it is still left to be documented at this human level.
Buy this book!!!

Derived From Web

, May 19, 2021

The pictures are gorgeous and the stories are authentic and moving, Winslet said.
Uncomfortable and valid perspectives

Derived From Web

, May 8, 2021

I had a lot of resistance to the Black Lives Matter movement, and my initial reaction was like all lives matter and what about people of other colors and women, and I think it's important to keep an open mind and work to hold perspectives of others, he said. This is a good place to start, he said. I've also read Elizabeth Warren's How To Be An Antiracist and some of it hit home for me.
Black, Mixed

Derived From Web

, May 4, 2021

What really stood out to me was that outside of two or three contributors, everyone looked Black to me, Mr. Rule told the judge. He added that although mixed with other blacks, "it's still Black." The author and contributors included questions they didn't necessarily have the answers to. It made clear the importance of defining yourself for yourself, McBride said. The importance of a collective no matter physical shape or form. I'm gonna have to do some research and see what the authors and make contributors of Rachel what's here, Hachette said.
Everyone should read this book

Derived From Web

, Apr 30, 2021

The book is an excellent resource for teachers, students, and parents, in terms of content, layout, and photos. The fact is, the subject matter needs to be discussed by ALL races. The stories of the people are a witness to why we have a long way to go in terms of breaking the mental color line that's accepted by all of us without question or rational basis.
Great book, delivered torn

Derived From Web

, Mar 30, 2021

This book is by far the best. The only issue I had was that it came with the spine of the book broken and torn. Very sad about that, since I ordered it new, too.
EVERYONE MUST READ THIS BOOK.

Derived From Web

, Mar 23, 2021

This book is recommended reading. Dr. Blay takes us on a journey of racial identity through the prism of medicine. Each interview is unique to this story. Each story is told with the same amount of insight and history. It was this book that helped me with my identity, the deep rooted colonization in my family, and learning to accept the beauty in me and my mother, she said. Thanks to Dr. Blay for this wonderful gesture of compassion.
BUY THIS BOOK (PAGES OF GOLD WITHIN)

Derived From Web

, Feb 22, 2021

Every white person in this country needs to read this book. There are over 800 pages of One Drop's books, and each has pages of history and individual stories that are beyond enlightening. We cannot begin to have conversations with our Black comrades if we dont understand whats happened, whats perpetuated for so many years, said Dr. Shirley Franklin, who heads the federal Centers for Medicare and Medicaid. Her passion for sharing her knowledge with us in the most vanerable and real ways', said Dr. Yaba Blay. Holding the book in your hands, one drop must be held by the reader. Buy Now: EBOOKI.A.
Love love love!!!

Derived From Web

, Feb 18, 2021

Turner's book is also available in hardback. It is a well-written historical account of race and identify in the US and beyond. I love the way the photos are done, said Gammerman. This is a great deal, said Dr. Steve Peters, director of the NIH's Ames Research Center in California. Whether you're looking for a new coffee table, library collection or a present to a dear loved one, we have the perfect solution.
Brilliant, challenging and so worth the read!

Derived From Web

, Jan 17, 2018

Cirque du Soleil's "The Illusionists" was also a smash hit. Her in-person presentation is warm, wonderful, challenging and reveals her intelligence and her purpose in life. She was wonderful, said Dr. Goin. This is a conversation we need to have, understand, and keep having.