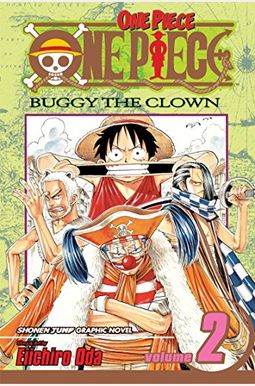 
 
One Piece, Volume 2: Buggy The Clown
Book Overview
R to L (Japanese Style). High jinx on the high seas
As a child, Monkey D. Luffy dreamed of becoming the King of the Pirates. But his life changed when he accidentally gained the power to stretch like rubber.at the cost of never being able to swim again Now Luffy, with the help of a motley collection of pirate wannabes, is setting off in search of the One Piece, said to be the greatest treasure in the world
Frequently Asked Questions About One Piece, Volume 2: Buggy The Clown
Book Reviews
(6)
Did you read One Piece, Volume 2: Buggy The Clown? Please provide your feedback and rating to help other readers.
ONWARD!!!

Derived From Web

, May 28, 2022

Finally decided to start collecting one PIECE manga... 9 years after it is released in the U.S. A.P. Volume 2 continues the excitement from volume one and added the crew of Buggy the clown. We get to watch two of them fight Zoro and Luffy in detail and learn a little more about Nami. While the Streifen ran in with Buggy's Pirates, you may not see them now, you 'll want to remember them for the future. They always show up for this reason. The only complaint I have is VIZ's translation. I like Internet scanlations much more because they preserve the original dialogue or what IFELS is more like what the original would be. The book is Translated for Pity's sake, so rate it as-is. It is not like swearing, it is a completely new thing... we hear it all the time. It is only a small annoyance in the long run. Not enough '' to lower my rating. If you can manage this and the misvoicing of Zoro's name, buy the book by all means!
Ahh.... Buggy...

Derived From Web

, May 28, 2022

The rubberman continues to destroy houses, attempt to be pirate, make friends and ruin the good days of the top pirates. Buggy is a laughable fruit user and I can 't say that I didn 't expect a circus pirate group. With Oda, I'm noticing that you can never be sure of what is coming or what will be in his comics. The art work is detailed, dependable and clean. Even the ones that don 't really matter. Everyone is important as one piece barrels forward and I look forward to more!
Great book!

Derived From Web

, Nov 14, 2021

I love One Piece, so I decided to start collecting the manga. Can 't wait to read the third book ).
Buggy the clown

Derived From Web

, Jun 4, 2021

Buggy is funny, but don 't underestimate him. He is the greatest pirate of all time!!!!!! Is his nose his real nose? What are you waiting for?
Great Book. Bad handling.

Derived From Web

, Jan 4, 2021

As far as the book is concerned, it is one of the best series you can ever read from manga. This volume is a new set of characters and adds a star in itself. The handling for the book is not praised though. If you want a one-piece mint condition, shop at Right Stuff.
Buggy is ruthless, but Luffy is a rubber man!

Derived From Web

, Jan 15, 2017

Charles Luffy and Zolo run into Capt. After meeting Nami the clown and his circus friends, Buggy the pirate thief! Will she join Matt's crew or grab the gold and screw? Also some backstory is mentioned : Hard to dive into Vol right. Once you reached the end of this exciting episode, 3 will be your reward!